In the sprawling city that was Boko Haram's headquarters, almost every building has been bombed or burned or looted.
Schools and homes are littered with abandoned explosives and weapons. A ditch is full of decomposing bodies, the hands of the victims tied behind their backs.
As Boko Haram is forced out of its strongholds in a multinational military operation, the scale of its brutality is being revealed. Now, the government will face the dual challenges of keeping the insurgents at bay while rebuilding entire cities. More than 1 million displaced Nigerians are waiting in makeshift camps and caves to see whether their country is up to the task.
In the years after Boko Haram emerged as a small band of militant Islamists, the group was able to slaughter and rape with impunity across northeastern Nigeria. It seized a constellation of cities and carried out targeted attacks in others.
Eight months ago, Gwoza became the command center for that rampage — the capital of the group's self-proclaimed caliphate. The insurgents were driven out of the city in late March. Last week, the army took a few Ni­ger­ian and Western journalists to see what was left of the city — its horrors hidden from the world until now.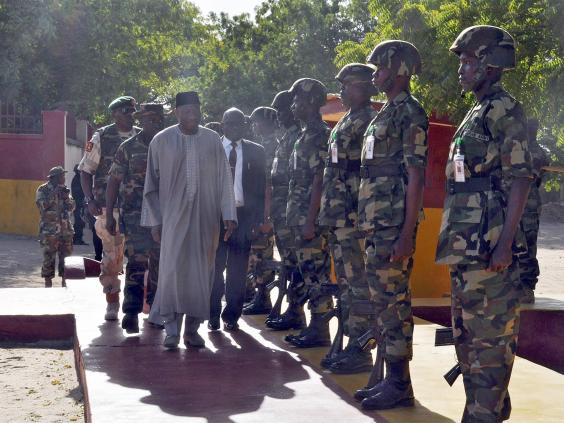 The military has been accused of conducting its own scorched-earth campaigns across Nigeria's northeast in recent years. But most of Gwoza's destruction — charred homes with the owners' names still scrawled on the doors, cars riddled with bullet holes — was carried out by Boko Haram, according to residents. The damage is nonetheless difficult to attribute with precision.
When the insurgents took over the city last August, some fortunate residents were able to flee. But others were either raped or forcibly recruited by Boko Haram, according to residents and soldiers. At one point last week, as Nigerian troops drove through the city on a blazing afternoon, they pulled over in front of a group of boys and young men. They had been caught fighting with insurgents, the troops said, and were now prisoners. Some were as young as 12.
One man in his early 20s, Hassan Usman, said he was ordered to work as a mechanic for Boko Haram. He held up his arm. His hand had been amputated.
"How did this happen?" asked one soldier.
"They accused me of stealing fuel, and they punished me," Usman said.
When Nigerian troops retook Gwoza after a lengthy firefight, they began sifting through what was left of the city, looking for clues that might help them better understand the mysterious insurgent group. They found weapons and tanks that appeared to have been stolen from their own bases. They saw Arabic scrawled on walls and signs, but with misspellings and grammatical errors that indicated the group's Islamic education was limited.
"The number of mines was uncountable," said Col. Oduware Irabor, the brigade commander in Gwoza.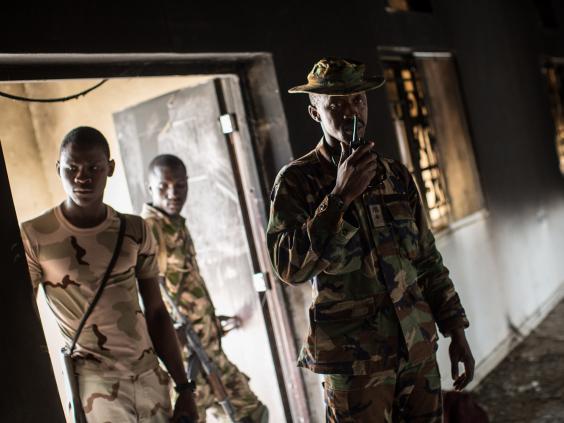 Now, the once-bustling city of 275,000 looks as if it has been racked by a series of natural disasters. Homes have been burned and ransacked. Boko Haram has become known for its indiscriminate campaigns of burning and looting in the towns it seizes. In Gwoza, even the radio tower was somehow destroyed, so it droops downward like a dying plant. It was clear to the troops that although they had won the city, it was uninhabitable.
Still, just days after Boko Haram had been vanquished, residents started coming back. Within two weeks, there were hundreds of them, sleeping in makeshift shelters or what was left of their old homes.
Fatmata Samori Bombe, 40, fled Gwoza in November, after the group killed her only son. She remembers about 600 fighters controlling the city.
"They murdered the men and had their way with the women," she said. "If they saw anything here that was good, they took it."
When Bombe heard that Nigerian troops had reclaimed Gwoza, she came back. She went to her old home and saw that it had been ransacked. Even the city's mosque had been destroyed, she noticed, in what appeared to be an airstrike.
The Nigerian military has been launching air attacks against the insurgents in the northeast for two months. But officers say that they were careful about avoiding casualties in Gwoza, where many people suspected the rebels were holding the more than 200 schoolgirls abducted in the town of Chibok last year.
The rise of Boko Haram
The rise of Boko Haram
1/19 Boko Haram

The leader of the Islamist extremist group Boko Haram Abubakar Shekau delivers a message. Boko Haram has claimed responsibility for the mass killings in the north-east Nigerian town of Baga in a video where he warned the massacre "was just the tip of the iceberg". As many as 2,000 civilians were killed and 3,700 homes and business were destroyed in the 3 January 2015 attack on the town near Nigeria's border with Cameroon

AFP

2/19 Boko Haram

People displaced as a result of Boko Haram attacks in the northeast region of Nigeria, are seen near their tents at a faith-based camp for internally displaced people (IDP) in Yola, Adamawa State. Boko Haram says it is building an Islamic state that will revive the glory days of northern Nigeria's medieval Muslim empires, but for those in its territory life is a litany of killings, kidnappings, hunger and economic collapse

3/19 Boko Haram

Nitsch Eberhard Robert, a German citizen abducted and held hostage by suspected Boko Haram militants, is seen as he arrives at the Yaounde Nsimalen International airport after his release in Yaounde, Cameroon on 21 January 2015

4/19 Boko Haram

Officials of the Nigerian National Emergency Management Agency (NEMA) visit victims of a bomb blast in Gombe at the Specialist Hospital in Gombe. According to local reports at least six people were killed and 11 wounded after a bomb blast in a marketplace in Nigeria's northeastern state of Gombe on 16 January 2015. Islamist militant group Boko Haram has been blamed for a string of recent attacks in the North East of Nigeria

5/19 Boko Haram

People gather at the site of a bomb explosion in a area know to be targeted by the militant group Boko Haram in Kano on 28 November 2014

6/19 Boko Haram

People gather to look at a burnt vehicle following a bomb explosion that rocked the busiest roundabout near the crowded Market in Maiduguri, Borno State on 1 July 2014. A truck exploded in a huge fireball killing at least 15 people in the northeast Nigerian city of Maiduguri, the city repeatedly hit by Boko Haram Islamists

7/19 Boko Haram

President Goodluck Jonathan visits Nigerian Army soldiers fighting Boko Haram

Getty Images

8/19 Boko Haram

Displaced people from Baga listen to Goodluck Jonathan after the Boko Haram killings

AFP/Getty

9/19 Boko Haram

Nigeria's President Goodluck Jonathan speaking to troops during a visit to Maiduguri, the capital of Borno State; most of the region has been overrun by Boko Haram

AFP/Getty

10/19 Boko Haram

Members of the Nigerian military patrolling in Maiduguri, North East Nigeria, close to the scene of attacks by Boko Haram

EPA

11/19 Boko Haram

Boko Haram's leader, Abubakar Shekau, appears in a video in which he warns Cameroon it faces the same fate as Nigeria

AFP

12/19 Boko Haram

South Africans protest in solidarity against the abduction of hundreds of schoolgirls in Nigeria by the Muslim extremist group Boko Haram and what protesters said was the failure of the Nigerian government and international community to rescue them, during a march to the Nigerian Consulate in Johannesburg

13/19 Boko Haram

Boko Haram militants have seized the town in north-eastern Nigeria that nearly 300 schoolgirls were kidnapped from in April 2014

AFP

14/19 Boko Haram

A soldier stands guard in front of burnt buses after an attack in Abuja. Twin blasts at a bus station packed with morning commuters on the outskirts of Nigeria's capital killed dozens of people, in what appeared to be the latest attack by Boko Haram Islamists, April 2014

15/19 Boko Haram

The aftermath of the attack, when Boko Haram fighters in trucks painted in military colours killed 51 people in Konduga in February 2014

AFP/Getty Images

16/19 Boko Haram

The leader of Boko Haram, Abubakar Shekau (with papers) in a video grab taken in July 2014

AFP/Getty

17/19 Boko Haram

Ruins of burnt out houses in the north-eastern settlement of Baga, pictured after Boko Haram attacks in 2013

AP

18/19 Boko Haram

A Boko Haram attack in Nigeria, 2013

AFP/Getty Images

19/19 Boko Haram

Abubakar Shekau, Boko Haram's leader

AP
"If we see women and children, we don't conduct the strikes," said Air Commodore Dayo Amao, the commander of the air force's operation in the northeast.
When soldiers drove through Gwoza last week in a convoy of pickups, they were met by hundreds of cheering returnees gathered near the center of the city — women in bright headscarves, men in traditional round caps. But there was no sign of the girls whose kidnapping drew the world's attention to Boko Haram last April. A senior military officer said Boko Haram had probably taken the students with them to the Sambisa Forest, about 15 miles away.
The Nigerian army has been roundly criticized for allowing Boko Haram to gain ground in the first place, and then for biding its time while neighboring Chad and Niger took on insurgents. The military has also been accused by civilians and watchdog groups of its own human rights abuses, including slaying prisoners suspected of supporting the insurgents. But in Gwoza, residents greeted the troops like liberators, looking expectantly to military spokesman Gen. Chris Olukolade when he approached the crowd.
"Everything you have gone through is very bad, but this is the end," he said. "As you come back and settle, the government will protect you."
Bombe listened. She knew that other residents remained in camps for displaced people, waiting to see if it was safe to return to Gwoza.
One of them was Mary Birrus, who had escaped to Kano, a few hundred miles away, where she still remains, her faith in the government dissipated.
"The Nigerian military cannot protect our village from Boko Haram," she said from the camp. "If they could protect us, they should have right from [Boko Haram's] emergence."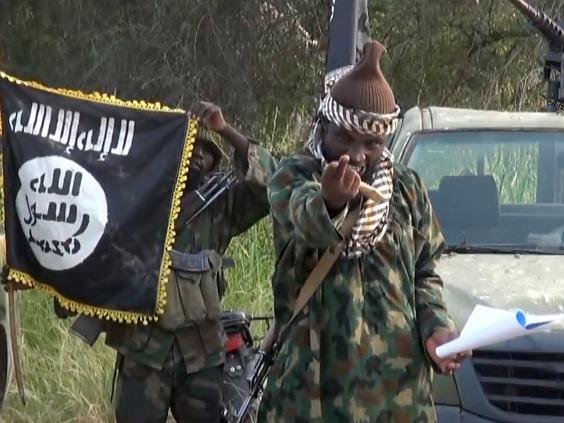 Birrus said she had been in Gwoza when Boko Haram fighters arrived in August in a fleet of Toyota pickups. A fighter forced himself into her home and shot her husband in the head, she said, adding that she was able to escape with a passing truck driver. After she left the city, the destruction continued.
"Some women who could not run were taken away, and those who attempted to escape were shot at close range," said Musa Dauda, who is staying at a camp in nearby Jigawa state.
The insurgents changed the name of this city to Darul Hikma — House of Wisdom in Arabic. According to locals, Boko Haram's ruthless leader, Abubakar Shekau, once preached here regularly. Nigerian troops claim that they spotted him during the final fight for the city, but that he ran off.
For now, the government's presence consists of a few scattered military posts, which are mostly just cinder-block huts and lawn chairs. At the headquarters of the 26th Task Force Brigade, which led the battle for Gwoza, is a map of the area with the word "secret" handwritten at the bottom. No one has removed the Boko Haram checkpoints — barriers made of tires, ladders, bicycles and sofas — which block most of the roads in the city.
Driving just outside of the city, Lance Cpl. Samuel Ambua put his finger on his nose.
"You can smell it," he said.
Seconds later, his truck pulled up next to a pile of bodies, surrounded by bullet casings, shovels and axes. Most victims appeared to have been shot in the back of the head. Some of the remains were just skeletons. In part of the heap, a bone jutted out of a tennis shoe.
"There's no one here to bury them," Ambua said.
Some of the victims were wearing civilian clothes, and their hands were bound behind their backs. The state of decay indicated that the individuals had been killed well before Boko Haram was defeated. The soldiers could only guess at why the men were executed.
Asked where the Boko Haram fighters had gone, Irabor, the brigade's commanding officer, looked to the map.
"The area of threat seems to be here," he said, pointing to the Sambisa Forest."We are focusing on destroying them."
No one knows how many fighters are left or what they are capable of doing now that many of their weapons depots and bomb-making factories have been abandoned or destroyed. But even with a base in the hinterlands, they likely could still conduct guerrilla-style attacks, analysts say.
In May, Nigeria's newly elected president, Muhammadu Buhari, will take office. A former military dictator, Buhari campaigned on his ability to crush the insurgency. He'll have to do that while also rebuilding places such as Gwoza. Boko Haram recruited some of its followers by offering salaries in the country's poorest corner. The money likely came from funds from bank robberies and kidnapping ransoms, according to Ni­ger­ian security officials.
Even with Gwoza now in the military's hands, troops and civilians are constantly reminded of how little they understand about Boko Haram. Insurgents seem to have carried out kidnappings even while fleeing.
This week, as soldiers in military helicopters flew out of Gwoza and toward the state capital, Maiduguri, they spotted a man in civilian clothes sitting atop an armored vehicle clutching an AK-47. He was in a stretch of land the military thought it had conquered, but the troops were sure of what they had seen.
"He was definitely Boko Haram," said one soldier.
Copyright: Washington Post
Reuse content