Omar al-Bashir was among friends. His appreciative audience included like-minded leaders Robert Mugabe, of Zimbabwe, and Abdel Fattah al-Sisi, of Egypt; men who tolerate no dissent.
After a quarter of a century in power, the Sudanese leader wanted on charges of genocide was inaugurated once again after winning elections with 94 per cent of the vote. He called on rebel groups to attend peace talks and promised to focus on agriculture to enhance the Sudanese economy.
But few outside Khartoum considered Mr Bashir's apparently conciliatory tone – promising greater co-operation with the West – anything more than an attempt to end Sudan's isolation and help its flailing economy. Indeed, rebel leaders told The Independent that they would not attend Mr Bashir's peace talks.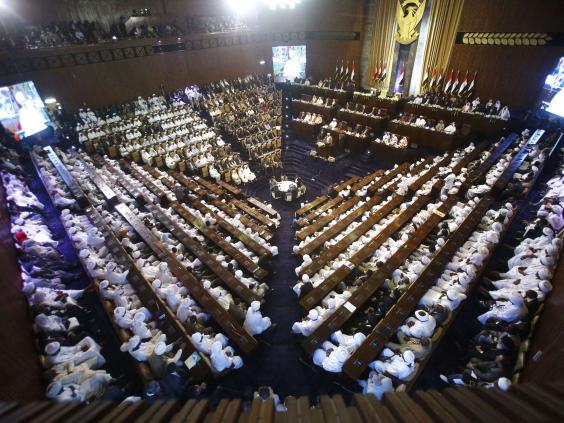 "Sudan will seek, God willing and with an open heart, to continue dialogue with Western countries in order for relations to return to normal," the 71-year-old said. "I will be, God willing, a President for all. There is no difference between those who voted for us and those who didn't, between those who participated and those who boycotted [the election]."
Amid three ongoing civil wars in Darfur, South Kordofan and Blue Nile states, Khartoum has long laboured under a raft of UN and bilateral sanctions. Mr Bashir also faces charges at the International Criminal Court that he masterminded genocide and other atrocities in his campaign to crush the revolt in Darfur. He continues to deny the charges.
Jehanne Henry, a Human Rights Watch officer for Sudan and South Sudan, said the leaders and diplomats who celebrated his inauguration should have arrested Mr Bashir. "Instead of celebrating his inauguration, leaders and diplomats should urge him to co-operate with the court," she said.
She added: "There is no indication Bashir is making efforts to improve the human rights situation in Sudan. During his election, we saw even more evidence of abuses and repression, with dozens arrested simply for expressing their political views."
Malik Agar the head of the Sudan People's Liberation Movement North, the main rebel group which has been fighting the government since 2011 in South Kordofan and Blue Nile states, told The Independent he refused Mr Bashir's invitation for the peace talks. Khartoum would first have to meet  three conditions: a ceasefire, open access to humanitarian aid and guarantee certain civil freedoms.
"Bashir will beat the war drums for five more years," he said. "There is nothing new in Bashir's speech; there will be continuation of killing the civilians and destruction of the economy and we won't sit with him for peace talks."
There remains an unknown number of political prisoners in Sudan, said Amir Suliman, head of the African Centre for Peace and Justice.
"We don't know the exact number of the political prisoners in Sudan as some of them were held by army intelligence in the war zones," he added. "If the current laws in Sudan won't be changed, we will always have political detainees."
Sudan has faced a rebellion in Darfur since 2003 and an insurgency in Blue Nile and South Kordofan since the secession of South Sudan in 2011. Mr Bashir's critics complain of a crackdown on media, civil society and political opposition groups.
The United States has said the outcome of the April election does not amount to "a credible expression of the will" of the Sudanese people.
Reuse content