More than 3,000 miles from the fading Ebola crisis in West Africa, a team of US-funded researchers is hunting deep in a remote rainforest for the next outbreak.
They aren't looking for infected people. They're trying to solve one of science's great mysteries: where does Ebola hide between human epidemics?
The answer is thought to lie in places like this – vast tracts of African jungle where gorillas, bats and other animals suspected of spreading the virus share a shrinking ecosystem. If scientists can pinpoint the carriers, and how Ebola is transmitted between them, future epidemics will be easier to anticipate – or prevent.
The mission is urgent. Based on the pattern of previous outbreaks, the next one probably isn't far away.
The world was shocked by the most recent epidemic, which has killed more than 10,000 people in Guinea, Liberia and Sierra Leone. But over the past 40 years, Ebola has exploded sporadically in sub-Saharan Africa, wiping out scores of people – and quietly decimating wildlife populations.
So on this humid Sunday, a 51-year-old wildlife vet from Michigan has loaded his gear into a leaky dugout canoe and headed with his team into the Congo River Basin.
Now they are trekking for miles through the brush. They are seeking one of the animals suspected of harbouring Ebola: the red river hog.
If the researchers capture a wild pig and it tests positive for Ebola, it will confirm decades of hypotheses and help scientists map the disease.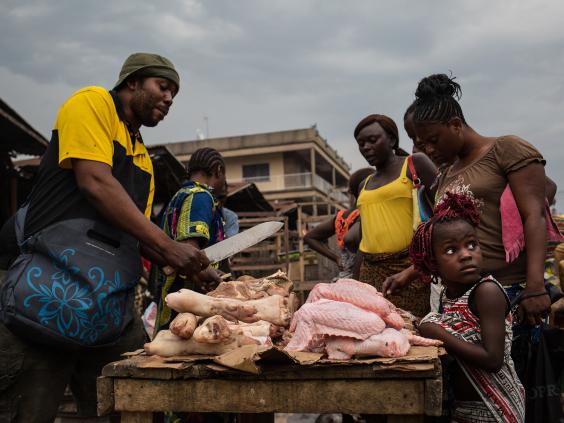 Kenneth Cameron, who works for the New York-based Wildlife Conservation Society, has spent much of his life pursuing Ebola through Central Africa.
"The West Africa outbreak was a reminder that it's out there – and it's waiting to emerge again," he says.
There have been 24 recorded outbreaks of Ebola since 1976, when it was first identified. Each began with an interaction between a human and an animal. In West Africa, the recent Ebola outbreak is thought to have begun when a two-year-old Guinean boy touched a droplet of bat faeces in December 2013.
"It's only a question of how destructive the next one will be," says Mr Cameron, whose research is funded by the US Fish and Wildlife Service.
Scientists suspect that fruit bats are the "reservoir host" of the Ebola virus, meaning they carry and transmit the disease but don't suffer from it themselves. But even that hasn't been proven.
What is known is that in 2002, in a village called Mbomo, more than 200 miles from where Mr Cameron's team is working, people started getting sick and testing positive for Ebola. Over several weeks, 178 people died. When the epidemiologists traced the disease, they heard the story of hunters who had cooked and eaten the carcass of a gorilla found in the jungle. At the time, dozens of gorillas were dying suddenly. "Soon everyone understood that it came from the forest," recalled Marco Joel, who was the director of the local Red Cross chapter at the time.
In November 2003, people in Mbomo started getting sick again. The doctors returned. Ebola tests came back positive. Dozens more died. But in trying to trace this outbreak, epidemiologists heard a different story. A group of hunters had killed and eaten a wild pig days before falling ill.
Was this outbreak connected to the last — a pig that had become infected by a gorilla? Or was this a separate transmission chain? No one could tell. No pigs had ever tested positive for Ebola.
Since 2005, as part of his Ebola research, Mr Cameron has tested primate carcasses and faeces. He has captured bats using large translucent nets. He has darted gorillas with a tranquilliser gun. He has loaded blood samples onto jeeps and boats and planes to be taken to labs and tested for Ebola.
The men and women on the frontline against Ebola and other hazards
The men and women on the frontline against Ebola and other hazards
1/6 Linda Dixon, 60, leads research into African swine fever at the Pirbright Institute in Surrey

"For more than 25 years I've been trying to develop a vaccine for the African swine fever virus, which causes death in domestic pigs, and has symptoms quite like Ebola. It came from East Africa in the 1920s and was transmitted to Georgia in 2007 via food from shipping that was fed to pigs. It has now spread to neighbouring countries and this year entered the EU via Poland, Lithuania, Latvia and Estonia. It's difficult to eliminate because it also infects wild boar, which populate large parts of Europe."

David Vintiner

2/6 Simon Woodmore, 45, is a paramedic and operations officer for London Ambulance Service's Hazardous Area Response Team (Hart)

"I have a helmet for all occasions – five in all – as well as an array of outfits, including breathing apparatus and gas-tight suits, respirators and chemical protective suits. My job is to put paramedics where historically they could not have worked. We were born out of the Tokyo subway sarin attack in 1995, and have been running as Hart since 2006. There are 94 of us in London dealing with chemical, biological and radiological incidents, as well as building collapses and floods."

David Vintiner

3/6 Simon Woodmore, paramedic and operations officer

"We've always dealt with contagious diseases and work with the Royal Free Hospital London high-level isolation unit to transfer confirmed cases, which fortunately is rare. A lot of it is communicating with the patient in a caring and compassionate way, which can be difficult when you're in full gear. There is an increased awareness of Ebola, but it's about reinforcing the processes we already have in place. Any personal risk is mitigated by our training and equipment."

David Vintiner

4/6 Benjamin Black, 33, is a specialist registrar in obstetrics and gynaecology for Médecins Sans Frontières (MSF)

"In June I travelled to Sierra Leone, where one in 21 women of reproductive age dies in childbirth. This was my first mission, and the reason I got into medicine. I had my eyes wide open to Ebola; though it was still in its early days and concentrated across the border in Guinea, within days I had my first suspected Ebola cases in maternity. It was happening."

David Vintiner

5/6 Benjamin Black, Médecins Sans Frontières

"You need a healthy amount of fear to be safe, as well as protocol and organisational back-up. The greatest fear then is how long you can keep getting it right. There is also a huge psychological element. I checked my temperature daily, but in a hot, humid country there's a constant feverish feeling anyway. We had scares and one of our national nurses was infected, probably in the community. He sadly died and it had a huge impact on the team."

David Vintiner

6/6 Lisa Jameson, 29, is a National Institute for Health Research doctoral research fellow for Public Health England, based at the Porton Down facility in Wiltshire. She specialises in emerging viruses

"I was in the field watching patients come into the isolation centre next to us, often with their families. Sometimes they'd be walking and talkative, then die that night. It was tough but we were so busy, and being there made it feel like we were making a difference. When I got home after a month, I felt a sense of guilt that I was able to walk away. I'll almost certainly be going back."

David Vintiner
There have been successes, such as when his team found Ebola antibodies in the faeces of gorillas, a sign that the animals had been exposed to the disease. But largely, the research has been a slow crawl through the dark.
Now, under a towering ficus tree in the jungle, Mr Cameron and his team hammer the posts of a metal cage into the ground. They set up a trapdoor they hope will be triggered by the weight of a pig, which they will tranquillise and examine for the virus. Mr Cameron watches as the trapdoor is tested. The stakes are high. If he can't capture a pig, it will be hard to secure funding for a follow-up study. The door goes down with a bang. "Ça marche!" Mr Cameron screams in French with boyish excitement: "It works!"
Scientists aren't sure which species are immune to Ebola, but Mr Cameron uses the example of a tree he once filmed in the Republic of Congo to explain the challenge they face . Pigs, gorillas and chimpanzees were all seen eating from it, often consuming different pieces of the same fruit. "You watch that film and you see just how quickly this thing could spread," Mr Cameron says.
In a place like this country's north, where bushmeat is still consumed as a rare source of protein, the chain would almost inevitably lead to humans, as Mr Cameron's team members know well. They are from local villages, and while they no longer consume wildlife, they still extol its virtues.
"Elephant is delicious," says Makoti Marcelin, one of the wildlife trackers. "It tastes just like gorilla."
But while most people in the Republic of Congo stopped eating great apes in the wake of the 2002 Ebola outbreak, pigs are still sold in markets around the country. If an infected pig made its way near a town or village, it would probably be eaten.
Mr Cameron's team returns to the trap the next morning.
"There were pigs here last night," says another vet, Alain Ondzie, pointing to hoof marks nearby. But the metal cage is empty.
"It's frustrating," Mr Cameron says. "There's still just so much we don't know." He returns to his office in Brazzaville empty-handed, but he is hopeful about the next site visit in a few weeks.
A few miles away, at one of the city's largest markets, a frenzy of people is selling chicken, antelope and other meat. In one area, the tables are piled with wild pig, brought from the northern Republic of Congo, near Mr Cameron's research site. The salesman says he has heard about Ebola – the epidemic 3,000 miles away. But there has been no impact on local people's taste for wild pig.
 "We all know that pigs can't get Ebola," he says confidently.
© The Washington Post
Knock-on: Crisis disrupted immunisation work
The World Health Organisation warned yesterday of a risk of outbreaks of measles, whooping cough and other diseases in West African countries hit by Ebola. It said this must be countered with rapid intensification of routine immunisations.
The Ebola epidemic, which has infected 24,000 people – killing more than 10,000, mostly in Guinea, Liberia and Sierra Leone – has reduced vaccination coverage as healthcare workers focused on fighting the outbreak.
A study published last week by Johns Hopkins Bloomberg School of Public Health in the US warned that measles cases could double in countries hardest hit by Ebola.
It calculated that for every month healthcare systems were disrupted, up to 20,000 children aged between nine months and five years were put at risk. The Ebola epidemic has also disrupted delivery of routine childhood vaccines against tuberculosis and polio, and of a combined shot against meningitis, pneumonia, whooping cough, tetanus, hepatitis B and diphtheria.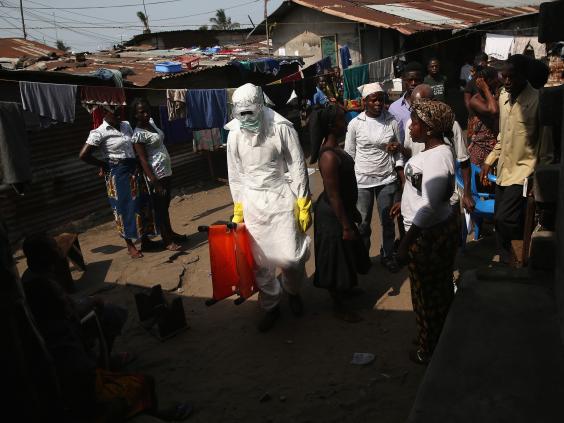 The WHO warned affected countries: "Any disruption  of immunisation services  will increase the likelihood  of vaccine-preventable  disease outbreaks."
Jean-Marie Okwo-Bele, the WHO's vaccines director, told a briefing in Geneva it wanted intensification of  routine immunisation services, and mass measles vaccination campaigns in all areas, where feasible.
"Campaigns will only be conducted in areas free of Ebola virus transmission," he said, stressing that clinics and health workers giving  vaccines would have to  adhere to strict infection- control measures.
Measles is a viral disease that killed around 146,000 people globally in 2013, mostly children under five – about 16 deaths every hour. The WHO faced criticism for its handling of the Ebola crisis yesterday. Internal emails and documents obtained by the Associated Press showed that it resisted sounding the international alarm over West Africa's Ebola epidemic for two months.
The WHO acknowledges being slow but has blamed its response partly on the  surprising characteristics of the outbreak. Documents show officials were informed of the dire situation early on and received an urgent plea for help. Senior staff  privately floated the idea of  declaring an international health emergency in early June, two months before the declaration was finally made.
But directors discouraged making the move earlier, saying the declaration could be seen as "a hostile act" and endanger economies.
Reuters
Reuse content