At least 37 people, including British tourists, have been shot dead by a gunman who stormed a beach resort in Tunisia, strafing holidaymakers as they lay on sun loungers and sat beside swimming pools.
The attack in Sousse, a popular resort some 80 miles south of the Tunisian capital, was the third in a series of bloody attacks internationally involving Islamist fighters on Friday.
In Kuwait a bomb at a Shia mosque killed at least 25 people, and in the French city of Lyon found a man's decapetated head, wrapped in an Isis flag, place on a factory fence. The man's body was later found outside the factory.
In Sousse, witnesses described how the gunman, armed with a Kalashnikov rifle which he had hidden inside a beach umbrella and dressed in shorts and a t-shirt in an apparent effort blend in, made his way from the seafront towards the five-star Imperial Marhaba and Club Bellevue hotels, killing and injuring scores of people.
The radical Islamist group Isis has claimed responsibility for the attack via a social media account.
One hotel worker told The Independent how he had come face-to-face with the gunman, identified as a 22-year-old Tunisian student, who told him he would avoid shooting his compatriots and was solely interested in targeting tourists.

Ibrahim El Ghoul, a trainee mechanic who works part time in a nearby hotel, said the killer had been smiling and told him: "I don't want to kill you, I want to hit tourists."
Within moments, the beach and at least one hotel lobby were turned into scenes of carnage. Eye-witnesses described one injured man repeatedly telling his wife "I love you, I love you," before losing consciousness.
Mr El Ghoul said he came across an elderly British woman who had been shot through the knee. "She kept screaming  'I want to go home, I want to go home'," he said.
Graphic footage from the scene showed rescuers desperately attempting to treat victims clad in their swimsuits while the critically injured, some carried on sun loungers, were rushed to ambulances.
Images showed the beach strewn with corpses, including the bloodstained bodies of a middle-aged couple lying on the sand beside a beach umbrella.
There were unconfirmed reports that a second gunman was arrested near the scene while other reports said one of the attackers had been dressed as a police officer.
Ellie Makin, a British holidaymaker from Ripon, North Yorkshire, described how she had been sat to one side of the gunman before he opened fire.
She told ITV News: "He was to [the] right of me. I got up and just happened to look right and I saw the gun and the umbrella being dropped and then he started firing to the right. If he had fired to the left, I don't know what would have happened."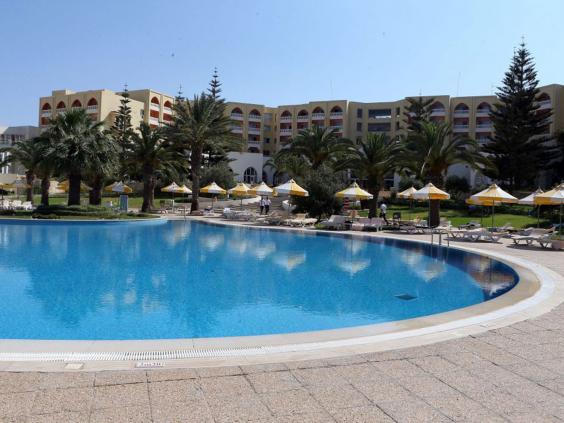 The attack took place during the holy period of Ramadan, when Tunisians tend to stay away from the beach and the dead were consequently overwhelmingly foreign holidaymakers.
Britons are feared to feature heavily among the nationalities on the death toll.
Local radio reports and one local guide said the majority of the dead were British or German, with one report quoting hospital sources saying at least 13 UK nationals had been killed.
Authorities in Dublin confirmed that an Irish woman was among the dead. At least 36 people were injured.
Prime Minister David Cameron flew back from an EU summit in Brussels to chair a meeting of the emergency COBRA committee.
Speaking before he left Belgium, Mr Cameron said: "We have to combat not only the terrorism, not only working with the countries that are suffering but dealing with this poisonous mindset, this death cult that is poisoning young minds and turning them to this path of mindless violence."
The Tunisia attack will likely be a blow to the economy of a country held to be one of the few success stories of the Arab Spring, having emerged from its 2010 revolution with a fragile but flourishing democracy.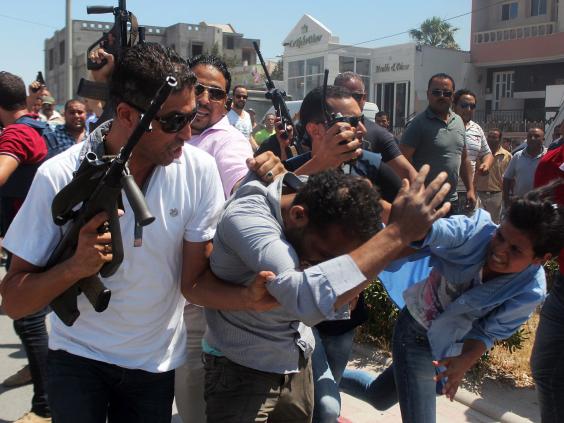 The beach assault follows an attack in March on tourists visiting the famous Bardo museum in the capital Tunis, which left 22 people dead and had already seriously damaged Tunisia's vital tourist industry.
Figures produced by the Tunisian central bank said the numbers visiting the country had fallen by more than 25 per cent since April and revenues dipped by 26 per cent.
In 2014, Tunisia had 6.1 million tourists, of whom 424,000 were Britons. The industry represents more than 15 per cent of Tunisia's GDP.
Experts said the attack represented an attempt to destabilise the economy as part of wider political struggle to halt Tunisia's democratic transition.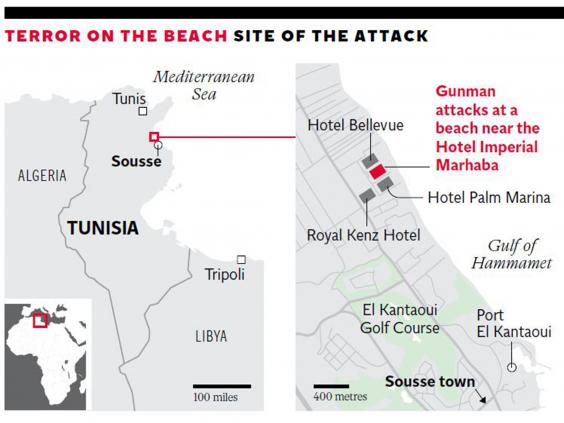 Alexander Meleagrou-Hitchins, from the International Centre for the Study of Radicalization at King's College London, said: "[This] really is going to lead to a massive reduction in tourism. We have people relaxing on the beach on their holidays being murdered - that is not going to help the attempts by the Tunisian tourist industry to get people to come to the country."
It is unclear if the three attacks on Friday were linked but they come just days after an Isis spokesman posted a message entreating Islamist fighters to turn the holy month of Ramadan into a "time of calamity for the infidels".
Tunisians are among the nationalities most heavily represented in the ranks of Isis, which has recently spread its area of operations from Syria to neighbouring Libya.
Reuse content