The circumcision season among Kenya's Bukusu ethnic group brings a festive atmosphere: music, food and free-flowing beer. For the uncircumcised men from other tribes in the area, however, it is not time to party, it's time to flee.
At least 12 men from other tribes have been forcibly circumcised since the start of the circumcisions this month, according to police. Others have sought refuge in police stations to avoid the cut.
The Bukusu group prefers traditional circumcisions using simple tools and no anaesthesia. But tradition can be disastrous. A 13-year-old boy lost his penis this month after it was chopped off by a careless circumciser, according to local press reports quoting his parents.
Adult males from the Turkana community living in the Bukusu-dominated town of Moi's Bridge are the majority of the victims, according to local administrator Moses Okumu. A group of Turkana men wielding swords, bows and clubs held protests last week over the spate of forced procedures. Michael Ngilimo said a family member was forcibly cut by a group moving from house to house in search of uncircumcised men.
"They pounced on my uncle and circumcised him and left him there bleeding without treatment. I spent a sleepless night as my uncle was bleeding," he said. "I got up early to go and look for medicine."
To avoid becoming victims, many other men in the area sleep in corn fields and others seek refuge in the police station, he said.
The Turkana will fight back if the trend continues, another villager warned. "All of us should respect each other's customs. If you force someone to adopt your custom it may harm him," he said. "We are known, we fight with the [rival tribe] Pokot. We fight every day. We have killed. We are not afraid of death."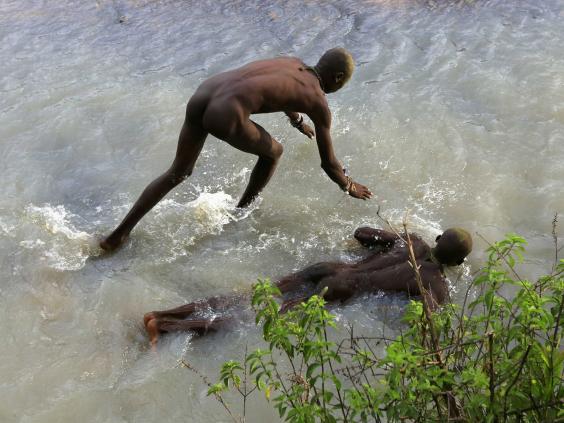 No one has been arrested for the involuntary circumcisions, said Mr Okumu. He warned that those who continue with the practice will be charged if they are caught.
Traditionally the Turkana, a Nilotic tribe whose cultural practices and way of life has not been diluted by modern influences, do not engage in circumcision as a rite of passage. But members of the Bukusu community say since the Turkana living among them they should adopt their most celebrated custom.
Wycliffe Khaemba, a labourer from the Bukusu tribe, said that because Turkana were marrying girls from his tribe, "we want them to be clean".
"The foreskin keeps a lot of germs and it also prevents them performing in bed," he said. Mr Khaemba said that while some Turkana men are persuaded to agree to circumcision, others are "cowards" who have to be forced.
Circumcision is a big deal among the Luhya community, the second-largest ethnic group in Kenya, said Martin Waliaula, a local politician and business leader who is Bukusu. The Bukusu are one of 16 Luhya sub-tribes. He said circumcision ceremonies are held every two years for boys between 10 and 14 and the initiate invites all his relatives to celebrate.
"Cows are slaughtered, people are feasting and dancing before the ceremony," he said in its defence.
AP
Reuse content