An Egyptian criminal court has upheld the death sentences handed out to Mohamed Badie, the leader of the Muslim Brotherhood, and 13 others, as well jailing for life an American-Egyptian citizen for supporting the group.
The dual citizen, Mohamed Soltan – son of a prominent member of the now-outlawed Brotherhood – was arrested in August 2013. The 27-year-old has been on hunger strike for months to protest his detention, under charges of transmitting false news and supporting the Brotherhood, and his health is rapidly deteriorating, his family says.
Soltan's father, Saleh, was one of those given a death sentence, while life sentences were handed out to dozens of others. The men were among the thousands detained after the freely elected Islamist President Mohamed Morsi was toppled in 2013 by the military under Abdel Fattah al-Sisi. Mr Sisi is now President.
The Brotherhood, denounced as a "terrorist organisation" and banned in 2013, is described by Mr Sisi as a major security threat – although the group says it is committed to peaceful activism and has had nothing to do with the violence in Egypt since Mr Morsi's fall.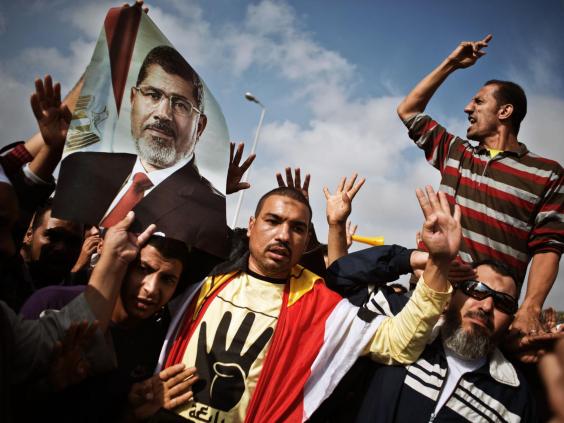 Egypt's mass trials of Brotherhood members and those accused of links to the group have drawn international criticism of its judicial system and human rights record.
The sentences, pronounced at a televised court session, can be appealed before Egypt's highest civilian court. No defendant was present during the hearing.
Mohamed Abdel-Mawgod, a defence lawyer, condemned the verdicts: "The court did not differentiate between the defendants, and put them all in the same basket," he told reporters at the courthouse.
The presiding judge, Mohamed Nagi Shehata, said Mohamed Soltan "deserves the punishment... for spreading chaos and horror in society". But Sara Mohamed, a relative of the Soltan family, said they would appeal. Supporters say the US-educated peace activist was not even a member of the Brotherhood.
The US embassy in Cairo said it remained "gravely concerned" about him and the outcome of his case. "His health and well-being remain of particular concern and remain a top priority to us," the embassy said.
Reuters
Reuse content