Officials in a Nigerian state have been forced to ban all planned public viewings of matches from the 2014 World Cup in Brazil over fears of militant bomb attacks, it has been reported.
For many in the north-eastern state of Adamawa, the screenings at large open-air venues were the only way they would have been able to watch the tournament.
Placed in a group with Iran, Bosnia-Herzegovina and Argentina, Nigeria's Super Eagles are strong favourites to progress through to the knock-out rounds and emerge as one of Africa's star-performing teams.
But the threat of terrorist attacks from the extremist group Boko Haram means that thousands in the turbulent region will be denied the chance to witness their team's performance live.
BBC News reported that officials said they had no choice but to ban the screenings after receiving intelligence reports of planned bombings, and that they regretted stopping Nigerians from watching the World Cup.
In pictures: Nigeria kidnapped schoolgirls
In pictures: Nigeria kidnapped schoolgirls
1/19 Nigeria

A total of 276 girls were abducted from the northeastern town of Chibok, in Borno state, which has a sizeable Christian community. Some 223 are still missing

2/19 Nigeria

One of the kidnapped girls looks into a camera

3/19 Nigeria

One of the missing girls talking to the camera

4/19 Nigeria

The missing Nigerian schoolgirls, wearing the full-length hijab and praying in an undisclosed rural location. Boko Haram alleging they had converted them to Islam

5/19 Nigeria

Girls wearing the full-length hijab holding a flag reading "There is no god, but Allah" and "Mohammed is Allah's prophet"

6/19 Nigeria

A man claiming to be the leader of Nigerian Islamist extremist group Boko Haram Abubakar Shekau

7/19 Nigeria

Abubakar Shekau speaks on the video

8/19 Nigeria

Girls, wearing the full-length hijab and praying are filmed by an unidentified man (R) in an undisclosed rural location

9/19 Nigeria

People carry signs as they attend a protest demanding the release of abducted secondary school girls in the remote village of Chibok in Lagos

10/19 UK

A protester demonstrates against the kidnapping of school girls in Nigeria, outside the Nigerian Embassy in London

11/19 UK

Chief International Correspondent Christiane Amanpour and Prime Minister David Cameron appearing on the BBC1 current affairs programme

12/19 USA

People participate in a "Bring Back Our Girls" campaign demonstration and candlelight vigil in Los Angeles

13/19 USA

Girls holding heart shaped banners in a "Bring Back Our Girls" campaign demonstration and candlelight vigil in Los Angeles

14/19 South Africa

South Africans protest in solidarity against the abduction of hundreds of schoolgirls in Nigeria by the Muslim extremist group Boko Haram and what protesters said was the failure of the Nigerian government and international community to rescue them, during a march to the Nigerian Consulate in Johannesburg

15/19 USA

Karilyn Coates (10) joins others in a candlelight vigil for the more than 300 girls abducted by Boko Haram in Nigeria, at All Souls Unitarian Church in Colorado Springs

16/19 Nigeria

Mothers of the missing Chibok school girls abducted by Boko Haram Islamists gather to receive informations from officials. Nigeria's president said that Boko Haram's mass abduction of more than 200 schoolgirls would mark a turning point in the battle against the Islamists, as world powers joined the search to rescue the hostages

17/19 Nigeria

Former Nigerian Education Minister and Vice-President of the World Bank's Africa division (3rd L) Obiageli Ezekwesilieze speaks as she leads a march of Nigeria women and mothers of the kidnapped girls of Chibok, calling for their freedom in Abuja

18/19 Bring Back Our Girls

Kelly Hoppen tweeted: 'Please make sure you do this, we must stand together and not forget them'

19/19 Bring Back Our Girls

E.L. Rock Star tweeted: 'Join The Movement'
In both east and west Africa, experts say militant groups see the popular public viewings combining football and alcohol as a prime demonstration of "corrupting" Western influence.
Last week when suspected Boko Haram militants set off a car bomb that killed 18 people watching a match on television at a centre in Adamawa.
But it was an attack which resonated across the continent, bringing back memories in Uganda of an incident that killed dozens watching the last World Cup final in a Kampala sports ground four years ago.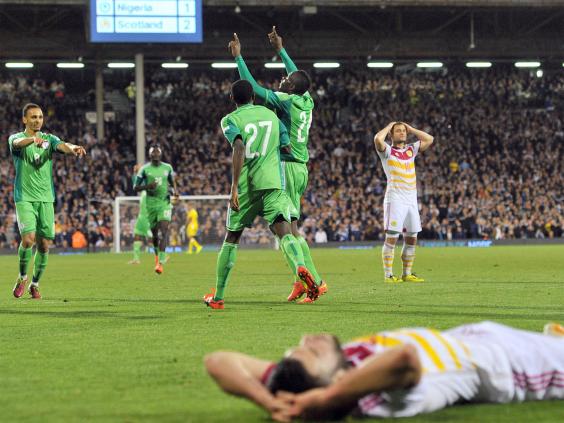 Two weeks ago a suicide bomber set out to strike an open-air screening of a match in Nigeria's central city of Jos. His car blew up on the way, killing three people.
And in the popular Tanzanian tourist destination of Arusha a blast wounded 15 people watching a Premiership match at a pub in April.
"There is a common credence amongst groups including Boko Haram that watching football matches is un-Islamic," said Roddy Barclay, a senior analyst on the Africa desk for the company Control Risks. "Anyone participating in events that don't align with their vision is potentially a target."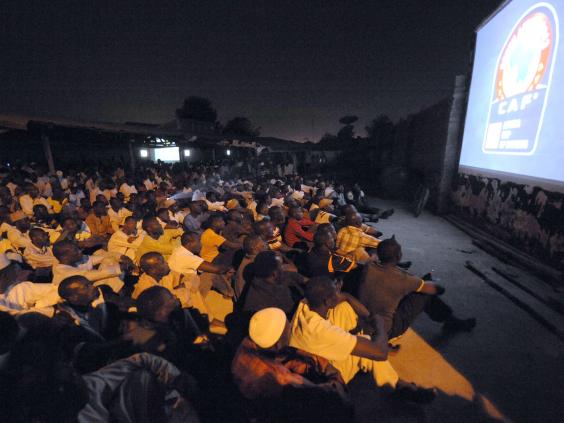 Earlier this week it was reported that Nigeria's army had issued a warning to tighten security at the viewing centres nationwide.
Before today's ban in Adamawa, fans across the country's north-eastern regions said they would take responsibility for their own security by going to friends' houses or just missing matches.
"Boko Haram appears to be targeting viewing centres, drinking joints, any social gathering. My wife has started warning me not to think of going to viewing centres this time," said Ahmed Yusuf, a fan in the city of Maiduguri. It is the state capital of Borno which, as well as bordering Adamawa, is the region where Boko Haram militants abducted hundreds of schoolgirls in mid-April.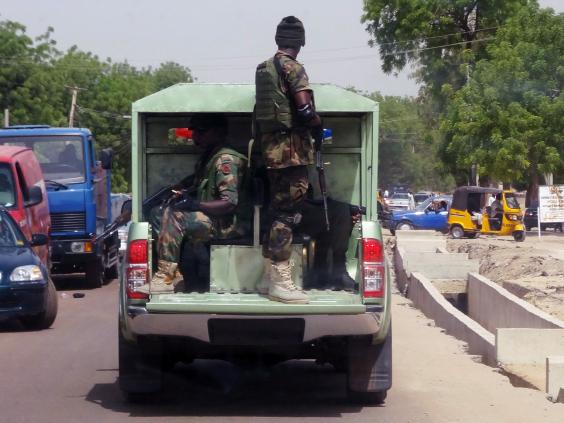 Staff at the Albash Viewing Center in the central Nigerian city of Kaduna had installed a metal detector and started watching out for unfamiliar faces, said 33-year-old owner Bashir Idris.
"This is my only source of livelihood where I take care of those working under me, my wife and my seven children," he said. "So we will not take any chances at all and we are praying to God to protect us throughout the World Cup."