The World Health Organisation has warned that could be 10,000 new cases of Ebola per week within two months.
WHO officials are also predicting that the number of cases is likely to exceed 9,000 by the end of this week, as the virus continues to spread rapidly across West Africa.
Officials also noted that the death rate for the outbreak had increased to 70 per cent. It was previously around 50 per cent.
Bruce Aylward, WHO Assistant Director General, said their forecasts suggest there may be between 5,000 and 10,000 new cases a week by December.
In remarks quoted by Sky he said: "It's impossible to look into a glass ball and say we're going to have this many or that many [cases] but we anticipate the number of cases occurring per week by that time to be somewhere between 5,000 and 10,000 per week.
See the Ebola outbreak mapped
See the Ebola outbreak mapped
1/7 25 March 2014

This outbreak of the Ebola virus first emerged in the Guéckédou region of Guinea, at a crossroads with both Liberia and Sierra Leone

2/7 31 March

On 31 March the WHO confirmed the outbreak was now international, spreading first into Liberia's northern-most Lofa region

3/7 27 May

The virus spread to Sierra Leone at the end of May - just as agencies were hoping the worst was over

4/7 27 July

In Sierra Leone the virus boomed, and then it spread to Nigeria when the Liberian diplomat Patrick Sawyer flew from Monrovia to Lagos

5/7 9 August

The Nigeria cases sparked fears around the world, and there have now been deaths in Spain and Saudi Arabia involving people who had travelled to West Africa. The numbers of cases continue to rise

6/7 17-20 September

In mid-September, Senegal confirmed its first case linked to the Ebola outbreak, a development the WHO described as a top priority emergency. Numbers of cases continued to grow exponentially in Guinea, Sierra Leone and Liberia, as experts warned they could number one million by January if not contained

7/7 8 October

Two cases of Ebola have now been reported in the US and Europe - the first times the virus has been contracted among health workers outside Africa
"It could be higher, it could lower but it's going to be in that ball park," he told reporters from WHO's Geneva headquarters.
A total of 4,447 people have now died from 8,914 known Ebola cases, mostly in west Africa according to the WHO's latest figures released today.
Liberia, Sierra Leone and Guinea have been hardest hit by the current outbreak of the virus.
WHO officials have repeatedly said Ebola cases are under-reported in these three hardest-hit countries and that understanding the scale and pace of the outbreak is crucial to stopping it.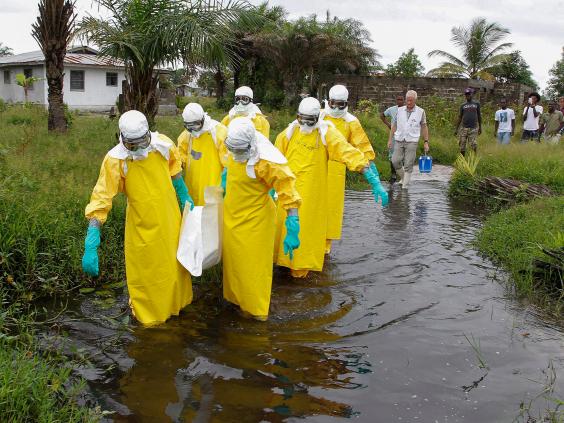 "We adjust for the numbers reported," Aylward said, explaining the organisation multiplies the numbers from Guinea by 1.5, from Sierra Leone by two and from Liberia by 2.5 to get a more accurate picture.
While there are signs that rates of infection are slowing in some of the worst-hit areas, Mr Aylward said the disease has now reached "more districts, counties and prefectures" than it had a month ago, and said case numbers would continue to rise.
He also stressed it would be "really, really premature" to read success into the apparent slowing numbers in some areas. In particular Nigeria has been trumpeted as a success story in the fight against the deadly virus.
Additional reporting from PA