If you should find yourself standing on corner of Winslow, Arizona, you better get used the company.
The former rail hub in the north of the state fell on hard times after WWII after train travel declined. It grew ahead as a stopping off point on Route 66, but the building of a by-pass in 1979 again drained the town of visitors.
Yet in recent years, the town with a population of no more than 10,000, has seen something of a renaissance, all thanks to a throwaway line in a song that become one of rock music's more popular anthems.
"Well, I'm a standing on a corner in Winslow, Arizona and such a fine sight to see," the Eagles sang in their 1972 hit Take it Easy. "It's a girl, my Lord, in a flatbed Ford slowing down to take a look at me."
About 15 years ago, the authorities in Winslow decided to try and cash in on their footnote in musical history and erected a statue to commemorate the song. On the junction of 2nd Street and Kinsley Street, they put up the statue of a man with long hair and a guitar. What no-one quite anticipated was quite how popular the statue would become.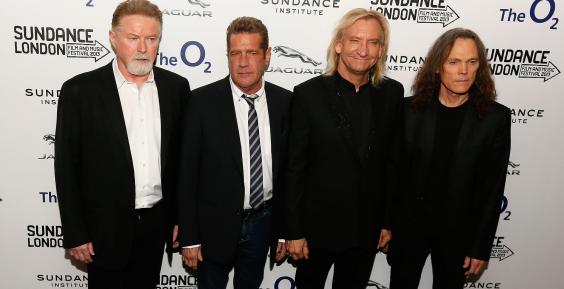 It is estimated that a remarkable 100,000 people now visit Winslow every year to take a look at the statute, stand on a corner and click a picture. Locals credit the official who hit upon the idea of trying to cash in on the town's quiet celebrity by putting up the statue, a mural and creating the Standin' on a Corner Park.
People were stopping and taking pictures on corners in Winslow anyway. So they were quite brilliant to realize that they should capitalise on this interest," local historian Ann-Mary Lutzick, director of the town's Old Trail Museum, told the Los Angeles Times. "Whether you like the song or not, whether you like Winslow or not, you're going to take a picture of the corner."
The song Take it Easy was written the band members Jackson Browne and Glenn Frey, neither of whom had been to Winslow when they wrote it. With no small irony, the experience of seeing a young woman in a truck had its roots in the nearby town of East Flagstaff, but they employed a little artistic licence.
"It was always Winslow," Browne said, when the Standin' on the Corner Park opened. "But the image of that girl driving a truck was an image that came from the east."
Reuse content