A 90-year-old man has vowed to continue feeding homeless people in a Florida town, despite being threatened with jail for doing so.
Arnold Abbott was arrested and charged by police in Fort Lauderdale, Florida, for handing out meals to homeless people in a park. His arrest sparked outrage world-wide and drew international attention to the laws.
Mr Abbott, a war veteran, and two other church ministers could receive a maximum 60-day custodial sentence and a $500 (£313) fine under a new law banning people from meal-sharing with the public.
Mr Abbott said he was stopped by police earlier this week as he handed out food to the homeless, who told him to drop the plate he was carrying, "as if I were carrying a weapon".
Undeterred by their arrests, Mr Abbott and ministers Dwayne Black and Mark Sims were back at church on Wednesday preparing meals to hand out later that evening.
The men were not apprehended by police on that occasion.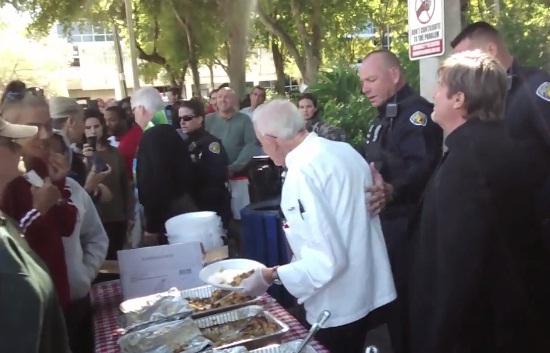 Mr Abbott says he is not afraid of being sent to jail and will keep feeding those most in need in his area.
He told Russia Today: "I am not afraid at all. I was a combat infantryman for two-and-a-half years. I've spent 50 years fighting for civil rights for the minorities in this country. I don't have the slightest fear of being arrested.
"The only thing I am concerned about is that there would be nobody to feed the homeless outdoors, which is what I do – and what I intend to do as long as there is breath in my body. "We have 10,000 homeless in Broward County, which is the county of which Fort Lauderdale is the principal city. Most of them are in Fort Lauderdale, and we want to take care of all of our people. We are all God's children."
In the past two years, more than 30 cities have tried to introduce laws similar to Fort Lauderdale's, according to the National Coalition for the Homeless.
In Fort Lauderdale, the new regulations require groups to be at least 500 feet away from residential properties and food sites are restricted to one per city block.
The laws come amid concerns from residents and businesses worried that their neighbourhoods will become magnets for the homeless.
But the regulations have been criticised as a way of implementing social cleansing by advocates for the homeless, who say that simply passing laws will not improve the situation for anyone.
Reuse content