Mourners have gathered at a ceremony in the US state of Delaware to pay respects to Beau Biden, former attorney general and son of vice president Joe Biden.
The vice president's eldest son died of brain cancer on Saturday at the age of 46.
Mr Biden was laid in the chamber of the Delaware state senate after a procession between the town of Wilmington to Dover, the local capital.
The legislature building was decorated with white flowers and black bunting.
Alongside the deceased politician's coffin lay a black and white family photo and a posthumous medal awarded for his service in the Delaware National Guard.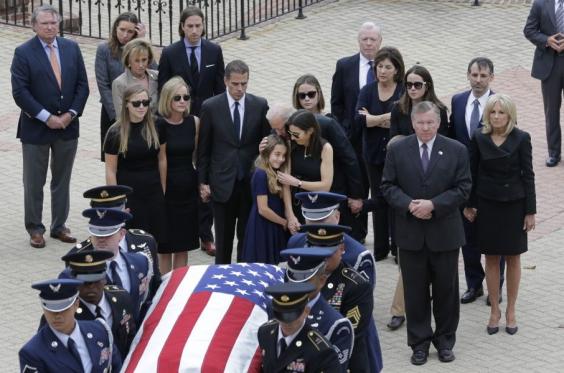 The state's governor Jack Markell led tributes at a service attended by state senators, representatives, and other officials.
Mr Biden's family, including his father Joe, mother Jill, son Hunter, daughter Natalie and wife Hallie, attended the service.
Other members of the public were admitted after the conclusion of the 25-minute ceremony. US news channel CNN reports that over 1,000 members of the public attended.
The attorney general was first diagnosed with cancer in 2013, three years after he suffered a minor stroke.
Those who had issued statements of condolences for Mr Biden included US president Barack Obama.
Additional reporting by AP
Reuse content