Thousands of people have gathered in the centre of Buenos Aires to demand a probe into the death of prosecutor Alberto Nisman, amid claims by the government that the man who had accused the country's president of orchestrating a cover-up over a notorious bombing had committed suicide.
Reports said that crowds gathered late on Monday evening at the Plaza de Mayo, in front of the presidential residence and in other cities to demand authorities look into the death of Alberto Nisman. Many chanted "I want justice".
Officials on Tuesday released preliminary findings of a post-mortem report into the death of Mr Nisman, 51, whose body found late on Sunday evening. The reports said his body was found with a bullet wound on the right side of his head, and that a .22 calibre handgun and a cartridge case were discovered next to his body. It said there was no evidence that anyone else was involved in his death.
The Associated Press said that what may have appeared like a clear-cut case of suicide is clouded by the timing of the prosecutor's death, just hours before he was to give potentially incendiary testimony to Argentina's politicians about his accusation that President Cristina Fernandez de Kirchner and other top officials protected Iranian suspects in the 1994 bombing of a Jewish centre, considered Argentina's worst terrorist attack.
In the day after Mr Nisman made his claim, he said he had received threats, it is claimed. He reportedly told the Clarin newspaper: "I could end up dead because of this".
Mr Nisman claimed last week that Ms Kirchner had been involved in a cover up over the bombing of the Argentine Israelite Mutual Association (AIMA) building that left 85 people and injured hundreds more. There had been an assault on the Israeli Embassy in the city that left 29 people dead two years earlier, at a time when Israel was engaged in strikes on Hezbollah leaders in Lebanon.
Mr Nisman said the President Had conducted secret negotiations with Iran through non-diplomatic channels, offering to cover up the involvement of Iranian officials so Argentina could start swapping grain for much-needed oil from Iran. Local media said he had due to take part in a closed-door hearing in parliament on Monday to explain his accusations against Ms Kirchner.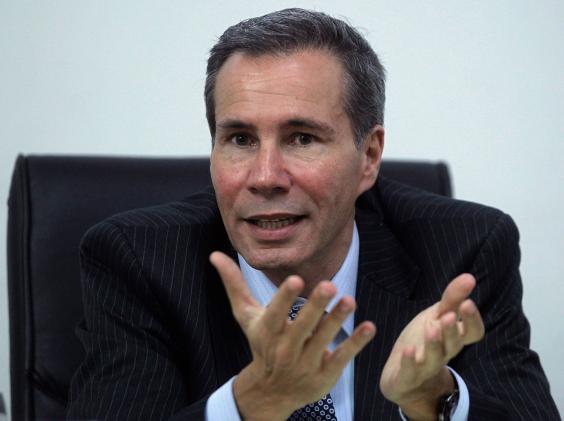 Among those protesting on Monday night was Fernando Lucero, a 42-year-old lawyer. "I'm deeply moved by this. I hope the justice system investigates what happened and if the government is responsible that officials are sent to prison," he said.
Investigating prosecutor Viviana Fein said on Monday that the preliminary autopsy found "no intervention" of others in Mr Nisman's death. "According to the autopsy, he fired the .22 calibre handgun," she said. However, Ms Fein said she would not rule out the possibility that Nisman was induced to suicide, adding that the gun was not his.
"The firearm belonged to a collaborator of Nisman," she told the Todo Noticias television channel.
Authorities said they had to call a locksmith to get into Mr Nisman's apartment on the 13th floor of Le Parc tower, a complex of luxury buildings in the fashionable Puerto Madero neighborhood of Buenos Aires.
Raising more questions about how anyone could have reached Mr Nisman to kill him, the prosecutor had 10 federal police assigned to his protection, according to a statement from the Ministry of Security. An adviser to the ministry, who was not authorised to talk to the press and spoke on condition of anonymity, told the Associated Press the agents were posted at the entrance to the building and in a car nearby, and that police were never posted inside the building.
Reuse content