As officers in riot gear and bearing heavy arms strove to keep one side from advancing into the other, protestors from each flank of America's bitter political divide took over adjacent parks in downtown Portland, Oregon, in a simmering and dangerous show of mutual disdain and anger.
Tensions in a city known for progressive pride spiked as leaders of the alt-right movement began their promised rally as a few hundred followers waved flags and banners variously expressing faith in Donald Trump and defying the contrary message of anti-Trump protestors ranked outside the park - much larger in number - that they stood for racism and intolerance. 
After claiming provocation, officers moved to disperse a main body of protestors away from alt-right gathering using flash grenades and pepper bullets and swinging batons. Police said they took the action after some of their officers had been struck by projectiles including balloons filled with "foul-smelling liquid," as well as bricks, bottles and mortars. Twelve arrests were made and police said the had confiscated weapons including bricks and knives. 
The so-called Trump Free Speech Rally, organized by Joey Gibson, an activist with the pro-Trump group Patriot Prayer, was billed in advance as an attempt by the West Coast alt-right to demonstrate their right publicly to voice their conservative views, even in a town where so many residents might find them repugnant.  
The anti-Trump protestors, who numbered perhaps six thousand, saw it as a provocation coming nine days after the brutal murder of two passengers on a Portland light-rail train after they attempted to intervene when the man accused of killing them began shouting religious and racial slurs at two teenage girls. One was black the other was wearing a head scarf.
The double-murders stunned the city. Jeremy Christian, 35, was arrested and charged for the murder, which Trump responded to via Twitter only several days later calling it "unacceptable".
"It's OK to be a conservative in Portland," Mr Gibson declared in the small plaza, his lengthy, hoarse-voiced speech occasionally drowned out by chants coming from the several thousands counter-protestors outside. "We are in one of the most liberal cities in America yet here we stand united together in a place we are not supposed to be."
The counter-protesters, some there under the umbrella of immigrant rights and religious groups as well as labour unions, drummed and played music and held angry signs, including, "Our city is greater than hate" and "Black lives matter." Some chanted "love, not hate" and "Go home, fascists." 
Many of their signs denounced the alt-right supporters as Nazis.  Sometimes people on either side of the police lines resorted simply to shouting "Nazis" to each other, and showing their mutual disdain with crude hand signals. A used tampon at one point was hurled across a street and just into the park occupied by the alt-right supporters, garnering disgusted outrage. 
"No hate, no fear, Nazis get the f… out of here," was one of the common chants yelled by the anti-Trump contingents, some members of a group called 'Antifa', as in anti-fascist. As tempers frayed the police lines keeping the two sides apart thickened. A sign inside the pro-speech event retorted, "It isn't hate speech just because YOU don't like it".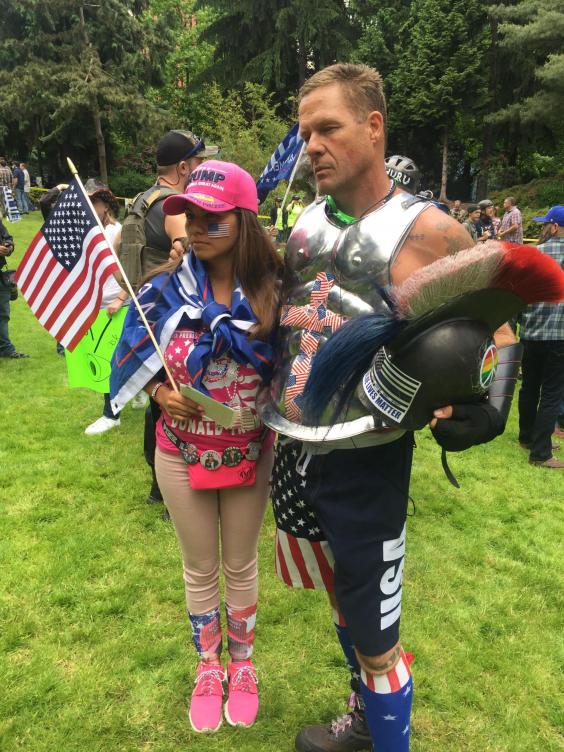 Portland's Mayor, Ted Wheeler had unsuccessfully pleaded with the federal authorities to cancel a permit that had already been issued for the alt-right rally, which he said would unnecessarily exacerbate tensions. His action caused many on the conservative right to demand his removal from office. 
"We travelled here because we had to," explained John Turano, 40, who had come with his daughter, Bianca, from Los Angeles to show support for Mr Gibson and indeed for President Trump. He arrived in the park dressed in the amour of a Spartan warrior and a breastplate bearing small American flags depicting the Christian cross and declaring him a "Soldier for Jesus". He said he freely identified himself as a member of alt-right saying he felt compelled to stand up for the rights of himself and his fellow activists to voice their anti-liberal feelings. 
Among the long list of alt-right celebrities featured at the microphone beneath a yellow flag declaring 'Don't Tread on Me' was a figure who styles himself as Baked Alaska. An internet agitator for ultra-conservatives who was disinvited from an alt-right ball celebrating Trump's victory last December for his public use of the Nazi salute and for using anti-Semitic slurs, he denounced his critics. "I never thought I'd live in a a country where I would say that I am white, Christian male and they would say that I am a racist," he told the crowd in Portland. 
Reuse content