The malign impact of man-made climate change – denied by many on the American right – is already being felt by the United States, according to a sobering new report published by the Obama administration.
The National Climate Assessment, released by the White House on Tuesday, calls for an urgent curb on man-made emissions to tackle worsening heat waves, wildfires, torrential rains and other extreme weather events, and lays out in plain English the everyday consequences of climate change for average Americans. "Climate change, once considered an issue for a distant future, has moved firmly into the present," the report explains.
"Corn producers in Iowa, oyster growers in Washington State and maple-syrup producers in Vermont are all observing climate-related changes that are outside of recent experience. So, too, are coastal planners in Florida, water managers in the arid South-west, city dwellers from Phoenix to New York and native peoples on tribal lands from Louisiana to Alaska."
In pictures: Changing climate around the world
In pictures: Changing climate around the world
1/15 Greenland

Calved icebergs from the nearby Twin Glaciers are seen floating on the water in Qaqortoq, Greenland

2/15 Iran

Oroumieh, one of the biggest saltwater lakes on Earth, has shrunk more than 80 percent to 1,000 square kilometers in the past decade. It shrinks mainly because of climate change, expanded irrigation for surrounding farms and the damming of rivers that feed the body of water

3/15 Greenland

A boat navigates among calved icebergs from the nearby Twin Glaciers in Qaqortoq, Greenland. Boats are a crucial mode of transportation in the country that has few roads. As cities like Miami, New York and other vulnerable spots around the world strategize about how to respond to climate change, many Greenlanders simply do what theyve always done: adapt. 'Were used to change, said Greenlander Pilu Neilsen. 'We learn to adapt to whatever comes. If all the glaciers melt, well just get more land

4/15 Norway

The Svalbard Global Seed Vault is seen after being inaugurated in Longyearbyen, Norway. The 'doomsday' seed vault built to protect millions of food crops from climate change, wars and natural disasters opened deep within an Arctic mountain in the remote Norwegian archipelago of Svalbard

5/15 France

A technician preparing to drain a vast underground lake at the Tete Rousse glacier on the Mont Blanc Alpine mountain, to avert a potentially disatrous flood. Some 65,000 cubic metres (2.3 million cubic feet) of water have gathered in a cavity, dangerously raising the pressure beneath the mountain, a favourite spot for holiday makers in Saint-Gervais-les-Bains

6/15 Switzerland

Cracked mud is picture at sunrise in the dried shores of Lake Gruyere affected by continuous drought near the western Switzerland village of Avry-devant-Pont. A leading climate scientist warned that Europe should take action over increasing drought and floods, stressing that some climate change trends were clear despite variations in predictions

7/15 USA

Cattle graze on grassland that remains dry and brown at the height of the rainy season in south of Bakersfield, California. Its third straight year of unprecedented drought, California is experiencing its driest year on record, dating back 119 years, and dating back as far as 500 years, according to some scientists who study tree rings

8/15 Pakistan

An aerial view shows tents of flood-displaced people surrounded by water in southern Sehwan town. United Nations Framework Convention on Climate Change (UNFCCC) executive secretary Christiana Figueres met with people displaced by last year's devastating floods. Catastrophic monsoon rains that swept through the country in 2010 and affected some 20 million people, destroyed 1.7 million homes and damaged 5.4 million acres of arable land

9/15 Australia

An aerial view of flooding in North Wagga Wagga. Climate change is amplifying risks from drought, floods, storm and rising seas, threatening all countries but small island states, poor nations and arid regions in particular, UN experts warned

10/15 Honduras

Damages caused by a landslide on the Pan-American highway near La Moramulca, 55 Km south of Tegucigalpa. International highways have been washed out, villages isolated and thousands of families have lost homes and crops in a region that the United Nations has classified as one of the most affected by climate change

11/15 Indonesia

A resident sprays water on a peatland fire in Pekanbaru district in Riau province on Indonesia's Sumatra island. Indonesia, an archipelago of 17,000 islands, is one of the world's biggest carbon emitters because of rampant deforestation. US Secretary of State John Kerry Sunday issued a clarion call for nations to do to more to combat climate change, calling it 'the world's largest weapon of mass destruction'

12/15 Indonesia

An excavator clearing a peatland forest area for a palm oil plantations in Trumon subdistrict, Aceh province, on Indonesia's Sumatra island. As Southeast Asia's largest economy grows rapidly, swathes of biodiverse forests across the archipelago of 17,000 islands have been cleared to make way for paper and palm oil plantations, as well as for mining and agriculture. The destruction has ravaged biodiversity, placing animals such as orangutans and Sumatran tigers in danger of extinction, while also leading to the release of vast amounts of climate change-causing carbon dioxide

13/15 Bangladesh

Stagnant rain water with tannery waste make the Hazaribagh area in Old Dhaka as well as Buriganga River the most polluted. Each year during the seven-month long dry season between October and April the Buriganga River becomes totally stagnant with its upstream region drying up and becoming polluted from toxic waste from city industries

14/15 Bangladesh

Waste water from Dhaka city drained to the River Buriganga contributes to its pollutions. On the World Water Day observed in 2007 under the theme Coping with Water Scarcity, under the leadership of the Food and Agriculture Organization of the United Nations, DrikNEWS explores some of the images of the river. UN-Water has identified coping with water scarcity as part of the strategic issues and priorities requiring joint UN action. The theme highlights the significance of cooperation and importance of an integrated approach to water resource management of water at international, national and local levels

15/15 China

Heavy smog has been lingering in northern and eastern parts of China, disturbing the traffic, worsening air pollution and forcing the closure of schools. China's Environment Ministry said it will send inspection teams to provinces and cities most seriously affected by smog to ensure rules on fighting air pollution are being enforced
The 800-page report, compiled by a group of more than 240 scientists, outlines the region-by-region impact of climate change on food production, water supply and public health. "Summers are longer and hotter, and extended periods of unusual heat last longer than any living American has ever experienced," the report says. "Winters are generally shorter and warmer. Rain comes in heavier downpours. People are seeing changes in the length and severity of seasonal allergies, the plant varieties that thrive in their gardens, and the kinds of birds they see in any particular month in their neighbourhoods."
The assessment found that the decade from 2001 to 2012 was the warmest on record in the US. Heat waves, already the country's biggest cause of weather-related deaths, are expected to intensify and spread. The amount of rainfall from extreme weather events has increased by as much as 71 per cent in the North-east. According to the report, sea levels have risen by 8in since 1880, and will rise by between 1ft-4ft before 2100, threatening the homes of around 5 million people who live close to the high-tide level on the US coastline. Certain diseases have become more prevalent due to decreased air quality, and the report also blamed climate change for a devastating outbreak of mountain pine beetles in the forests of the American West.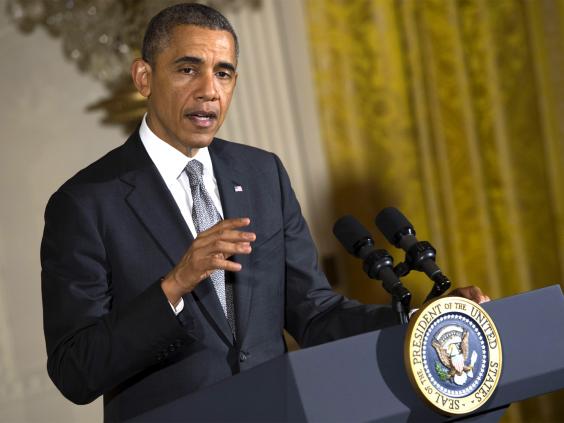 The average US temperature has increased by less than two degrees Fahrenheit since the end of the 19th century, with most of that increase occurring since 1970. But the report warned that temperatures could go up by as much as 10 degrees Fahrenheit during the 21st century if greenhouse-gas emissions continue to expand at their current pace. In recent years, the US has been overtaken by China as the world's biggest single producer of fossil-fuel emissions, but its emissions per capita remain more than double those of the Chinese.
The National Climate Assessment addresses head-on the most politically controversial aspect of climate change: whether it is man-made. The report states that new and varied items of evidence "confirm that human activities" have contributed to climate change, in particular emissions from the burning of fossil fuels. According to satellite data cited in the assessment, solar activity and volcanic eruptions have had little or no effect on climate change, while the report attributes a recent "pause" in global warming to "cyclic changes in the oceans and in the sun's energy output".
In 1990, Congress mandated a major scientific report on climate change be published every four years, but only two such assessments have been compiled before now, in 2000 and 2009. This week's assessment was approved before its publication by a committee including representatives from two major oil companies, government departments, the National Academy of Science and Nasa. President Obama was expected to grant interviews to national and local television weather forecasters, in a bid to publicise its findings.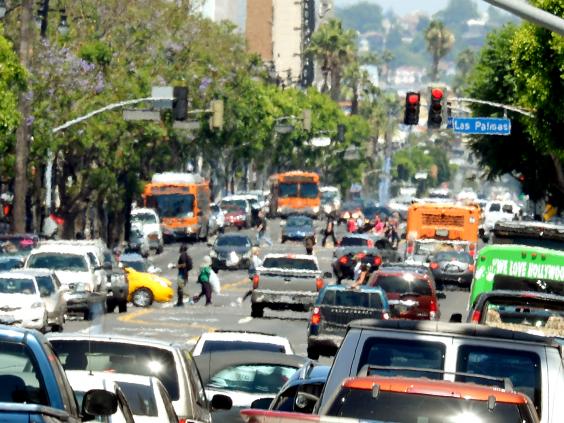 At a press conference in Washington DC, John P Holdren, the President's science adviser, said the National Climate Assessment was "the loudest and clearest alarm bell to date" on climate change in the US. The White House counsellor John Podesta told reporters that the assessment contained "a huge amount of practical, usable knowledge that state and local decision-makers can take advantage of as they plan on or for the impacts of climate change."
In February, the US Department of Agriculture introduced a series of so-called "climate hubs": networks to connect farmers to universities, industry groups and government agencies, so they can better prepare for climate-related events such as drought and flooding. The administration intends to use the new report to bolster support for Mr Obama's Climate Action Plan, set out last year, which calls for new regulations to curb polluters, and the establishment of a $1bn (£590m) "climate resiliency fund" to finance preparations for the effects of continued climate change. The report claims that in 2012 alone, climate and weather disasters cost the US more than $100bn.
However, many Republicans oppose the President's plan, saying it will damage the US economy. "Instead of making the environment drastically better, the President's strategy will make the climate for unemployed Americans even worse," said Senator John Barrasso of Wyoming. The Heartland Institute, a conservative think-tank that is sceptical of man-made climate change, said that the National Climate Assessment "consistently reaches overly pessimistic conclusions".
Reuse content