A flight was delayed for 17 hours at Los Angeles airport after a passenger alerted staff of an "Al-Quida Free Terror Nettwork" WiFi connection while trying to connect to the internet.
The American Airlines aircraft travelling from LAX to London turned back to the gate while taxiing the airfield on Sunday night after the air hostess was shown a network named "Al-Quida Free Terror Nettwork".
Passengers were then forced to disembark while police investigated, Some had to stay in hotels overnight before they could catch another plane as the flight was rescheduled for the next day.
Travellers were told that there was a "minor security issue" that had to be dealt with, but the situation was not fully explained by the pilot or cabin crew.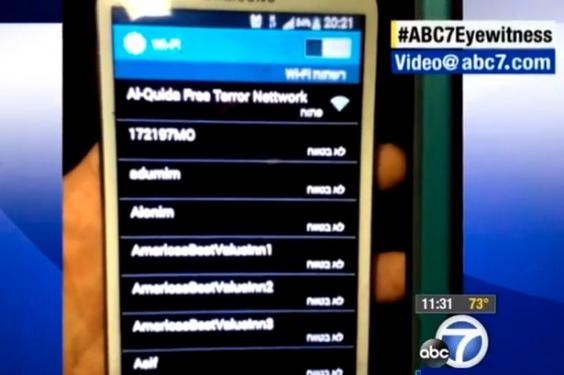 British traveller Kevin Simon, who lives in California, told Mail Online that the plane was stationary for one-and-a-half hours before it returned to the gate.
He said: "I only found out about the WiFi hotspot name after I got back home and googled for any clues."
Anthony Simon, head of Head of Digital at the UK Government Communication service who was on the plane, posted on Twitter: "Thanks to the idiot who did this meaning I won't get back to London for another day."
In reply to a customer contacting the airline on social media, American Airlines said: "We're sorry for the inconvenience. A customer reported a concern. We're delaying the flight out of an abundance of caution."
A network can be created by "tethering" the connection from a mobile device such as a smartphone or tablet so it can be shared with other devices as a WiFi hotspot.
In-flight WiFi is accessible on around 40 per cent of air journeys within the US and on a number of international long haul flights.
Reuse content