American Sniper, the film about the life of former Navy SEAL Chris Kyle, is nearing the end of the Oscar race with six nominations and a growing box office gross of more than $300m (£195m). Meanwhile in Texas, the trial concerning his death is also approaching its conclusion.
The lawyers defending Mr Kyle's killer, 27-year-old Eddie Ray Routh, rested their case on Thursday after calling eight witnesses, including a psychiatrist who testified that the defendant believed cannibals wished to cook and eat him, and an ex-girlfriend who said he had accused her of trying to "steal his soul". Routh pleaded not guilty to murder by reason of insanity.
He and his lawyers do not dispute that on 2 February 2013, days after being released from a psychiatric stay at a Dallas hospital, Routh shot dead fellow Iraq veteran Mr Kyle, 38, and Mr Kyle's friend Chad Littlefield, 35, at the Rough Creek Lodge gun range near Stephenville, Texas, where the victims intended to help him overcome severe post-traumatic stress disorder (PTSD).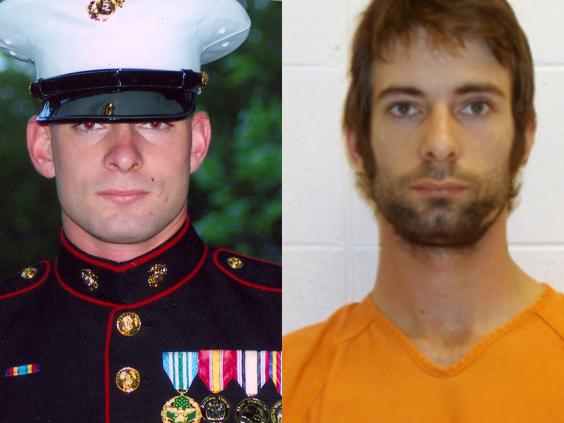 With 160 confirmed kills over four tours in Iraq, Mr Kyle was considered the deadliest sniper in US military history. After leaving the Navy he had worked to support veterans suffering from PTSD and wrote the best-selling memoir, American Sniper. The screen adaptation, directed by Clint Eastwood and starring Bradley Cooper, is now the highest-grossing war film ever.
Routh served in Iraq as a small-arms technician and was sent to Haiti in the aftermath of 2010's devastating earthquake.  He left the Marines later that year but, his mother Jodi Routh told the jury, "he was no longer his happy-go-lucky self".
During the trial, it emerged that Routh rarely showered in the months leading up to the shooting, and wanted to set up a gardening business employing goats to mow lawns. Jennifer Weed, a psychology graduate who was Routh's girlfriend at the time of his arrest, said the couple often argued over his odd behaviour.
A few weeks before the killings, he stopped Ms Weed from leaving her apartment, brandishing a "ninja sword", insisting it was not safe outside.
Dr Mitchell Dunn, a former forensic psychiatrist at Terrell State Hospital in Texas, told the jury that Routh believed his colleagues at a cabinet shop were cannibals, a breed of "hybrid pig people", who planned to take over the world.
Dr Dunn interviewed Routh in jail for more than six hours in April 2014. "I knew this was kind of a big deal, so I wanted to make sure I spent enough time with him," the psychiatrist said, telling the court he believed Routh suffered solely from mental illness, not PTSD.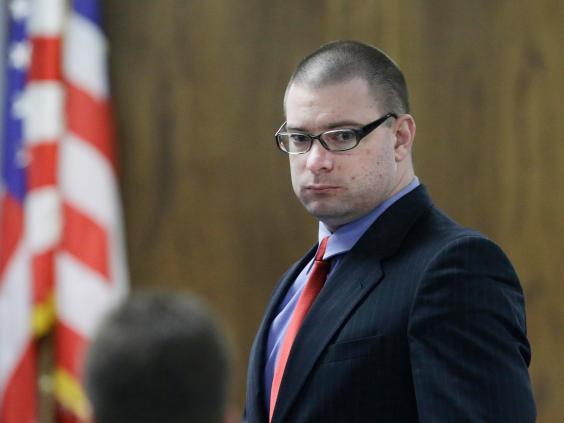 Yesterday, prosecutors called rebuttal witnesses including forensic psychologist Dr Randall Price, who had also interviewed Routh at length. Price told the jury he suspected the defendant of faking the symptoms of schizophrenia, and suggested his psychosis was brought on by having smoked marijuana on the morning of the shootings. Routh, he added, does not meet the definition of insanity under Texas law.
It was Routh's mother who had originally approached Mr Kyle to ask if there was anything he could do for her son, who by the day of the killings had been hospitalised at least four times with mental illness. However, she did not tell Mr Kyle that Routh had threatened to kill himself and his family.
Mr Kyle's widow Taya was the first witness to testify in the high-profile trial, which began on 11 February. She said that her husband had never met his killer before, and that she sensed there was something wrong when Mr Kyle called her from the gun range, apparently tense.
Mr Kyle was shot six times, Mr Littlefield seven. Routh's attorneys argue that he was in a psychotic state and became convinced that the trip to the gun range was a showdown. "I knew if I didn't take out his soul, he was going to take mine," Routh said in a video of his initial interrogation, which was played to the court.
The killer stole Mr Kyle's black Ford pickup truck after the shooting and drove to the home of his sister, Laura Blevins. He told her that he had killed two men and sold his soul in return for the vehicle.  She called the police.
Closing arguments are expected to begin on Monday. The prosecution is not seeking the death penalty. If convicted of first-degree murder, Routh instead faces life in prison without parole.
Reuse content