Disinclined to abandon the race for New York Mayor after being hit by fresh 'sexting' allegations, former Congressman Anthony Weiner seemed to have only to have one true defender. That would be Huma Abedin, the mother of his toddler son and – some would say – his unaccountably good wife.
For their part, the editorialists turned on Mr Weiner as one after he partially acknowledged fresh reports of inappropriate exchanges on the internet with a young woman. 
The cyber-relationship seemingly began last summer, a year after he resigned from Congress amid similar allegations involving several women and the posting of pictures of his private parts. He vowed then never to repeat his errors – and to heal his marriage.
That Mr Weiner resumed his bad habits was first revealed by a blog site called The Dirty that published excerpts of the new conversations and a crotch-shot of Mr Weiner's nether regions. The New York Times suggested he "take his marital troubles and personal compulsions out of the public eye, away from cameras, off the Web and out of the race for mayor." The Daily News intoned: "A proven liar must not be mayor".
If the candidate has opened himself to ridicule it is in part also because he went by the name "Carlos Danger" when talking to the young woman, who reportedly is in her early twenties.
All this leaves Ms Abedin, a long-time close advisor to Hillary Clinton, as possibly Mr Weiner's only remaining serious asset and last character witness. She notably chose to appear at his side at a press conference late on Tuesday. More than that, she spoke forcibly on his behalf.
"It took a lot of work and a whole lot of therapy to get to a place where I could forgive Anthony. It was not an easy choice in any way, but I made the decision that it was worth staying in this marriage," she said. "We discussed all of this before he decided to run for mayor, so really what I want to say is, I love him, I have forgiven him, I believe in him, and as we have said from the beginning, we are moving forward."
Voters may or may not be swayed assuming Mr Weiner, 48, is still on the ballot when Democrats chose their mayoral candidate in primary elections in September. In recent weeks he has been near or at the the top of most polls. What they probably do know is that Ms Abedin, born of Pakistani and Indian parents, is highly regarded in her own right and that she is also known for staying far from the limelight, normally.
In an essay written for the September issue of Harper's Bazaar,  she seems to foretell the current troubles. "New Yorkers will have to decide for themselves whether or not to give him a second chance. I had to make that same decision for myself, for my son, for our family. And I know in my heart that I made the right one," she writes. "Launching this campaign was not an easy decision… Putting yourself out there comes with a cost."
Her best character witness, meanwhile, may be Mrs Clinton. She told Vogue in 2007: "Huma Abedin has the energy of a woman in her 20s, the confidence of a woman in her 30s, the experience of a woman in her 40s and the grace of a woman in her 50s…"
Let's stay together: Wives who didn't walk
Eliot and Silda Spitzer
New York's former Governor resigned in 2008 after it emerged he spent  $10,000 visiting prostitutes, but his wife, Silda, remains by his side. When the scandal broke, she said she felt partially responsible as "the wife is supposed to take care of the sex".
'DSK' and Ann Sinclair
In 2011, while he was head of the IMF, Dominique Strauss-Kahn was accused of sex-ually assaulting a maid in New York, sparking a raft of sexual allegations against him. At the time, journalist Ann Sinclair stood by her husband, though the pair eventually separated.
Kobe and Vanessa Bryant
The NBA star was arrested and accused of raping a Colorado hotel employee in 2003. He denied the allegations and the charges were dropped. He admit-ted cheating on his wife, Vanessa, and bought her a $4m ring. She filed for divorce but changed her mind.
Silvio Berlusconi and Veronica Lario
The former Italian prime minister is infamous for sex scandals. His wife  stood by him before filing for divorce in 2009, stating she had "watched in silence without reacting to the brutal besmirching of myself, my dignity and my marital history," but had finally had enough. 
Jennifer Cannon
'Cubicle guy' pokes his nose into press call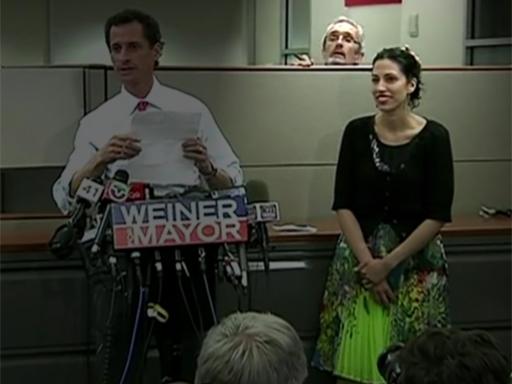 The press conference at which Anthony Weiner was forced to confront more allegations of "sexting" was a sombre affair for most. But while many were hanging on Weiner's every word, a large proportion of the internet appear to have been distracted by a man in the background, who spent most of the time peering over the top of a partition behind Weiner.
"Cubicle guy" – as he became known – provoked hilarity as he poked his head from behind the cubicle wall. He was identified later as reporter Jeff McKinney.
Reuse content