Argentinian soldiers were subject to abuse and torture by their own side during the Falklands War, according to newly released files.
The first official documents from the 1982 conflict to be made public by the Argentinian military include testimonies from soldiers who say they were poorly equipped, cold and could be severely beaten if they left their posts to find food.
The files also describe mock executions and soldiers being tied up in empty graves, according to the BBC.
At the time of the conflict Argentina was ruled by a brutal military dictatorship, which lasted from 1976 until 1983, that was believed to have "disappeared" thousands of citizens in its "dirty war" against dissent.
One lieutenant described how he was forced to lie face down on wet sand on a cold Falklands beach for eight hours after an officer tied his hands and legs to his back.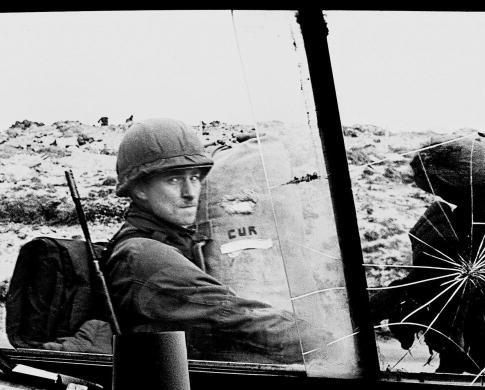 Argentinian war veterans have claimed for years they were subject to torture and deprivation during the three month conflict.
Ernesto Alonso, from a veterans group in Buenos Aires, told the BBC: "These documents lift the veil on facts that were hidden for so many years by the armed forces."
The military junta declared war on Great Britain in April 1982 to claim possession of what it called "Las Islas Malvinas". 
A British expeditionary force was sent to defend the islands and regained control in June. Around 255 British servicemen died in the conflict along with an estimated 649 Argentinians.
The unpopularity of the war at home in Argentina contributed to the collapse of the junta a year later but most Argentinians have continued to claim the islands as their own.
President Cristina Fernandez de Kirchner has repeatedly denounced what she has called Britain's "colonialism".
The British government has refused to negotiate giving up control of the islands and said it will defend the self-determination of the approximately 2,900 islanders.
A referendum in March 2013 found that all but three of the 1,517 islanders eligible to vote wanted to remain British.
The Falklands Islands - A history
The Falklands Islands - A history
1/10 The Falklands Islands - A history

The Falkland Islands are an archipelago in the South Atlantic Ocean, around 300 miles east of Argentina's Patagonian coast

Google Maps

2/10 The Falklands Islands - A history

The first recorded landing on the islands is attributed to English captain John Strong in 1690. The islands remained uninhabited until 1764 when Frenchman Louis Antoine de Bougainville established the settlement of St. Louis.

Getty

3/10 The Falklands Islands - A history

In 1766, France surrendered the islands to Spain. In 1771 the islands were handed over to Britain. Britain and Spain continued to fight over the islands during the era of the Napoleonic wars. They were abandoned once again by both nations in 1811.

Getty

4/10 The Falklands Islands - A history

The islands political status remained disputed until Colonel David Jewett, an American privateer, stated that the islands were now owned by Buenos Aires in 1820. However, the garrison forces mutinied in 1832 and then an invading British force reasserted British rule the next year.

Getty

5/10 The Falklands Islands - A history

The Falklands, despite resistance from Buenos Aires, became a British Crown colony in 1840. The town of Port Jackson was renamed Stanley in 1845. This remains the name of the island's capital.

6/10 The Falklands Islands - A history

The islands served an important role in Britain's territorial claims to subantarctic islands and a section of Antarctica. They also played a role in the two world wars as a navy base.

Getty

7/10 The Falklands Islands - A history

Tensions rekindled when Argentinian President Juan Perón asserted sovereignty over the islands, intensifying over the course of the 1960s. The UK was originally happy to discuss the shift of sovereignty back to Argentina but complaints from the UK nationals inhabiting the island and rising tensions between the countries limited negotiations.

Getty

8/10 The Falklands Islands - A history

Due to the expense of maintaining sovereignty over the islands, the UK again considered transferring sovereignty back to Argentina in the early days of the Thatcher government. However, talks ended in 1981 and the dispute continued to escalate. Eventually in April 1982, Argentina invaded the Falklands.

Getty

9/10 The Falklands Islands - A history

The Argentinian invading forces briefly occupied the islands before a UK expeditionary force took them back. In total 649 Argentinian military personnel, 255 British personnel and three Falkland Islanders died during the conflict.

Getty

10/10 The Falklands Islands - A history

The islands remain under British control but current Argentinian President Cristina Fernández de Kirchner has been increasing a rhetoric of repatriation of 'The Malvinas', as the islands are known in Argentina.

Getty
Reuse content