Terrifying new footage has emerged of the moment an Asiana Airlines Boeing 777 crashed on its final approach to San Francisco International Airport this summer, killing two passengers at the scene along with another who later died in hospital after being run over by rescue vehicles.
The National Transportation Safety Board has released the footage of the plane tumbling down the runway before dramatically flipping up into the air and coming to rest in a cloud of smoke.
The chilling video of the incident was released as part of an investigative hearing into the incident, which yesterday heard that the pilots of the Asiana jumbo jet  were "deeply confused" about the automated control systems on the plane.
In the details of a report released yesterday it also emerged that the Asiana Airlines captain was "very concerned" about attempting an approach at the airport because the runway's automatic landing aids were out of service due to construction work.
It was also revealed that neither the trainee nor an instructor pilot in the cockpit said anything when the first officer raised concerns four times about the plane's rapid descent.
After the accident, which killed three people and injured more than 200 on 6 July, Captain Lee Kang-Kuk told the National Transportation Safety Board investigators that he had been concerned he might "fail his flight and would be embarrassed".
Mr Lee, who was described as a seasoned aviator who was undergoing transition training to the Boeing 777, had told investigators that he felt "very stressful" about making a visual approach.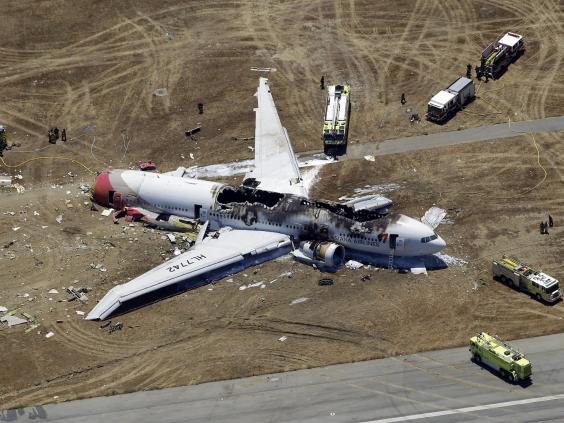 The instrument landing system (ILS) at San Francisco airport had been out of operation for around a month requiring a hands-on approach. On a so-called visual approach the pilot is required to use cues from approach lights on the runway's edge to bring the plane down safely.
Mr Lee had told investigators that he was "very concerned" about his ability to perform such an approach in a 777 aircraft.
So far, the investigation has not found any mechanical problems with the 777 prior to impact, although testing is ongoing.
It also emerged that a teenage girl who survived the crash died after she was run over by two rescue vehicles in the chaotic aftermath.
Authorities in California revealed months ago that 16-year-old Chinese student Ye Meng Yuan was alive on the runway and covered in firefighting foam when she was hit by an emergency vehicle and suffered the multiple blunt injuries that killed her.
But documents released at a National Transportation Safety Board hearing in Washington reveal the motionless girl was struck twice - once by a fire rig spraying foam and again 11 minutes later by a second truck that was being turned around to fetch more water.
Additional reporting by Associated Press