Nine of the 10 people on the FBI's list of Most Wanted Terrorists are Islamic militants, sought by the US authorities for crimes such as plane hijackings and the 1998 bombing of the US embassies in Nairobi and Dar es Salaam. The 10th and last name stands out not only because it echoes a completely different historical struggle, but also because it belongs to the only woman on the list: JoAnne Chesimard, better known as Assata Shakur.
The 67-year-old Shakur, a member of the Black Liberation Army (BLA), was convicted of the murder of a New Jersey state trooper, Werner Foerster, in 1973, escaped from prison in 1979 and has lived in exile in Cuba since 1984. She was added to the FBI's list last year, four decades after Trooper Foerster's death. This month, a new edition of her memoir Assata has been published, with a foreword by the celebrated civil rights activist Angela Davis, who, contrary to the authorities' claims, calls Shakur a "compassionate human being with an unswerving commitment to justice".
Ms Davis is far from alone in her admiration, which is shared by many scholars, mural painters and musicians across the US. Shakur is mentioned in the Public Enemy track "Rebel Without a Pause", while the rapper Common visited her in Havana in 1999 and released "A Song for Assata" the following year; the song became a source of controversy when he was invited to attend a poetry event at the White House in 2011. Perhaps most famously, Shakur was the step-aunt and godmother of the late rapper, Tupac Shakur.
Born JoAnne Byron in the Jamaica, Queens, New York, in 1947, she spent a long stretch of her childhood living in segregated North Carolina. She returned to New York in 1970, where she took up with the socialist Black Panther Party. Though the FBI identifies her as Joanne Chesimard, her marriage to a fellow student activist, Louis Chesimard, lasted only three years, from 1967 to 1970. Ever since, she has been known to all but the authorities as Assata Olugbala Shakur, meaning: "She who struggles for the people, the thankful one."
The case of Assata Shakur
The case of Assata Shakur
1/5 The case of Assata Shakur

Convicted murderer JoAnne Chesimard who goes by the name Assata Olugbala Shakur

Corbis

2/5 The case of Assata Shakur

FBI photos depict various appearances of the convicted murderer JoAnne Chesimard

AP

3/5 The case of Assata Shakur

The coffin of Zayd Shakur (no relation)

Corbis

4/5 The case of Assata Shakur

The slain New Jersey state trooper Werner Foerster

AP

5/5 The case of Assata Shakur

Assata Olugbala Shakur in 1984 when she fled to Cuba, where she still lives

AP
As an activist, she did more than simply protest. Disillusioned with what she saw as the Black Panthers' failure to engage properly with black history, Shakur soon quit to join the BLA, a militant group composed mostly of breakaway Panthers. According to the FBI, during the 1970s the BLA was a revolutionary extremist organisation, responsible for violent crimes and the deaths of at least a dozen police officers. Neither side was spotless, though: it was also the era of the FBI's infamous Cointelpro programme, under which the bureau conducted covert and often illegal surveillance of domestic political groups.
In 1973, Shakur was wanted for her alleged involvement in an armed bank robbery. On 2 May that year, she and two of her BLA associates were pulled over by a pair of state troopers on the New Jersey Turnpike because, it was later claimed, they were driving with a broken tail light.
Shakur's account of what happened next runs contrary to the official version of events. But what is undeniably true is that gunfire was exchanged, leaving Shakur and Trooper James Harper wounded and their respective colleagues Zayd Shakur (no relation) and Trooper Foerster dead.
Though Shakur maintained that she had been shot with her hands up – and forensic evidence appeared to support her claim – prosecutors said she and her companions opened fire first. In 1977 she was given a life sentence for crimes including first-degree murder.
"I don't even want to call it a trial, it was lynching, by an all-white jury," she said in a rare 2001 interview with BET TV.
"I had nothing but contempt for the system of justice under which I was tried."
Two years into her sentence at a New Jersey prison, Shakur escaped in a daring jailbreak staged by armed members of "The Collective", a coalition of radical organisations. Five years later, she emerged from hiding in Cuba, where she has been living ever since.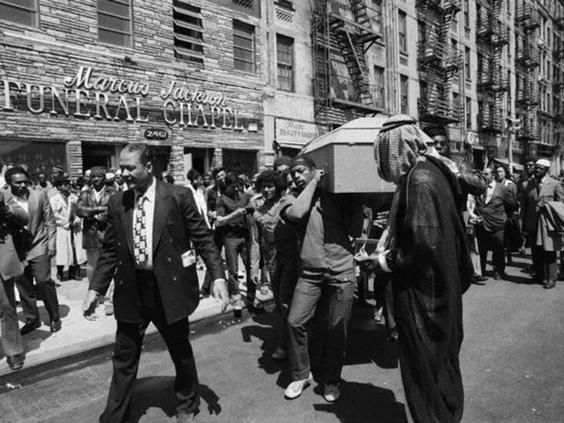 In an open letter dated 1998, she described herself as "a 20th-century escaped slave", explaining: "I was left with no other choice than to flee from the political repression, racism and violence that dominate the US government's policy towards people of colour... although the US government has done everything in its power to criminalise me, I am not a criminal, nor have I ever been one."
Her supporters maintain her innocence. Ms Davis, who herself spent several months on the FBI Most Wanted list in 1970, recently told Democracy Now! that the FBI's targeting of Shakur "is a vendetta".
The US authorities admit that she is no longer considered a threat, but have nonetheless labelled her a "domestic terrorist" and offered a $2m (£1.2m) reward for information leading to her capture.
Shakur is only the second US citizen to be included in the FBI's 10 Most Wanted Terrorists. When her name was added to the list last year, Trooper Foerster's son, Eric, himself a former New Jersey state trooper, told Fox News: "The fact that [she] gets to enjoy time with her family and my father did not is wrong. It is a loss that will stay with us forever."
The FBI says the list is not necessarily a reflection of the people who pose the most imminent threat to the US, but instead is a tool to draw attention to those whom it believes it can capture with increased public awareness. Yet given the lack of an extradition agreement with Cuba, it is unlikely that Ms Shakur will be returned to the US in the foreseeable future.
The communist government in Havana is believed to be sheltering as many as 70 fugitives from the US and the country's former President Fidel Castro has even lent Shakur his personal support, saying of her case in 2005: "They wanted to portray her as a terrorist, something that was an injustice, a brutality, an infamous lie."
Reuse content