A widow who released a balloon at the grave of her husband who died from pancreatic cancer says she has "found peace" after it floated back to the family home.  
Sandy Seibold and her daughter Saige visited the grave of Johnny Seibold, who died earlier this year from cancer, to release a balloon with a note attached.
The pair were stunned when, after driving 25 miles back to their home, they found the balloon and its message caught on a fence in the pasture behind their house.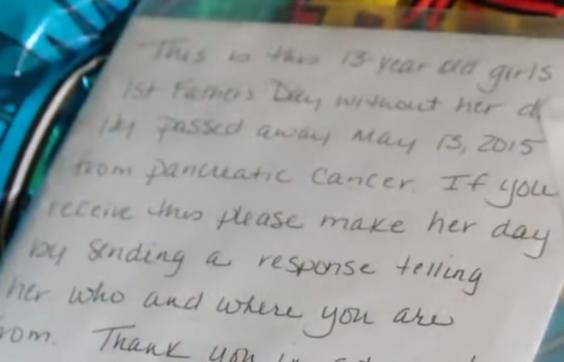 Mrs Seibol, who lives in Cement, Oklahoma, said she finds it hard to believe that it was not a sign from her husband.
She told local news channel KFOR: "What are the chances? I think I started crying. It felt like a message from him.
"This has given us a lot of peace and good feelings about where he's at."
They had decided to release several balloons with the message attached and contact details so the finder could contact them.
"We thought the idea of sending balloons to heaven sounded good", Mrs Seibold added.
Reuse content