The hard work was done, the serious discussion over, and his address to the Cuban people delivered.
So it was no real surprise that when Barack Obama arrived on Tuesday to watch an exhibition baseball game between the Tampa Bay Rays and the Cuban national team at Havana's Estadio Latinoamericano, he was in a relaxed and upbeat mood. 
So much so, that when the crowd of  55,000 Cuban and American baseball fans took to their feet for the traditional 'wave', he, his wife Michelle, and their host Raul Castro, all got to their feet and joined in.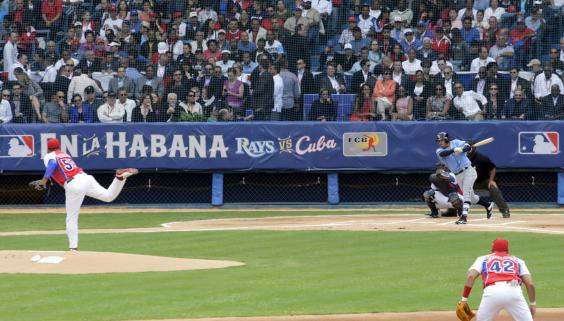 Mr Obama had gone ahead and attended the display of sports diplomacy, despite calls from some Republicans to cut short his Cuba trip because of the attacks in Belgium. 
During an in-game interview with ESPN, the president said he had not considered skipping the game.
"It's always a challenge when you have a terrorist attack anywhere in the world, especially in this world of 24/7 news coverage," he said. 
"You want to be respectful and understand the gravity of the situation. But the whole premise of terrorism is to try to disrupt people's ordinary lives."
Mr Obama said one of the proudest moments of his presidency was Boston Red Sox star David Ortiz's fiery, profanity-laced speech at Fenway Park in the aftermath of the 2013 Boston marathon bombing, according to The Hill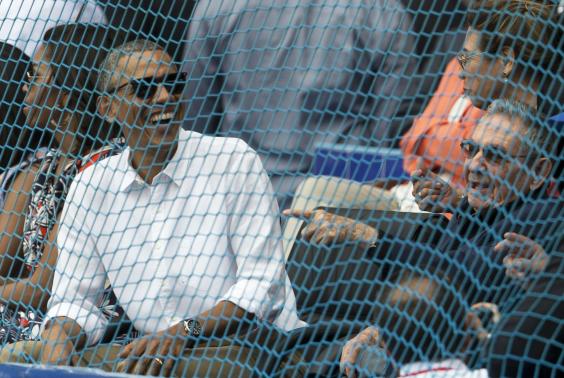 "Probably the only time America didn't have a problem [with curse words on live TV]. That is the kind of resilience and the kind of strength we have to continually show in the face of these terrorists. They cannot defeat America."
Mr Obama also said the US would continue to go after Isis, which claimed responsibility for the violence.
"This is just one more example of why the entire world has to unite against these terrorists," he said. 
"The notion that any political agenda would justify the killing of innocent people like this is beyond the pale."
Mr Obama took a seat next to Cuban President Raúl Castro in the front row behind home plate. The two leaders stood and bowed their heads for a minute's silence to honour those killed in Belgium.
Mr Obama was accompanied by Rachel Robinson, the widow of the player who broke MLB's colour barrier, Jackie Robinson, who attended spring training in Cuba with the Brooklyn Dodgers in 1947.
Cuban players came over to the home plate area to salute Mr Castro after they were introduced. Rays players then lined up to shake hands with Mr Obama. 
"Way to represent," Mr Obama told one of the Tampa players.