US Defence Secretary Chuck Hagel today congratulated the US personnel who had worked to release a soldier held prisoner by the Afghan Taliban for almost five years.
On Saturday, 28-year-old Bowe Bergdahl was freed, without a shot being fired, as part of a prisoner swap which also saw five senior Taliban officials released from Guantanamo Bay by the US. Meeting with some of the Special Forces involved in Sergeant Berghdal's release at Bagram Airbase in Afghanistan, Mr Hagel said that once the exchange had been agreed, the team had acted fast, "essentially to save [Bergdahl's] life."
According to the BBC, Taliban leaders and US negotiators first met to discuss Sergeant Bergdahl's return three years ago in Qatar, but talks stalled when the Americans pressed the other side to engage in a broader peace process. Angered by the Taliban opening a political office in Qatar in 2013, the Afghan government in Kabul tried to halt the negotiations, which continued in secret with the Qataris acting as mediators. Afghan President Hamid Karzai was reportedly informed of the prisoner swap only after Sergeant Bergdahl and the five Guantanamo detainees had been released.
The five Afghan men were flown from Cuba to Qatar, and will be banned from leaving the emirate for at least one year. President Barack Obama said Qatar had promised to "put in place measures to protect our national security." Meanwhile, Taliban leader Mullah Mohammad Omar released a statement celebrating their release, saying: "I extend my heartfelt congratulations to the entire Afghan Muslim nation, all the mujahideen and to the families and relatives of the prisoners for this big victory regarding the release of five Taliban leaders from Guantanamo prison."
In Washington, several Republicans criticised President Obama and the Pentagon, saying they had violated US law by failing to give Congress the requisite 30 days' notice before releasing inmates from Guantanamo. The former GOP Presidential candidate Senator John McCain welcomed Sergeant Bergdahl's release, but described the freed Taliban detainees as "hardened terrorists" with "the blood of Americans on their hands."
Mr Obama reportedly telephoned Sergeant Bergdahl's parents early on Saturday morning to tell them that their son had been released. During a White House press conference with Robert and Jani Bergdahl, Mr Obama insisted, "While Sergeant Bergdahl was gone, he was never forgotten." The couple said they were "joyful and relieved" to hear that their son had been freed. Mr Bergdahl appeared sporting the long, unruly beard that he began growing after his son was captured in 2009.
Sergeant Bergdahl is now undergoing medical treatment at a US military base in Germany, but is in contact with his family via telephone and video. His parents said he found speaking English difficult after spending so long in captivity.
Speaking to reporters on Sunday, Mr Bergdahl said he hadn't talked to his son personally since his release, but that Sgt Bergdahl's recovery was "a work in process". Mr Bergdahl said: "Someday, there will be a time for interviews and books and whatever, and I have a lot to say and I know Bowe is going to have a lot to say about this -- but that's still a distant future thing and I won't let things get in the way of Bowe's recovery." Weeping openly, he told his son, "I'm so proud of how far you were able to go to help the Afghan people and I think you have succeeded."
There is speculation that Sgt Bergdahl had become disillusioned with the US military's activities in Afghanistan, and that he deliberately walked away from his post, but US officials have said he is unlikely to face desertion charges.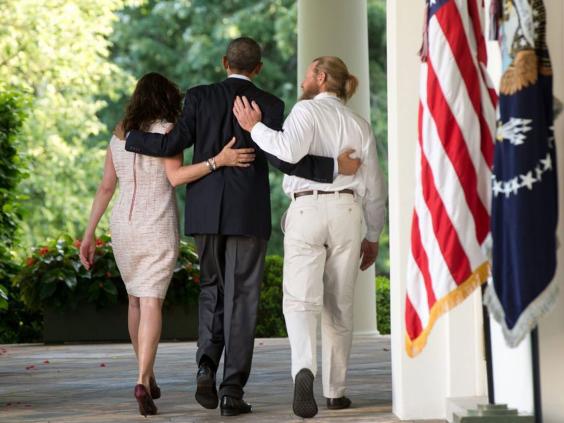 Originally from the small town of Hailey in Idaho, Sergeant Bergdahl was part of an infantry regiment posted to Afghanistan's Paktika province in May 2009. He went missing close to the Pakistani border on 30 June, and the US believes he was kept in Pakistan for most of the last five years. He was returned to US forces near the border town of Khost on Saturday evening, when a large Special Forces team arrived by helicopter to make the handover with around 18 Taliban militants. "No shots were fired," Mr Hagel said. "It went as well as it could have."
After the helicopter lifted off, Mr Bergdahl was said to be unable to make himself heard above the noise, so he scrawled the message "SF?" – meaning Special Forces – on a paper plate. He broke down in tears as the men nodded and told him, "We've been looking for you for a long time."
Reuse content