Topless men and women have taken part in a protest in Canada following an incident where three sisters were allegedly stopped by police for cycling shirtless.
The 'Bare With Us' rally, which took place yesterday in Waterloo's Town Square in Ontario, aimed to educate people about women's right to go topless in public, a practice which has been legal since 1996.
The rally was organised by Alysha Brilla, a musician, and her two sisters. It is claimed that on 24 July in Kitchener, the trio were stopped by a male police officer who told them to cover up because it was the law, AP reported.
Brilla told the officer he was wrong and started filming the interaction on her phone. The officer said he had only stopped the women for safety reasons.
Messages from protesters at the rally included: "Bare With Us! They're just boobs!"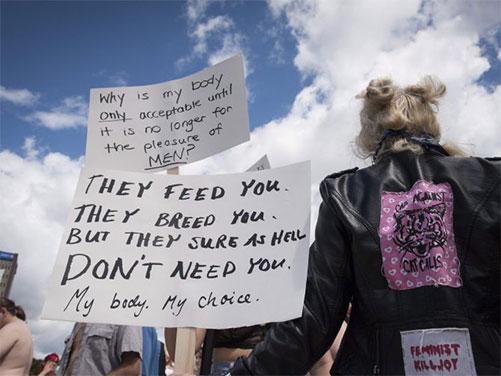 Brilla told CBC news: "I had no idea how [polarising] the issue would be. I thought people wouldn't be so disturbed by the female breast."
"We just want to advocate and let people know that they do have the right," she said.
In a tweet, Waterloo Regional Police said the event had been a "respectful, peaceful, safe demonstration".
In 1996,  the Ontario Court of Appeal overturned the conviction of a student who went topless on a university campus in 1991.
Reuse content