The Barikad Crew, whose float struck a high voltage cable during Haiti's Carnival, are one of the country's most popular bands yet they have repeatedly been struck by tragedy.
In the summer of 2008, four members of the hip-hop band and their driver were killed in a car accident. By no small irony, the members of the band were burned to death when their vehicle struck the kerb and then hit an electrical cable.
Reports said the pregnant finance of one of the singers killed in the accident took her own life shortly afterwards.
Two years later, another member of the band was one of the victims of the January 2010 earthquake.
"They are very popular but they have suffered misfortune in the past. People ask why this has happened to them," Moses St Louis, manager ot the New York-based HaitianBeatz website, told the Independent.
"They were responsible for the start of hip-hop in Haiti, in Kreyol, and they are one of the top ten acts. Their music covers some of the traditional hip-hop subjects - sex and violence, for which they have been criticised for. But they also cover social issues."
On Tuesday morning, reports said the float of the Barikad Crew was passing through the centre of Port-au-Prince when the head of one of the singers struck a power cable.
My sympathies and prayers to all victims , parents, and specially to #BarikadCrew after this #Accident during the 2nd day of #Kanaval2015 .

— Patrice ANDRE (@Patricelandre) February 17, 2015
Video footage taken at the scene showed a flash of light, a loud bang and then the sound of screams.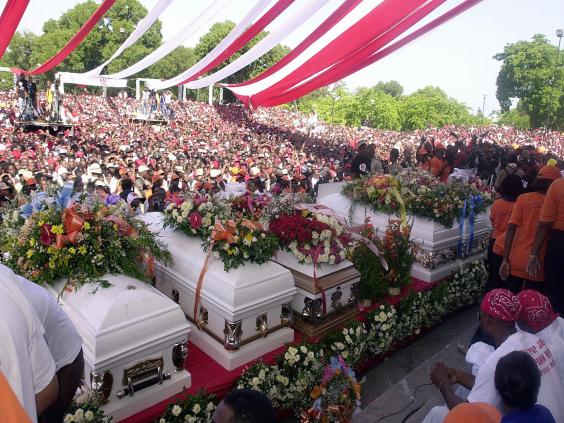 Reuters said that seven people on the float were said to have been killed. At least 13 revellers were killed in the subsequent panic and chaos. Reports said that the band's singer, known by the stage name Fantom, was injured but was expected to recover.
It was not immediately clear whether any other members of the Barikad Crew were among the dead or seriously injured.
Follow Andrew Buncombe on Twitter: @AndrewBuncombe
Reuse content