Distressing footage captured by a police officer's body camera appears to show a heavily pregnant black woman being pushed to the ground and handcuffed, in what a civil rights group claims was a wrongful arrest.
A video of the incident, which took place in Barstow, California, in January, was uploaded to YouTube by the American Civil Liberties Union of Southern California (ACLU) this week.
Footage from the arrest shows an officer speaking with Charlena Michelle Cooks of Barstow after an argument with a woman outside the school where she was dropping her daughter off.
The officer first speaks with the woman who made the complaint about Ms Cooks over a driving dispute. At this point, the officer says: "I don't see right now a crime that has been committed. If there was damages, I would give you the opportunity to place her under citizen's arrest if you wanted to. I don't see any crime."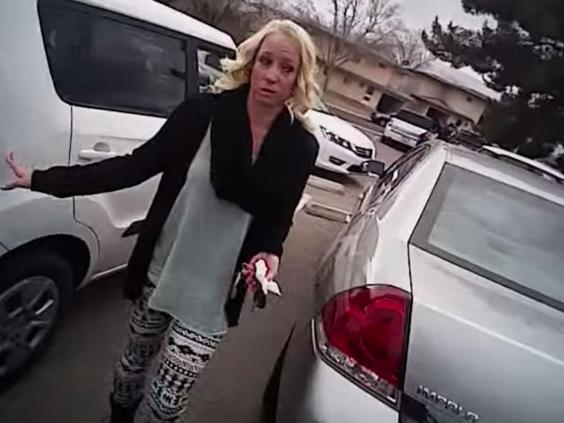 The officer then approaches Ms Cooks and asks for her account of the incident. Their conversation takes a turn when he asks her name and she refuses to answer, telling him she wants to check that he has the right to ask her first.
Ms Cooks repeatedly shouts "don't touch me, do not touch me, I'm pregnant!" as two officers attempt to handcuff her. She can then be seen lying on her front on the floor with her hands cuffed behind her back and struggling to stand up.
After Ms Cooks is moved to the patrol car, the officer tells her: "So you say you are pregnant? So go ahead and co-operate like that and we don't have to get hands on with you, ok?"
Ms Cook was charged with resisting arrest, a charge which was later dropped. She went on to give birth to a healthy baby girl.
The ACLU said Cooks should not have been arrested for refusing to identify herself in a statement. Jessica Price, an attorney for the ACLU, described the arrest as "pretty horrifying".
She told CNN: "A lot of people are going to look at this and going to say there is some level of racial profiling and bias going on here. We feel it's a very important teaching tool on what not to do on the police officer's part."
Barstow Police said Ms Cook actively resisted arrest and denied suggestions the incident was racially motivated.
"This incident was in no way racially motivated, as implied by the ACLU," the city said in a statement. "Barstow is a racially diverse community, as is our police department, and we affirm our police department's commitment to protect and serve all of our residents."
The police department has launched an internal investigation into the incident.
Reuse content