A man has died at a baseball game in Georgia after falling from the upper deck of the Turner Field stadium.
The man, who has not been formerly identified, fell onto the lower-level stands during a game between the Atlanta Bravas and the New York Yankees.
The game was not delayed while a team of 20 medical staff gave the man CPR and treated him at the scene for around 10 minutes, before he was taken out on a stretcher.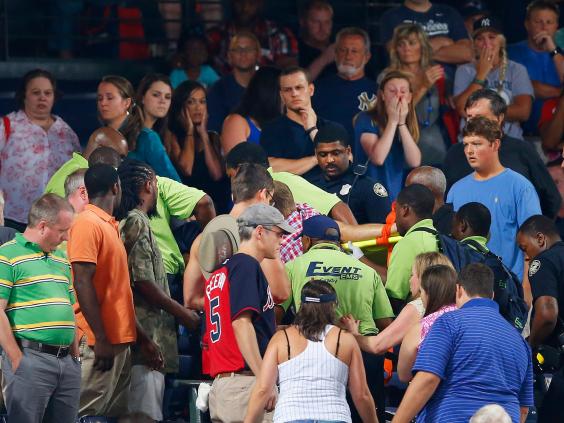 Witnesses described seeing the man appear to land on his head while blood was reportedly seen on the concrete surface around the seats.
He was later pronounced dead at Grady's Memorial Hospital, Atlanta police confirmed.
The man who, believed to be in his early 60s, has not been named as his next of kin are yet to be identified.
Police Lt Charles Hampton said foul play is not suspected at this point and that no other people were hurt in the area where the man landed.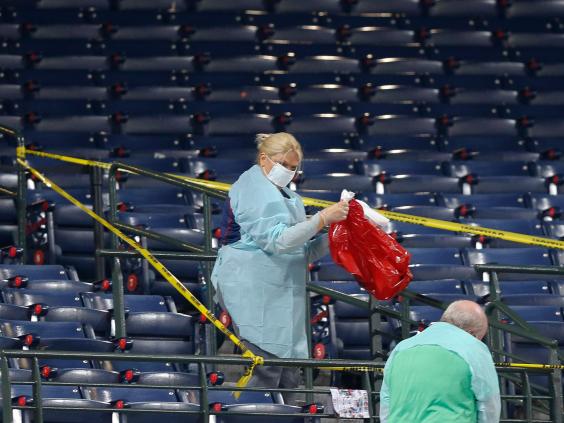 One witness, Adam Staudacher, said he and his girlfriend had been returning to their seats near where the man fell when the incident happened. He said it appeared that the man had landed headfirst on a 3-ft-wide walkway between sections.
"There was a tonne of kids right there," he said. "It was a disturbing scene. Disturbing doesn't really go far enough."
Yankees player Didi Gregorius saw the fall when he was standing on second base, and said he was "thinking about it the whole time".
"All I can say is, my condolences to the family. It was right in front of the camera in the press box. He hit the wires."
The Atlanta Bravas offered their deepest condolences to the family, the team said in a statement.
This was the third fan death from a fall at Turner Field in eight seasons. In 2013, a fan's death was ruled a suicide; in 2008, police cited alcohol as a factor after a man died.
Additional reporting by PA
Reuse content