The organiser of an event that celebrates all things related to the classic stoner film The Big Lebowski has been arrested on suspicion of smoking marijuana in a bowling alley car-park.
Will Russell was detained outside the Lebowski Fest in Louisville, Kentucky, by police who said he was "not acting normal" in a scene reminiscent of the Coen brothers cemedy.
Russell runs the festival for fans of the 1998 movie, whose protagonist, played by Jeff Bridges, loves bowling, pot, and White Russians and is assaulted by the police.
An arrest report posted online by city police said that Mr Russell, who was with an unnamed co-defendant, took "a bladed stance" and then moved towards officers "with a clinched fist displaying threatening behaviour".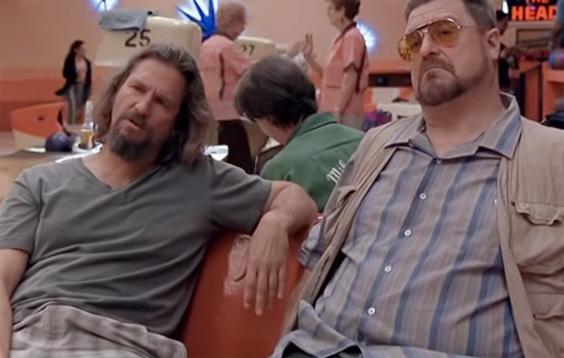 The sheet said that Russell had apologised to officers for "acting like a savage".
But Mr Russell, 39, later took to Facebook to claim that police "tackled me and drove my face into the sidewalk".
Unexpected successful people who have admitted to smoking cannabis
Unexpected successful people who have admitted to smoking cannabis
1/14 Barack Obama

"As has been well documented, I smoked pot as a kid, and I view it as a bad habit and a vice, not very different from the cigarettes that I smoked as a young person up through a big chunk of my adult life. I don't think it is more dangerous than alcohol."

Getty

2/14 Bill Maher

"Look, I have never made a secret of the fact that I have tried marijuana... About 50,000 times."

Getty Images

3/14 Boris Johnson

"It was jolly nice. But apparently it is very different these days. Much stronger. I've become very illiberal about it. I don't want my kids to take drugs."

AP

4/14 Bill Clinton

"I experimented with marijuana a time or two."

Reuters

5/14 Jon Stewart

"Do you know how many movies I wrote when I was high?"

Comedy Central

6/14 Harriet Harman

"I did, when I was at university, smoke cannabis once or twice." But she quickly added she had not taken the drug since then. "I have indulged in the odd glass of wine but not cannabis."

PA

7/14 Martha Stewart

"Of course I know how to role a joint."

Getty Images

8/14 Bill Gates

In Stephen Manes' biography about the Microsoft founder, he writes: "As for drugs – well, Gates was certainly not unusual there. Marijuana was the pharmaceutical of choice…"

Chip Somodevilla/Getty Images

9/14 Oprah Winfrey

Asked by Andy Cohen when the last time she'd smoked cannabis was, she answered: "Uh … 1982." "Let's hang out after the show," Cohen joked. "Okay," Winfrey said, laughing. "I hear it's gotten better."

Getty Images

10/14 George W. Bush

"I wouldn't answer the marijuana questions. You know why? Because I don't want some little kid doing what I tried."

Getty

11/14 Sarah Palin

"I can't claim a Bill Clinton and say that I never inhaled."

AP

12/14 David Letterman

"I went through one period when I smoked a surprising, a really breath-taking, amount of grass almost every night."

Getty Images

13/14 Morgan Freeman

"Never give up the ganja."

Getty Images

14/14 Steve Jobs

"The best way I would describe the effect of the marijuana and the hashish is that it would make me relaxed and creative."
WDRB reported that he was charged with possession of marijuana, resisting arrest and menacing, and that he would appear in court on Wednesday.
The Lebowski Fest, which started in Louisville in 2002, now holds events around the country. It is usually held over two days and boasts, naturally, a film screening, bowling and fancy dress.
Much of the The Big Lebowski, which stars Jeff Bridges as "The Dude", takes place in a bowling alley.
Reuse content