An explosion inside a sweet factory in northern Mexico on Thursday has left one person dead and at least 40 injured, authorities have said.
A boiler inside the Dulces Blueberry factory, based in an industrial park in Ciudad Juarez, is believed to have exploded, causing the blast. However, this is yet to be confirmed by officials.
The BBC reports that fire crews and about 30 ambulances were at the scene.
Around 300 workers were said to be in the building at the time the blast occurred. Several are still unaccounted for.
The explosion took place on the second floor of the factory, causing the floor to collapse, injuring people working downstairs, said factory worker Ismael Bouchet.
"I was able to help five people who walked out of the building but as soon as they were out they went into shock and fainted," he said outside the facility, which produces gummy bears, jelly beans, peach rings and other sweets.
Authorities said the cause of the blast hadn't been determined but Mr Bouchet said a steam boiler had been installed recently in the area.
He added that people could smell acid in the area where the explosion occurred.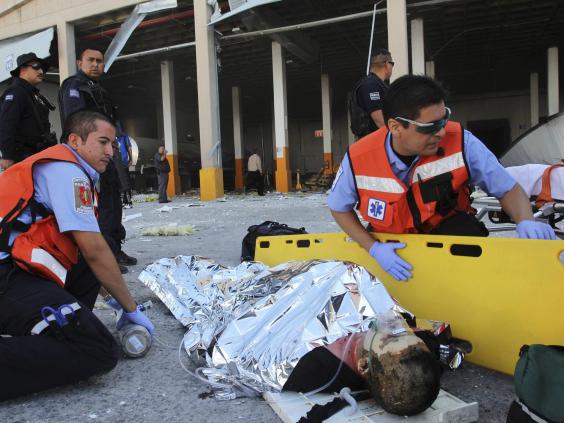 "Since the morning, several co-workers said there was a bad smell, that it smelled of acid and because it was a new area we thought it was normal," he said.
Ciudad Juarez Civil Protection Director Fernando Mota said firefighters found a body inside and that six of the at least 40 injured are in serious condition.
"We're still searching the area to see if there are more dead," he said.
Firefighters and rescue crews continued to search the building for more victims on Thursday night, the Associated Press reports.
Ciudad Juarez is on the border with the US state of Texas.
The Dulces Blueberry factory, which supplies a distributor based in El Paso, is located in a free trade zone between the United States and Mexico.
Video: News report on blast at Mexico sweet factory
Reuse content