Police who were attacked and wounded when they stopped a truck on New Year's Day say they discovered the bodies of an elderly couple hidden beneath a blood-soaked mattress.
Officers in West Virginia said they believed father and son team, Edward Campbell, 54, and 21-year-old Eric, from Texas, set out on a crime spree that led them to the North Carolina home of an elderly couple whom they killed. Police said they set fire to the home of Jerome Faulkner, 73, and his wife Dora, 62, before driving off in their white Chevrolet SUV.
Reports say police in Lewisburg, West Virginia, several hundred miles away, pulled over the vehicle at around 4pm on Thursday. As they did so, Eric Campbell opened fire on them. At the same time, Edward Campbell, approached them in a second SUV and also fired shots.
Reports say the officers, who suffered gunshot injuries, were able to shoot and detain the younger of the two gunmen. A search was set in motion for the other of them, who fled in a red vehicle. It was when he was cornered 90 minutes later, that police found the bodies of Mr Faulkner and his wife.
An investigation is underway into the history of the two suspects. Police have said they believe the men targeted the Faulkners by random, abducting them from their home and killing them some time later as they drove more than 200 miles from Oxford, North Carolina, to West Virginia.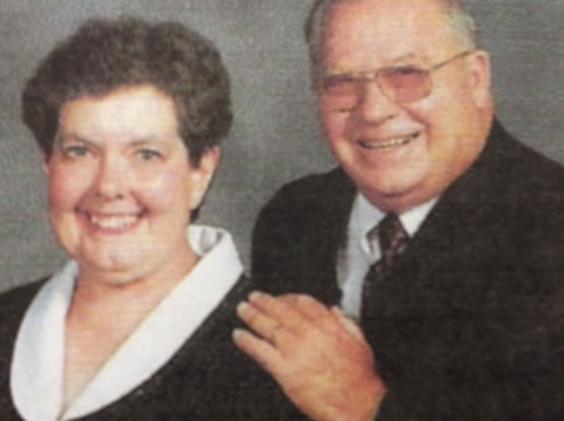 The Faulkners' neighbours have said they are stunned at what has happened. They said the couple were quiet, friendly people. Mr Faulkner had once served as the head of a volunteer fire unit.
"They kept to themselves, but when someone needed them, they were there," one neighbour, Judy Law, told CNN: "I can't even begin to understand why something like this happened."
Police said Eric Campbell was being detained in the South Regional Jail in Beaver, West Virginia, where he faces murder charges. His father is currently being treated in a West Virginia hospital. Reports said they lived in a suburb of Houston.
"We believe if the West Virginia police had not have stopped them that this crime spree would have continued on," said Brindell Wilkins, the Sheriff of North Carolina's Granville County. "And it's no telling from the investigation at this point what we're going to find."
The West Virginia police officers who were allegedly involved in the shoot-out with the suspects were taken to the Greenbrier Valley Medical Centre in Ronceverte. The Mayor of Lewisburg, John Manchester, said on Friday morning that the officers were doing well after undergoing minor surgery.
"I'm thankful that the officers will make a full recovery," he said, "Officers put themselves in dangerous situations every day. You never know what will be following you out the door."
Reuse content