Brazil was coming to terms with another four years of leftist rule today after President Dilma Rousseff was re-elected in an extremely close election.
Ms Rousseff and her Workers' Party narrowly won in a close-fought run-off ballot against Aecio Neves, the leader of the Brazilian Social Democratic Party (PSDB). Market watchers had wanted to see Mr Neves, an economist, elected in the hope he would rein in inflation, and privatise state entities including the oil company Petrobras.
Instead, Ms Rousseff's slender victory sent the Brazilian stock exchange Bovespa tumbling by six points when the markets opened today as industry and businesses expected ongoing economic challenges. The Brazilian currency, the real, was also expected to weaken further against the dollar after it reached a six-year high just before the second-round vote on Sunday.
Ms Rousseff's critics had blamed her interventionist policies for an economic slowdown that saw the country slip into recession earlier this year for the first time since 2009. Many voters opted to back Mr Neves simply as a vote for change after 12 consecutive years of Workers' Party rule that began under the ever-popular Lula da Silva. "I vote for a return to democracy," said Hans Zimmer, a retired engineer in the capital, Brasília. "We will need many, many years to recover from these past 12 years."
Ms Rousseff, who addressed supporters in Brasilia after her win, acknowledged her shortcomings in her victory speech and pledged to be a "better president than I have been until now". She had faced criticism over public spending and investment in this year's World Cup, with a million Brazilians protesting on the streets. And with only 51 per cent of the electorate behind her, she will be under pressure to implement fiscal and political reforms.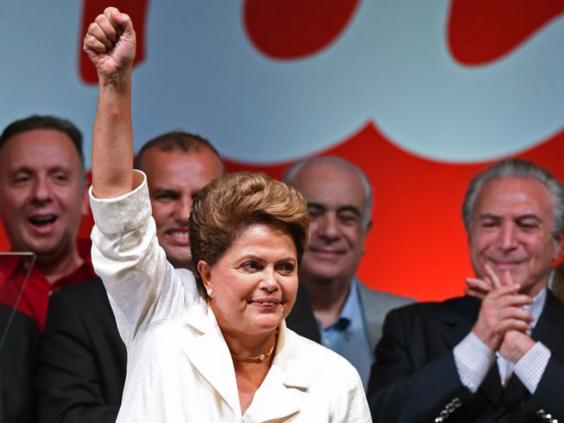 But she will also be expected to continue social programmes that formed the platform for her re-election and maintained her support base in the north. "The Workers' Party is a party more about social inclusion," said Professor Sonia Fleury, a political science expert with the Getulio Vargas Foundation think tank. "There is a clear demand to improve public services, transport and housing. People went to the streets for this. And she will also try to reform the Workers' Party and the government. It could be difficult... but it could be a good government."
Arguably, the 66-year-old Ms Rousseff's greatest challenge will be to unite a country that appears to be ever more polarised. The final result exposed enduring class divisions and prejudice between the south and the north of the country, where votes were heavily skewed towards the Workers' Party, and where social programmes have had most impact.
"I urge without exception all Brazilian men and women to unite in support of our homeland, our country and our people," Ms Rousseff said. "Instead of increasing differences, creating a gap, I have strong hope that we are creating conditions to unite. Sometimes in history, tight results produced faster results than convincing victory. My first words are, therefore, a call for peace and unity."
As her camp celebrated victory late on Sunday, a foreign policy adviser, Marco Aurelio Garcia, told reporters that investors should relax and "take tranquillisers", Reuters news agency reported. Brazil's expanded government welfare programmes have helped to lift more than 40 million people out of poverty despite the current economic woes. The "Brazilian model"  has been adopted by centre-left parties throughout Latin America and Ms Rousseff's victory, however narrow,  is a blow for conservatives in the region.
She will also face gridlock in a Congress increasingly weary of the ruling party, which lost seats, and its key ally, in this poll. Leading politicians promise to make hay over a snowballing corruption scandal at Petrobras. Brazilian media have been abuzz with leaked testimony by a former company executive relating alleged kickbacks by contractors to Workers' Party coffers.
One magazine said another key suspect had told prosecutors that Ms Rousseff knew of the scheme, an accusation she has vehemently denied. "She will face resistance on  a number of fronts," said  Carlos Melo, a political scientist at Insper, a Sao Paulo business school. "This is a victory in spite of all the problems – not an affirmation of a job well done."
Reuse content