Brazilian inmates overpowered 13 guards and took prisoners hostage ­in a violent demonstration which saw six people being set on fire before being dropped from the roof.
Prisoners also tied a blindfolded hostage's ankles with a rope and and dangled him upside down from the roof of the severely overcrowded Guarapuava prison during the second day of riots.
The six who plunged to the ground after being torched are recovering in hospital after more than 30 prisoners used violence to demand better living conditions in the southern Brazilian state of Parana.
Another guard is being treated for 20 per cent burns after hot glue was thrown at him, and other staff fear for their safety, with one stating: "we don't know if we'll make it home after our shifts."
Rioters, with their faces hidden by fabric, physically and mentally tortured hostages by beating them with sticks or with kicks to their backs.
One of the guards was released by the captors in exchange for food being brought to the prison.
This is the fifth riot in Parana's prisons in the last few weeks, as well as the 21st this year.
"The Parana prison system is in major crisis," said the regional prison officer's union Sindarspen in a statement.
Talks with the prisoners continued today, and that their demands include better food, treatment and transfer of some inmates, the Parana state justice secretariat said.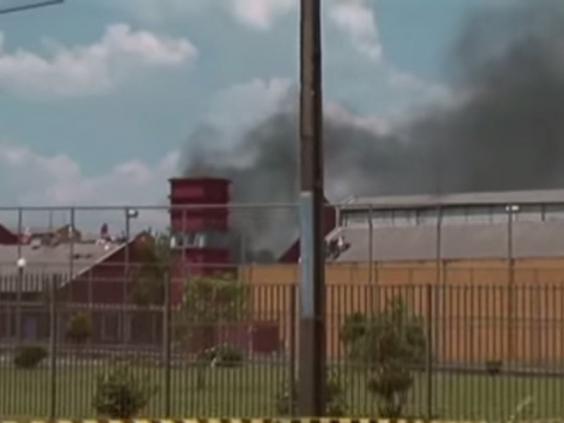 Gabriel Elizondo, in Sao Paulo for Al Jazeera, said: "The negotiations are extremely complicated and as delicate as state special forces are, police on the scene risk the situation turning more violent if they go in with force."
The uprising follows an incident where two prisoners were beheaded and another killed by fellow inmates in protest over living conditions in August.
Police believe the inmates involved are criminal gang members of the PCC, one of South America's most notorious groups with 6,000 incarcerated out of 13,000 followers.
There are 548,000 prisoners in Brazil, which works out to 274 inmates per 100,000 residents, according to the International Centre of Penitentiary Studies.
Brazilian human rights charity Conectas says the country needs to boost prison capacity by 207,000 to overcome severe overcrowding.
Reuse content