Police investigating the "assassination" of two patrolmen are pouring over the history and records of Ismaaiyl Brinsley – the 28-year-old man at ease with the use of firearms who shot and wounded his ex-girlfriend before travelling to New York to kill the officers.
As the "execution-style" killing of the two officers reverberated across the country and shook the city of New York, detectives were trying to ascertain precisely who Brinsley was and what had pushed him to ambush and then take his own life. Police have been told to take special security measures when responding to calls.
Part of the inquiry will focus on whether or not the young man had links to a notorious gang, originally formed in jail, that had in recent weeks vowed to kill police officers. Crucial to the investigation will be the "anti-police" messages that Brinsley apparently posted on his ex-girlfriend's social media account after he shot her in the stomach shortly before 6am at her apartment at the Owings Mills complex in Baltimore.
In the messages posted on her Instagram account, Brinsley had said he was "putting wings on pigs". He then referred to Eric Garner and Michael Brown, two unarmed black men whose deaths at at the hands of police have sparked national protests, and added: "Let's take two of theirs."
On Sunday, the New York Times said Brinsley, who had ties to East Flatbush, an area located a couple of miles from the scene of the killing, had most recently spent time in Georgia and Ohio.
His criminal record showed no acts of serious violence but indicated he was arrested for robbery charges in Ohio in 2009 and weapons possession in Georgia. Later that year, he was convicted of gun possession in Georgia, and sentenced to two years in prison. Officials believe Brinsley was in New York as recently as 2011 when he was a suspect in a harassment case.
The newspaper said that Brinsley's sister, Nawaal Brinsley, said she had not seen her brother in two years. "Oh my goodness, oh my goodness,"she said when told of the attack. She said she did not remember hearing her brother express anger at the police.
Some media in New York had said that Brinsley may have been a members of the Black Guerrilla Family (BGF), a gang originally formed inside Californian jails in the late 1960s and which has more recently been active in Baltimore. Earlier this month it was reported the BGF had vowed to kill police officers.
The Baltimore Sun said that the Baltimore office of the FBI had on Friday issued an alert warning that the BGF was targeting "white cops" in Maryland. However, the newspaper also said that a federal law enforcement official had said Brinsley had no known ties to the BGF.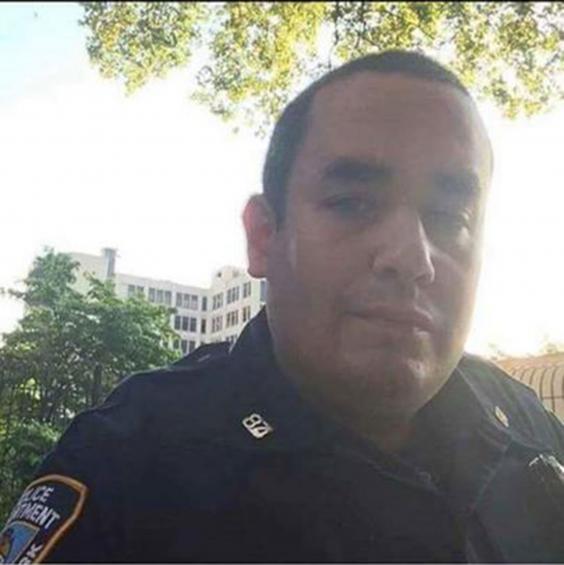 The killing of the officers comes at a time of widespread public protest over the treatment of a series of black suspects who have died at the hands of police. In New York the daily protests have followed a decision not to prosecute a police officer who placed an unarmed black man, Eric Garner, into a so-called choke hold, a move that resulted in the 46-year-old's death.
The decision followed shortly after an announcement in Ferguson, Missouri, that the policeman who shot and killed teenager Michael Brown would not not face charges.
In New York in particular, the developments have created a tension in the relationship between police and some members of the public that analysts say has not existed for many years. Mayor Bill de Blasio has faced criticism from members of the New York Police Department for allegedly not sufficiently supporting officers.
In the aftermath of Saturday afternoon's shooting, the main police union, the Patrolmen's Benevolent Association, directly blamed Mr de Blasio for the deaths.
When Mr de Blasio left the hospital where officials had held a press conference, police officers turned their backs on him. The association has warned its members that two units should now respond to any dispatch they receive for additional security.
"The mayor's hands are literally dripping with our blood because of his words, actions and policies and we have, for the first time in a number of years, become a wartime police department," the association said in a statement.
In pictures: Protests over death of Eric Garner
The two officers were named as Wenjin Liu, 32, a seven-year veteran of the force who had recently got married, and 40-year-old Rafael Ramos, who was married with a 13-year-old son.
"They were, quite simply, assassinated - targeted for their uniform and for the responsibility they embraced to keep the people of this city safe," said Police Commissioner William Bratton.
Mr Ramos's son, Jaden, posted a message honouring his father on social media. "Today I had to say bye to my father. He was their for me everyday of my life, he was the best father I could ask for. It's horrible that someone gets shot dead just for being a police officer," he said.
On Sunday, former mayor Rudolph Giuliani said he did not believe Mr de Blasio was responsible for the officers' deaths, but said he had failed to "police the protests" that had harmed officers. Mr Giuliani, who served as mayor between 1994–2001, told the Fox News channel: "He should have known better."
Reuse content