New York state residents, still clearing up after the historic "lake-effect" snowstorm that has now claimed eight lives in three days, have been warned that things are only going to get worse.
Another wave of stormy weather is forecast to sweep across the city of Buffalo on Thursday, bringing the total snowfall this week up to levels normally expected over an entire year.
The new fall will undermine the efforts of many who started digging out of their homes on Wednesday, and another three feet (1 metre) of snow is forecast.
On top of the 5.5 feet (1.68 metres) already there in some places, it could become the heaviest 24-hour snowfall on record in the mainland, beating the 75.8 inches (192 centimeters), which fell at Silver Lake, Colorado, in 1921.
"This is an historic event," Governor Andrew Cuomo told reporters last night. "When all is said and done, this snowstorm will break all sorts of records." He added: "It will get worse before it gets better."
Once the coming storm front has passed, things are forecast to warm up across the state. But that will only pile more misery on beleaguered residents, Cuomo said, with the vast snowmelt likely to cause significant flooding. Forecasters also said there could be heavy rain at the weekend.
The human cost of the record snows has been extensive. In addition to the eight deaths now attributed to the storms, some who ventured out onto the roads ended up trapped in their cars for more than 24 hours.
Cuomo said officials had eventually got everyone out, adding that it took so long because a disabled trailer had prevent snow ploughs from removing the fast-falling snow. He also hit out at drivers for choosing to travel on a closed interstate highway.
In pictures: New York snowstorm
In pictures: New York snowstorm
1/22 New York

Drew Ahmed makes his way through nearly five feet of snow in the Lakeview neighborhood of Buffalo

2/22 New York

Snow drifts reaching the roof of the roof of the Eden Heights Assisted Living Facility in West Seneca, where members of the New York Air National Guard from the 107th Airlift Wing based in Niagara Falls, New York are assisting in snow removal efforts

3/22 New York

A New York Air National Guard Airman from the 107th Airlift Wing based in Niagara Falls, New York assisting in snow removal efforts from the roof of the Eden Heights Assisted Living Facility in West Seneca

4/22 New York

Homes are covered in snow in West Seneca

5/22 New York

Cars are covered in snow in Orchard Park

6/22 New York

Ralph Wilson Stadium in Orchard Park is buried in snow

7/22 New York

A frontend loader piles snow after dump trucks dropped loads of snow at the Central Terminal in Buffalo

8/22 New York

An abandon car marked by orange cones is buried under snow as a snowplow passes by in Buffalo

9/22 New York

Samantha Freeman shovels snow off the sidewalk in Public Sqaure in Watertown

10/22 New York

A man blows snow from his sidewalk in Buffalo

11/22 New York

Snow covers a street at daybreak in south Buffalo

12/22 New York

Storm clouds and snow blows off Lake Erie in Buffalo

Reuters

13/22 New York

A dog looks at the snow that was blown in the back door of the home of Chrissy Hazard in Cheektowaga. A ferocious lake-effect storm that trapped people on highways and in homes under up to 6 feet of snow continued to bear down on the Buffalo area

14/22 New York

Vehicles litter the highway in West Seneca

Reuters

15/22 New York

A band of storm clouds moves across Lake Erie and into Buffalo. Parts of New York measured the season's first big snowfall in feet, rather than inches, as 3 feet of lake-effect snow blanketed the Buffalo area and forced the closure of a 132-mile stretch of the state Thruway

16/22 New York

Lake-effect snow storm with freezing temperatures affected travel, like this plane that negotiated its way through the snow at Buffalo Greater International Airport

17/22 New York

Heavy snow covers the street in Buffalo

AP

18/22 New York

Heavy snow covers the street in Buffalo

19/22 New York

Firefighters from West End Hose Company in Depew, help a stuck motorist on Transit Road

20/22 New York

Omer Odovsc walks in front of his tractor trailer that got stuck on the 219 off ramp leading to Rt. 391 in Boston

21/22 New York

Steven Gros shovels snow from outside his home in Orchard Park

22/22 New York

A home is covered in snow in a neighborhood just south of Buffalo, New York

EPA
One woman, Bethany Hojnacki, went into labour at the height of the storm and had to give birth in the Buffalo fire station. Mother and baby were later both taken to hospital in an ambulance.
The Niagara University women's basketball squad was trapped on their team bus for more than 30 hours, and posted pictures to social media showing how they melted snow for drinking water.
The governor said it would take four or five days to clean up from the storm, which came as part of a front of cold weather that, it must be remembered, has affected the entire country to some extent.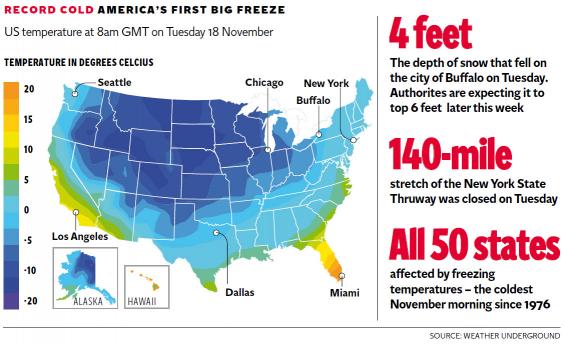 All 50 states – including Hawaii – experienced freezing temperatures on Tuesday morning, making it the coldest start to a November day since 1976.
But the snowfall has been so great in Buffalo in particular because of its position on the shores of Lake Erie.
So-called "lake effect" snow forms because water evaporating from the warmer lake reacts with the cold wind sweeping down from the north.
After the storm: Drone footage shows settled snows in West Seneca
If the wind and temperature conditions are just right, forecasters say the effect is like than of a big sponge, sucking huge quantities of warm water up from the lake and then wringing it out in the form of snow as it passes over land.
Buffalo's position right at the eastern end of the narrow lake makes it susceptible to this phenomenon – but this year has seen a particularly extreme episode.
Reuse content