Caitlyn Jenner has broken the world record for the fastest growing Twitter account.
After only two tweets, "Caitlyn Jenner" began trending on Twitter and her followers quickly rose past 1 million. The tweets revealed her new name and her Vanity Fair cover photo. She quickly broke the record in only four hours.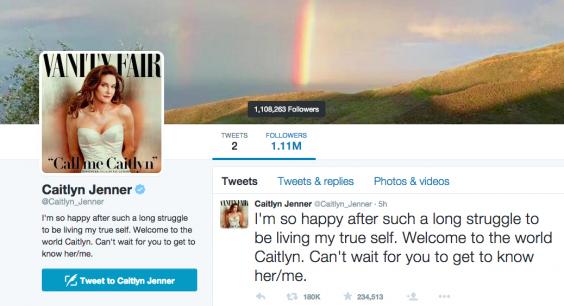 President Barack Obama previously broke the Guinness world record in May with his new @POTUS account. The record was previously held by "Iron Man" actor Robert Downey Jr.
Ms Jenner generated nearly 1.5 million tweets from Ellen DeGeneres, Lady Gaga, Kim Kardashian and several other high-profile accounts.
I'm so happy after such a long struggle to be living my true self. Welcome to the world Caitlyn. Can't wait for you to get to know her/me.

hyphen; Caitlyn Jenner (@Caitlyn_Jenner) June 1, 2015
June 1, 2015
Another Jenner world record, and at 65? Who'da thought! Humbled & honored to have reached 1M followers in 4 hrs. Thank you for your support.

— Caitlyn Jenner (@Caitlyn_Jenner) June 1, 2015
The world's most followed Twitter accounts in 2014
The world's most followed Twitter accounts in 2014
1/10 Katy Perry

61m Twitter followers

Getty

2/10 Justin Bieber

57m Twitter followers

Getty

3/10 Barack Obama

51m Twitter followers

Getty

4/10 Taylor Swift

48m Twitter followers

Getty Images

5/10 YouTube

47m Twitter followers

Getty

6/10 Lady Gaga

43m Twitter followers

Getty

7/10 Britney Spears

40m Twitter followers

Getty

8/10 Justin Timberlake

38.5m Twitter followers

Getty

9/10 Rihanna

38m Twitter followers

Getty

10/10 Instagram

36m Twitter followers

Getty
Reuse content