A California court ruled on Monday that a prison can force-feed some prisoners on a hunger strike after officials voiced concerns that the inmates may have been coerced into refusing food in a protest against the state's solitary confinement policies.
In response to a request by state authorities US District Court Judge Thelton E. Henderson ruled that California prison doctors may force-feed select inmates who are near death, even if they had signed orders asking not to be resuscitated.
Before the ruling was made California's policy prohibited the force-feeding of inmates on a hunger strike if they signed medical orders refusing resuscitation in the event they lose consciousness or experience heart failure.
But officials went to court on Monday to request permission to ignore these "do-not-resuscitate" orders for inmates who signed them when participating in the hunger strike or shortly before it, citing concerns about possible coercion.
Some 136 inmates have been on hunger strike since 8 July in prisons across the state to demand an end to a policy of housing inmates believed to be associated with gangs in near-isolation for years. Some 69 of the striking inmates have refused food continuously since the strike began.
The hunger strike was initially organised by a small group of inmates who were being held in segregation at Pelican Bay State Prison. Their demands centred around state policies that could see inmates held in isolation indefinitely in "secure housing units" because of alleged ties to prison gangs.
Prisoners released a statement when the decision to go on hunger strike was announced describing the units as "state-sanctioned torture" and argued they violated human rights. Reports have suggested that some have been held in these units for up to a decade.
At its peak the strike drew 30,000 participants out of the 133,000 currently incarcerated, the largest in California's history, although numbers have since dwindled substantially.
Henderson wrote in his order that a "do not resuscitate" order signed by hunger striking inmates would be "deemed not valid" in light of these concerns.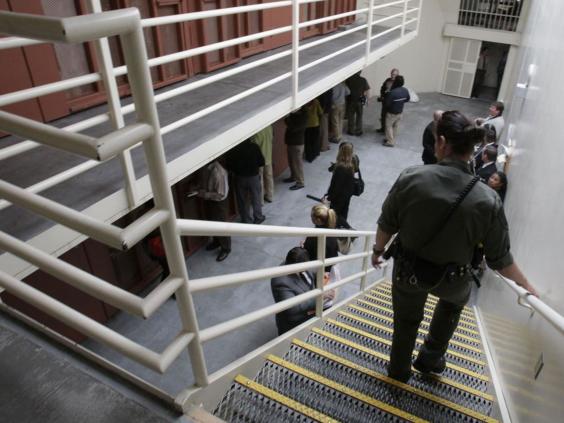 A lawyer for some of the hunger strikers said she was not aware of inmates being coerced.
"They're exaggerating this," said inmate advocate Carol Strickman.
The state should not ignore inmates' wishes in such matters of life and death, Strickman said. "As much as I don't want to see anybody die, some people were choosing to sign those requests and some were not."
Among the complaints sending inmates to hospital in recent days are dehydration, cramping, vomiting, diarrhea, dizziness and lightheadedness, said Liz Gransee, a spokeswoman for the federal receiver overseeing care in the state's prisons.
"This is so our doctors, when they see an inmate near death, will know that they can step in and do anything," said Joyce Hayhoe, a spokeswoman for a federal receiver.
Additional reporting by Reuters
Reuse content