The massacre carried out by a student in Isla Vista, California, has tragic echoes of a mass killing by another student in 2001.
Six people were killed and many more injured when lone gunman Elliot Rodger went on a killing spree near UC Santa Barbara (UCSB) on Friday, before apparently turning the weapon on himself.
The attack occurred more than a decade after first-year student David Attias killed four pedestrians with his car on a crowded street in the student beach community in 2001.
In a video posted on YouTube just hours before Friday's killing spree, entitled "Elliot Rodger's Retribution, the 22-year-old suspect chillingly foretells the horrors to come.
He describes plans to shoot women and promises retribution for his "loneliness and frustration" at never having had a girlfriend.
The aftermath of the Santa Barbara shooting
The aftermath of the Santa Barbara shooting
1/10 Elliot Rodgers posing in the car he used during his shooting spree

2/10 Car that Rodgers was driving when he carried out the gun attack

AP

3/10 Scene after Police shot Carter

AP

4/10 Shop where one of the attacks took place

AP

5/10 Mourners lay flowers

6/10 Flowers put through one of the bullet holes

AP

7/10 Ricard Martinez, father of one of the victims, breaks down as he talks to press

AP

8/10 Thousands came together for vigil at the University of California's Santa Barbara campus

AP

9/10 Candles were lit in memory of the victims

EPA

10/10 Students had to comfort each other

AP
The student goes on: "For the last eight years of my life, ever since I hit puberty, I've been forced to endure an existence of loneliness, rejection and unfulfilled desires all because girls have never been attracted to me."
He complains that he has been at college for more than two and a half years but is still a virgin and has never kissed a girl.
Rodger says: "All you popular kids, you've never accepted me and now you'll pay for it."
He goes on: "I'll take great pleasure in slaughtering all of you. You will finally see that I am, in truth, the superior one, the true alpha male."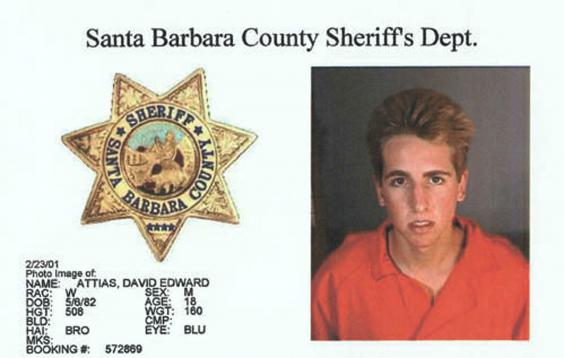 David Attias also attributed his actions to sexual frustration, according to the Santa Barbara Independent. Witnesses testified that the part-time college student, who had a long history of mental illness, got out of his Saab and shouted: "I am the angel of death."
And both young men were from affluent backgrounds, carrying out their attacks in expensive cars. Rodger was the son of filmmaker Peter Rodger, the second unit director for 2012 blockbuster The Hunger Games; and the grandson of George Rodger, a celebrated British photojournalist and co-founder of the Magnum Photos agency, while Attias is the son of Ally McBeal TV director Daniel Attias.
Warning: Some viewers may find the following video disturbing
But while Rodger died in his attack, Attias survived and went on to escape prison after he was ruled legally insane. In 2012 he was released from Patton State Mental Hospital after a judge ruled he was no longer a danger. According to the Santa Barbara Independent, he is thought to be now living in a supervised group home.
During Friday's rampage Rodger stabbed his three flatmates to death before shooting dead two young women outside a sorority house and then killing a young man inside the local deli in the student beach community of Isla Vista.
The suspect then drove around in his black BMW, randomly shooting at pedestrians. After getting into a gun battle with deputies, he was apparently wounded but continued to drive and was later found dead from what is believed to have been a self-inflicted gunshot wound to the head.
The three people shot were named as 22-year-old Katie Cooper, 19-year-old Veronkia Weiss and 20-year-old Christopher Michael-Martinez.
Footage emerged on Saturday that captured the shooting in the IV Deli Mart. The surveillance video obtained by CNN shows panicked customers throwing themselves to the ground as Rodger opens fire – it does not show the moment in which Mr Martinez was fatally shot.
Police found three guns in Rodger's car that were legally bought from licensed firearms dealers and were registered in his name. They also found more than 40 unused loaded gun magazines in the vehicle, indicating the extent of his plans.
Additional reporting by agencies
Reuse content