The father of one of the victims shot by Elliot Rodger during his murderous rampage in Santa Barbara has blamed his son's death on "craven, irresponsible politicians and the NRA".
Richard Martinez, the father of 20-year-old student Christopher Martinez, told reporters on Saturday: "Why did Chris die? Chris died because of craven, irresponsible politicians and the NRA."
"They talk about gun rights, what about Chris's right to live? When will this insanity stop?" asked Mr Martinez, who said that his family was "lost and broken" before he broke down while showing pictures of his son smiling in a baseball outfit as a child.
He said: "When will enough people say, 'Stop this madness.' We do not have to live like this. Too many people have died. We should say to ourselves, 'not one more'."
The NRA said that it supports the right to own and carry firearms, and that responsible gun owners should not be punished for mass shootings, according to Reuters.
Mr Martinez's son was one of seven killed in Santa Barbara on Friday night, including the death of Rodger, the 22-year-old who went on a shooting spree in the town of Isla-Vista in "retribution" against women on Friday night.
The aftermath of the Santa Barbara shooting
The aftermath of the Santa Barbara shooting
1/10 Elliot Rodgers posing in the car he used during his shooting spree

2/10 Car that Rodgers was driving when he carried out the gun attack

AP

3/10 Scene after Police shot Carter

AP

4/10 Shop where one of the attacks took place

AP

5/10 Mourners lay flowers

6/10 Flowers put through one of the bullet holes

AP

7/10 Ricard Martinez, father of one of the victims, breaks down as he talks to press

AP

8/10 Thousands came together for vigil at the University of California's Santa Barbara campus

AP

9/10 Candles were lit in memory of the victims

EPA

10/10 Students had to comfort each other

AP
Police confirmed that Rodger first stabbed his three male roommates at his apartment before getting in his BMW and shooting three people dead and wounding seven others.
The two women shot dead by Rodgers have been identified as 19-year-old Veronika Wiess and 22-year-old Katie Cooper, both members of the Delta Delta Delta sorority at UCSB.
The father of 19-year-old Ms Weiss told the New York Daily News that his daughter was "loving every minute" of college and that she probably would have been a "friend" to Rodgers.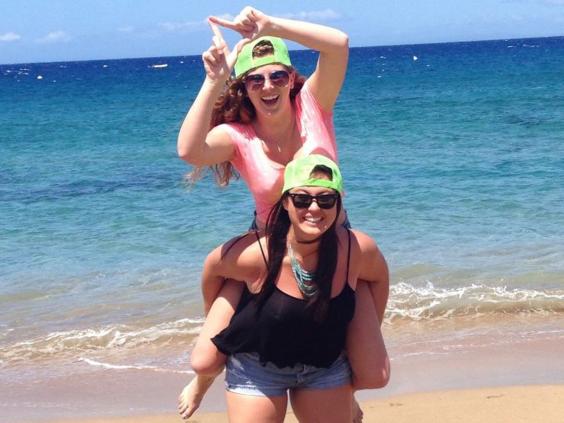 He said: "My daughter would probably have been a friend to him because of the way she was. She was always drawn to the ones with broken wings."
"She was the opposite of what he thought he was shooting," he said. "She was the kind who would have reached out to him. She reached out to the kids who weren't the most popular or the cutest."
Stacy Simmer, the aunt of Ms Cooper, told the Daily Mail she was driving when she received the news about her niece's death. She said: "I was on my way to church and my brother-in-law, Dan, called me and said, 'Stacy, are you driving? I need you to pull over because I have something terrible to tell you. There was a guy in a car and he was driving around and shooting people, and Katie was one of them and she was killed'."
Warning: Some viewers may find the following video offensive
Ms Simmer said her niece was "the apple of all our eyes" and that Ms Cooper had done a lot of charity fundraising for St Jude's Children's hospital.
Mr Martinez said that his son was an English major at UC Santa Barbara, and that he had planned to go to law school. He told of how he had spoken to his son Christopher 45 minutes before he was shot on the phone.
Mr Martinez's son was shot and killed by Rodgers in a local delicatessen. A 19-year-old student who knew Mr Martinez, Lyssa Hopper, said she was in the Deli on Friday night buying Gatorade and soda when she heard what she said were multiple gun shots, according to the LA Times.
Ms Hopper said she saw glass flying and dropped to the ground, before looking up to see Mr Michael-Martinez slumped on the ground in a pool of blood. She said she tried to help administer CPR on the victim but that she was too upset to actually aid him until the paramedics arrived.
Reuse content