A member of a reality television crew was accidentally shot and killed when police were called to an incident involving an armed robber at a fast-food restaurant in Omaha, Nebraska.
Omaha Police Chief Todd Schmaderer confirmed that Bryce Dion, 38, of Boston, had been killed by "friendly fire". 
The robbery suspect was also killed, although his weapon turned out to be a pellet gun.
Mr Dion, 38, of Boston, the audio supervisor for Cops, is the first crew member of the long-running television show to be killed while filming police in action.
Police identified the robbery suspect as 32-year-old Cortez Washington, who was on parole from Missouri for a robbery conviction. Mr Schmaderer  said prosecutors have reviewed the Cops video of Tuesday's shooting and found officers "had no choice" but to open fire, although a grand jury will investigate.
The incident began when drive-through customers alerted Detective Darren Cunningham – on his way to a different robbery scene in midtown Omaha – to an armed robbery at a branch of Wendy's.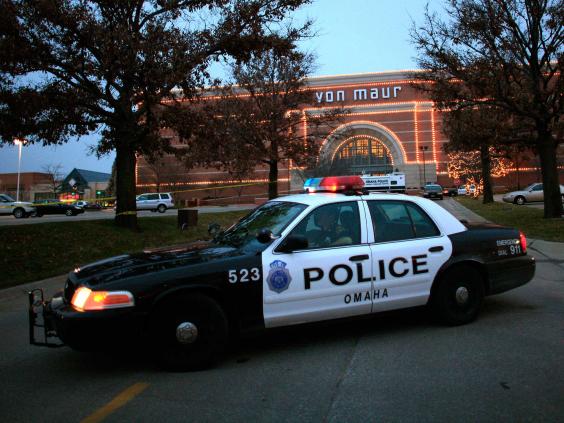 Det Cunningham called for backup, and officers Brooks Riley and Jason Wilhelm – along with Mr Dion and a Cops cameraman – arrived at the restaurant within 15 seconds, Mr Schmaderer said.
The Cops crew followed the officers into the restaurant. There, police confronted a hooded and masked man. The cameraman crouched behind a low wall and held up his camera to record the confrontation. But Dion didn't make it past the glass-enclosed entrance to the restaurant. Almost immediately, Mr Schmaderer said, the suspect raised his gun and fired twice.
Three witnesses described Washington firing his gun directly at Cunningham and Riley, "hearing the suspect's handgun being fired and seeing the slide recoil with the shots," said Mr Schmaderer.
Officers returned fire, hitting Washington, who still managed to run from the store firing his gun. As he entered the glass vestibule, a bullet hit Mr Dion in the chest, Mr Schmaderer added.
Cops executive producer Morgan Langley said Mr Dion  had worked for the show for seven years. "He did something that he loved and was passionate about," Mr Langley said.
AP
Reuse content