A man suspected of shooting dead three Royal Canadian Mounted Police officers and injuring two others in the Canadian city of Moncton was spotted three times on Thursday, but has not yet been caught, police said.
24-year-old Justin Bourque was spotted in three different locations around the search area in Moncton, said RCMP Commander Marlene Snowman. At one point, he was seen coming in and out of a wooded area, Snowman added.
Police said he was dressed in military camouflage and carrying high powered long firearms, ammunition and other items.
Residents of Moncton, a city of about 69,000 people around 95 miles (150 kilometers) northeast of St. John, New Brunswick, have been warned to stay inside and lock their doors after Bourque went on a shooting rampage shortly before 19.20 local time (22:20 GMT).
In pictures: Canada shooting
In pictures: Canada shooting
1/10 Canada shooting

Police officers take cover in Moncton as authorities searched for suspect Justin Bourque

AP

2/10 Canada shooting

Royal Canadian Mounted Police officer Damien Theriault and Mayor George LeBlanc pause to collect themselves before addressing the media during a late night news conference at City Hall in Moncton, New Brunswick

3/10 Canada shooting

Royal Canadian Mounted Police officer officer Damien Theriault (L) and Mayor George LeBlanc hug after addressing the media during a late press conference at City Hall in Moncton, New Brunswick

4/10 Canada shooting

An officer takes cover behind his car in Moncton, New Brunswick as another police car sits with its driver's side window shattered

5/10 Canada shooting

Codiac RCMP officers take cover behind their vehicle in Moncton, New Brunswick

6/10 Canada shooting

A car sits on a road with it's windows shot out and blood on the ground

AP

7/10 Canada shooting

Police officers walk around a strip mall urging merchants to shut down their stores in Moncton, New Brunswick

8/10 Canada shooting

Employees of a grocery store lock down their store in Moncton, New Brunswick

9/10 Canada shooting

Royal Canadian Mounted Police officers use their vehicles to create a keep a perimeter in Moncton, New Brunswick

10/10 Canada shooting

An unmarked police vehicle sits on Mailhot Avenue with the window shot out in Moncton, New Brunswic
Schools and government offices were closed, and the city halted its bus network. Mail delivery was also suspended.
Heavily armed RCMP officers were joined by police from across the country in combing streets and woods in search of the suspect on Thursday.
"Quite honestly I don't know where he is at this time," said RCMP Commanding Officer Roger Brown.
Brown said two officers underwent surgery for non-life threatening wounds in hospital Thursday and he met with the families of the officers who were shot.
Dramatic footage of what appears to be the shooting has also appeared today showing residents hiding in their houses as they watch a gunfight between police and the shooter. People are shown shouting and screaming as shots ring out on the street outside.
Police road blocks have been set up in the area and drivers have been warned to stay away.
In a macabre twist to the story a Facebook page, which appears to belong to the suspect, was active shortly before and during the city-wide manhunt.
A post written 11 hours ago by Justin Bourque from Moncton featured the lyrics to the Megadeth song 'Hook in Mouth.'
Codiac RCMP are searching for 24-y-o Justin Bourque of Moncton. Anyone with information call 9-1-1. http://t.co/JCcJyixfce

— RCMP New Brunswick (@RCMPNB) June 5, 2014
'Don't try to fool us, we know the worst is yet to come. / I believe my kingdom will come,' the Facebook user wrote.
The account profile features a picture of two men holding rifles and standing in a wooded area and posts on the site make repeated reference to the right to bear arms and weaponery.  A number of posts appear to also display a dislike of the government and police.
Bizarrely the Facebook user appears to have added two new friends to his account whilst on the run from police.
Meanwhile, a former colleague of the alleged gunman has described how he "wanted to go out with a bang and bring people with him".
Caitlin Isaac, who according to Business Insider, worked with Bourque at Walmart said that Bourque wanted to "give people something to remember him for", and "always had a problem with authority". She claims he was fired from his job for "attitude related issues".
The hunt for Justin Bourque has continued today.
"We are still actively looking for the shooter," Police Constable Damien Theriault told Associated Press.
"He is believed to still be in the Pinehurst subdivision area of Moncton. We are urging people in that area to stay inside and lock their doors and for people to stay away from that area."
Mr Theriault broke down when asked by reporters how he was dealing with grief, excusing himself from the press conference.
VIDEO: Shooting captured by witness (Contains strong language)
Witness Danny Leblanc, 42, said he saw the shooter in the distance on Wednesday evening, wearing a camouflage outfit and standing in the middle of the street with his gun pointed at police cars.
The construction worker said he believed it was an RCMP officer until he heard a burst of automatic gunfire coming from the man's gun.
He said he quickly retreated into his home and remained there with his family. At one point a neighbor posted on social media that their kitchen window was shattered by gunfire.
Leblanc said few people on his normally quiet street were sleeping as they awaited word at midnight on whether an arrest had been made.
Word that police had been killed shocked the city, Leblanc said.
"It's devastating. I don't know if he was on a hunt for them, or what," he said.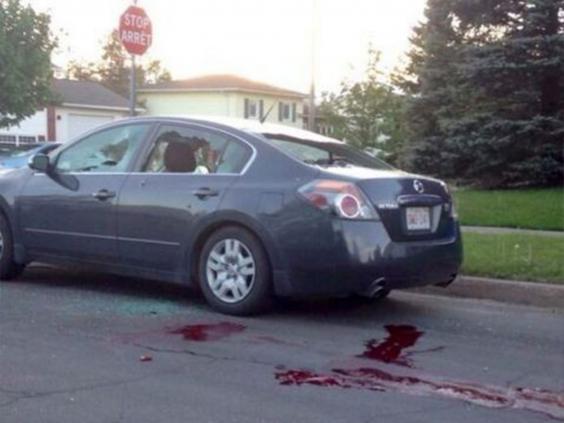 Moncton Mayor George LeBlanc urged all residents to pay strict attention to the RCMP warnings.
"It is a terrible tragedy," he said. "We as a city must pull together as a family to support those who have suffered losses."
Such violence is rare in Canada, particularly on Canada's East Coast. Theriault said the city of Moncton didn't have a homicide last year or this year until Wednesday evening.
"We have been blessed until this point," he told The Associated Press.
In a statement, New Brunswick Premier David Alward said he was "shocked and saddened".
"I would ask New Brunswickers, particularly in those areas identified by police, to follow the situation as it develops and to listen to the advice of police," he said.
The shootings are likely to remind Canadians of a similiar incident in he western Canadian province of Alberta in 2005 where four Royal Canadian Mounted Police officers were killed.
It was the deadliest attack on Canadian police officers in 120 years.
They had been investigating a farm in Mayerthrope, a hamlet in Alberta, when a man shot them. The gunman was killed.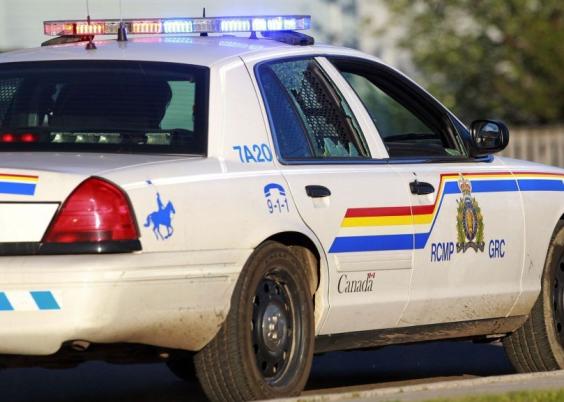 Reuse content