A town in Canada has been blasted by campaigners for introducing the kind of 'behaviour bylaw' seen in 1980s cult film Footloose.
Taber, in southern Alberta, has introduced rules banning spitting, swearing, shouting – and gathering in groups larger than three – in an attempt to maintain 'community standards'.
But it has come under a barrage of criticism for its draconian measures, which also include imposing a curfew on children and teenagers.
And now a group of residents have called for Footloose star Kevin Bacon to save them from their town's strict rules.
The satirical Kickstarter letter, which is entitled 'Save us Bacon', reads: "A small town in Alberta, Canada just passed the law from the 1984 motion-picture "footloose," banning music in public, public gatherings, swearing, and instituting curfews.
"We think that's silly, because it's 2015 and Taber, Alberta is a real place, not the setting of a charming nineteen eighties dance-rock-themed coming of age story."
It adds: "Mr. Bacon, the people of Taber, Alberta need a hero more than ever. Help us host a raucous dance party/protest against an embarrassing, archaic, vaguely worded law passed by an out of touch town-council — held of course, just outside of Taber.
"Help us bring a big city kid to a small town who knows he has to win."
The group finishes by acknowledging that they don't really expect the actor to attend – but say they hope publicity for their campaign will help them to "reach out to Kevin Bacon and have his people even entertain the idea of having him show up".
Meanwhile, the town's police commission chairman Ken Holst said that he had been "hurt" by reaction to the bylaw, which was drafted by town staff and the Taber Police Service in response to citizens' concerns about graffiti and large gatherings of young people on town property.
"We really feel this is the best for Taber and makes it a better place, as opposed to 'the worst place on Earth,' as the way some people are portraying this," he told Metro News in Canada.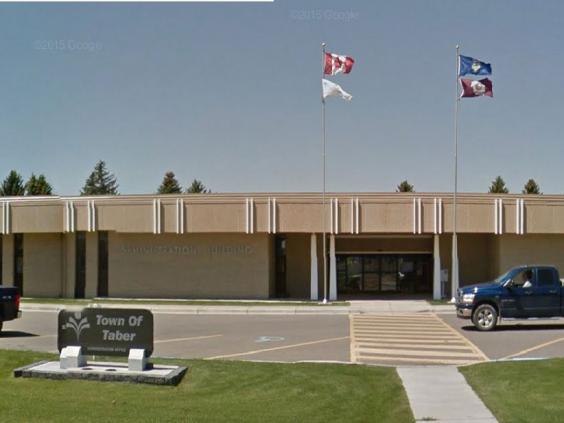 "I'm hurt to read some of the extreme comments that have circulated on social media. It hurts my heart."
Mr Holst admitted that no lawyers were involved in the police commission's review, and they didn't discuss whether aspects of the bylaw would violate the Charter of Rights and Freedoms.
Taber Mayor Henk De Vlieger said it was not their intention to "stir up a media storm".
"Many other Alberta municipalities have very similar bylaws and we expect the same common sense with enforcement to prevail here," he said in a statement.
Reuse content