An incredible police chase that saw a suspect drive through a busy shopping mall and down a moving escalator has been released by Canadian police.
The video captured on a combination of police helicopter cameras and the shopping mall's CCTV shows the motorcyclist take a detour through the Guildford Town Centre mall during a police chase on the 20 February.
According to Royal Canadian Mounted Police, the chase began after the police were alerted about a motorcyclist driving recklessly through the streets of Surrey, British Columbia.
An  officer was sent to pursue the man, but the motorcyclist failed to stop, resulting in a high-speed chase.
In the chase captured on a camera from a police helicopter, the suspect is seen speeding through the roads of Surrey with police in pursuit.
After being followed into the mall's car park, motorcyclist decides to take a detour through the mall.
Cameras from within the mall show shoppers frantically moving out of the way as the suspect drives past shops and down one of the mall's escalators.
He then exits the mall and continues to drive down the highway towards Langley, British Columbia.
Sergeant Bill Parmar said that police decided to call off the chase to avoid any further danger to the public.
The motorcyclist has still not been found and the motorcycle, which was earlier reported as stolen, was found abandoned in a wooded area just outside of Langley.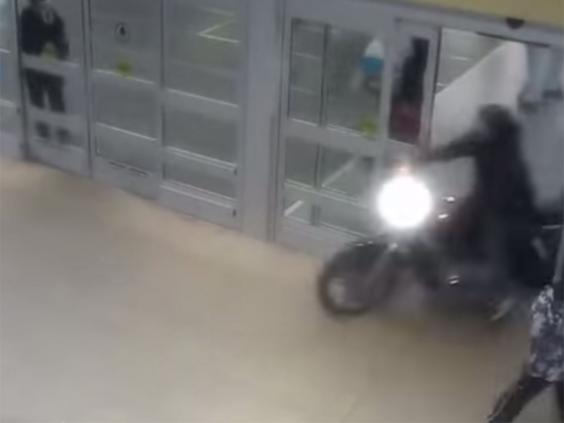 Parmar said that in his 19 years in the force, he had never seen anything like this.
"It's very unusual," he said. "Part of the investigation is determining why the person on the motorcycle was driving in the dangerous manner that he was."
Reuse content