A female student in Canada has attacked the "unjust standards" she claims women are held up to after she allegedly received detention for wearing an outfit that was deemed "inappropriate".
Lauren Wiggins, 17, who attends Harrison Trimble High School in New Brunswick, was reportedly told the full-length halter-neck dress she was wearing was considered "inappropriate" and a "sexual distraction" to fellow students.
In a Facebook post, Wiggins spoke of her frustration over what she regarded as the discrimination against women's bodies.
The post has been shared over a thousand times since it was published on 11 May, with many people - including Wiggins' father - writing messages of support in the comments below.
"I saw your outfit this morning and there is nothing 'provocative' about it," Paul Wiggins wrote.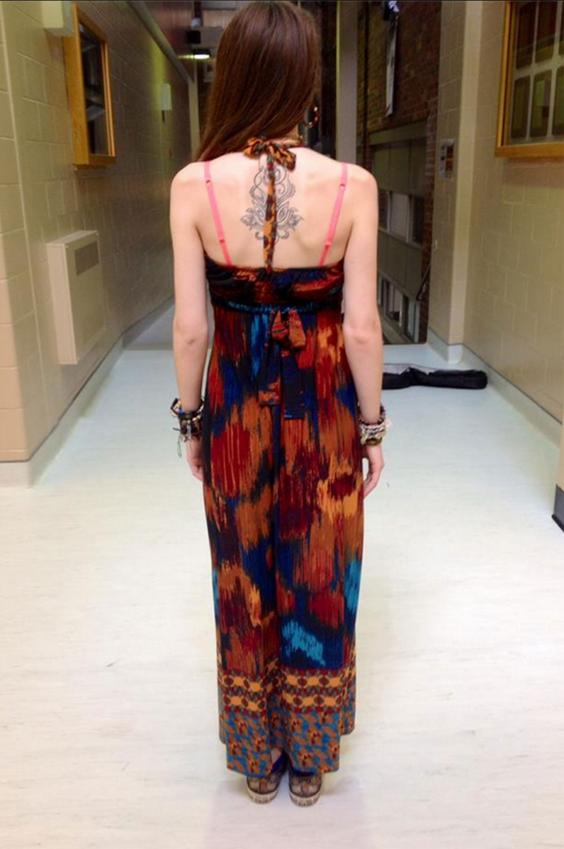 "Today I received a detention because the outfit I am wearing is considered inappropriate and a sexual distraction to the young men in my school," Wiggins wrote.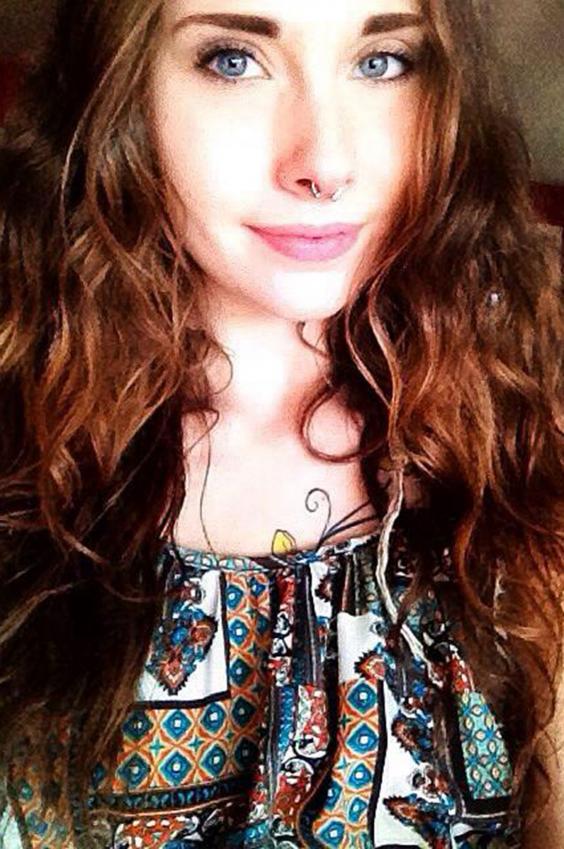 "Enough is enough. I'm tired of the unjust standards that we as women are held up to. I'm tired of the discrimination against our bodies, and I'm absolutely fed up with comments that make us feel like we can't be comfortable without being provocative. "
"It's time to change the world's mindset. Now."
Harrison Trimble High School's clothing policy on their website states that students must dress "with appropriate taste in order that the educational process is not disrupted."
It classifies "shirts exposing shoulders and/or backs and/or midriffs" such as tube and halter tops under "clothing that is excessively revealing for a school environment."
Wiggins also posted a photo of the letter she had written to the head of Harrison Trimble School, which she was later suspended for.
She suggests that if he was concerned that a boy attending the school would "get distracted by my upper back and shoulders" then "he needs to be sent home and practise self control".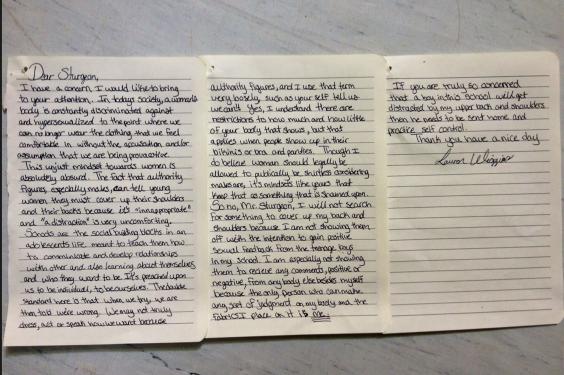 Wiggins' letter echoes a Facebook post written by the sister of a girl who was sent home for an offending outfit which consisted of black leggings and a grey and orange basketball top.
Erica Alyse Edgerly, 21, from the US state of Texas, last week shared an image on Facebook of an outfit that saw her younger sister Macy, 18, sent home from school, which went viral after it sparked debate on sexism and body shaming.
Orangefield High School's rules state that while leggings are allowed, garments on top must hang below the fingertips when hands are held straight by the sides - meaning Macy's top violated the code.
Erica Edgerly argued that school systems are more concerned that a girl's clothing may distract boys, rather than whether sending a girl home will disrupt her education.
The post has been shared over 90,000 times, with commenters rallying in support on Macy and Erica.
Read Wiggins' letter in full
"Dear Sturgeon,
I have a concern I would like to bring to your attention. In today's society, a woman's body is constantly discriminated against and hypersexualized to the point where we can no longer wear the clothing that we feel comfortable in without the accusation and/or assumption that we are being provocative. This unjust mindset towards women is absolutely absurd.
"The fact that authority figures, especially males, can tell young women they must cover up their shoulders and their backs because it's 'inappropriate' and 'a distraction' is very uncomforting. Schools are the social building blocks in an adolescent's life meant to teach them how to communicate and develop relationships with others and also learning about themselves and who they want to be. It's preached upon us to be individual, to be ourselves.
"The double standard here is that when we try, we are then told we're wrong. We may not truly dress, act or speak how we want because authority figures, and I use that term very loosely such as yourself, tell us we can't. Yes, I understand there are restrictions to how much and how little of your body that shows, but that applies when people show up in their bikinis or bra and panties. Though I do believe women should legally be allowed to publicly be shirtless considering males are, it's mindsets like yours that keep that as something that is shamed upon.
"So no, Mr. Sturgeon, I will not search for something to cover up my back and shoulders because I am not showing them off with the intention to gain positive sexual feedback from the teenage boys in my school. I am especially not showing them to receive any comments, positive or negative, from anybody else besides myself because the only person who can make any sort of judgment on my body and the fabrics I place on it is me.
"If you are truly so concerned that a boy in this school will get distracted by my upper back and shoulders then he needs to be sent home and practice self control.
"Thank you, have a nice day."
The Independent has contacted Harrison Trimble School for comment
Reuse content