The father of two of the three Muslim students who were shot dead in Chapel Hill yesterday has labelled the tragic incident a "hate crime".
Deah Shaddy Barakat, 23, his new wife Yusor Mohammad Abu-Salha, 21, and her sister Razan Mohammad Abu-Salha, 19, were shot in the head near the University of North Carolina campus, shortly after 5pm (10pm GMT) on Tuesday evening.
Gunman Craig Stephen Hicks, who posted anti-religious messages on Facebook, has been charged will killing the three in what police said on Wednesday was a dispute over parking and possibly a hate crime.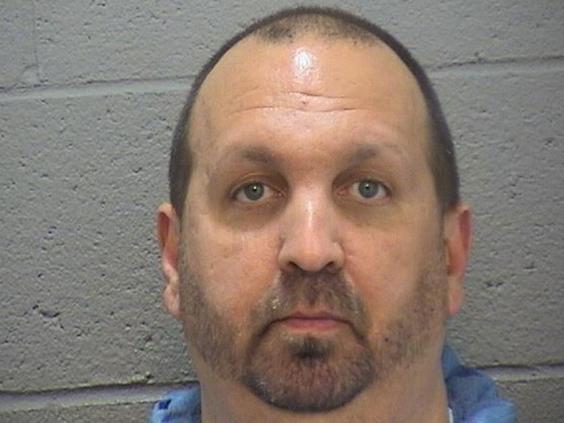 The 46-year-old made his first court appearance in connection with the incident on Wednesday, and is due to attend a hearing set for 4 March.
"We understand the concerns about the possibility that this was hate-motivated and we will exhaust every lead to determine if that is the case,"Chapel Hill Police Chief Chris Blue said in a statement.
The women's father, Dr Mohammad Abu-Salha, who has a psychiatry practice in Clayton, told the North Carolina News and Observer that he believed the shooting was based on religion and culture of the victims.
"This was not a dispute over a parking space; this was a hate crime."
He went on to allege that Hicks had "picked on" his daughter and her husband "a couple times before." 
"They were uncomfortable with him, but they did not know he would go this far," he said.
In a statement posted to the town of Chapel Hill website, Mayor Mark Kleinschmidt said: "We do not know whether anti-Muslim bias played a role in this crime, but I do recognise the fear that members of our community may feel. Chapel Hill is a place for everyone, a place where Muslim lives matter."
In pictures: the Chapel Hill shooting
In pictures: the Chapel Hill shooting
1/8 Chapel Hill shooting

Deah Barakat (centre)

2/8 Chapel Hill shooting

Deah Barakat posted this image to Facebook writing: 'Tonight we provided free dental supplies and food to over 75 homeless people in downtown Durham'

3/8 Chapel Hill shooting

A 46-year-old man, named by police as Craig Stephen Hicks, has been arrested on suspicion of three counts of first-degree murder

Chapel Hill Police

4/8 Chapel Hill shooting

Deah Barakat, pictured here with his wife Yusor, was a keen basketball player

5/8 Chapel Hill shooting

The victims of the shooting, from left to right: Deah Shaddy Barakat, 23, his wife Yusor Mohammad, 21, and her sister, Razan Mohammad Abu-Salha, 19

6/8 Chapel Hill shooting

Deah Barakat was a dental student at UNC who worked for a charity giving dental care to Palestinian children and refugees

7/8 Chapel Hill shooting

Deah Barakat and his wife Yusor at an American football match

8/8 Chapel Hill shooting

One of the victims, Razan Abu-Salha, pictured in a post by Deah Barakat describing her as 'the best third wheel ever'
Prominent US Muslim organisations mirrored Dr Abu-Salha's concerns, and called for a federal investigation into possible hate crimes, citing Hicks' anti-religion social media posts.
On Facebook, Hicks was frequently critical of religion, and on 20 January he posted a photo of a .38-caliber revolver alongside the message: "Yes, that is 1 pound 5.1 ounces for my loaded 38 revolver, its holster, and five extra rounds in a speedloader."
Tributes have poured in for the victims on a memorial Facebook page named "Our Three Winners", where friends drew attention to their humanitarian work.
Mr Barakat was a second-year dental student at the University of North Carolina, and volunteered with a charity providing emergency dental care to children in Palestine.
Yusor Mohammad Abu-Salha wife was planning on starting dentistry school at UNC in the next school year, while her sister was a sophomore at nearby North Carolina State University.
The newlywed couple recently traveled to Turkey to provide free fillings, root canals and oral hygiene instruction to Syrian refugee children, while Razan Mohammad Abu-Salha was involved with making multimedia art to spread positive messages about being Muslim American.
Mourners have planned a vigil in memory of the three near the university's Chapel Hill campus for Wednesday night.