A local newspaper in Charleston has apologised after an advert for a gun shop was attached to its front page the day after nine people were shot dead at a church in the city.
A flyer stuck to The Post and Courier offered a $30 (£19) deal for Thursday, which is "ladies' night", just miles away from the Emanuel African Methodist Episcopal Church.
For that price ATP Gun Shop gives women a pistol or revolver, 50 rounds of ammunition, eye and ear protection, access to a shooting range, an instructor and a souvenir T-shirt.
The advert was stuck Thursday's front page, just above the full-page story on the previous night's racially-motivated massacre.
"Church attack kills 9," the headline read. "Manhunt on for suspect after 'hate crime' shooting at Emanuel AME."
Readers voiced their outrage on social media after pictures of copies of the paper carrying the advert were shared.
"Placing a sticker advertising guns on and headline about a mass shooting in your own town is outrageous," one person wrote on The Post and Courier's Facebook page.
"Shame on you," another reader said, with others calling the advert and its placement "despicable" and "insensitive".
In pictures: Charleston vigil
In pictures: Charleston vigil
1/6 Charleston vigil

Sunlight shines through a window and onto some of the thousands of people gathered for a city-sponsored prayer vigil for the nine victims of the Emanuel AME Church shooting

GETTY

2/6 Charleston vigil

People attend a vigil at TD Arena for victims of the Charleston church shooting

GETTY

3/6 Charleston vigil

A view of Emanuel AME Church in Charleston, South Carolina

GETTY

4/6 Charleston vigil

People attend a prayer vigil at the TD Aren

GETTY

5/6 Charleston vigil

Family members of the nine victims of the Emanuel AME Church shooting sit on the first five rows during a prayer vigil at the College of Charleston TD Arena

GETTY

6/6 Charleston vigil

NBA Houston Rockets center Dwight Howard (C) joins thousands of people for a prayer vigil for the nine victims

GETTY
The newspaper released an apology for the error yesterday.
"The placement of a sticky note ad on the front page of some home delivery newspapers on Thursday was a deeply regrettable coincidence," the statement said. "We apologise."
The Post and Courier has been running more than 210 years and is the thought to be the oldest daily newspaper in the South.
It won this year's Pulitzer Prize for public service for its series of reports on deaths from domestic violence in South Carolina.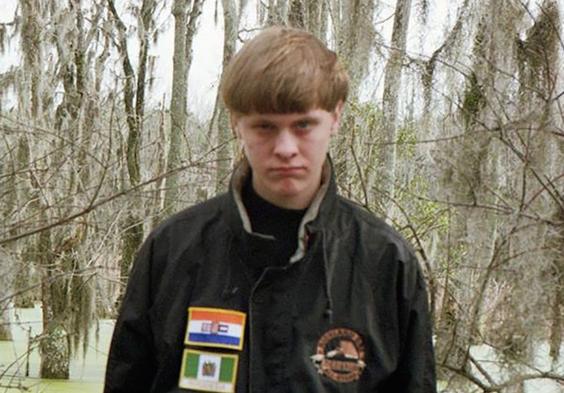 An editorial said the church massacre "transcended past horrors" of war, fire, storms and earthquakes that Charleston has seen and showed "shocking inhumanity".
The newspaper urged the local community to unite against the "persisting poison of racism" and for the overdue reform of US gun laws.
Dylann Roof, a 21-year-old white man, is suspected of targeting a historic African-American church because of his racial hatred and his Facebook page suggests a fascination with apartheid and white supremacy.
He remains in custody and is expected to appear via video link from custody at a bail hearing later on Friday.
Four pastors, including Democratic state Senator Clementa Pinckney, were among the six women and three men killed.
Reuse content