Republican presidential candidate Rick Perry has called the Charleston church massacre an "accident" and claimed that tightening gun controls would not make the US safer.
Speaking on The Steve Malzberg Show on Newsmax TV yesterday, he criticised Barack Obama's assertion that the attack was "another instance of someone who wanted to inflict harm" having "no trouble getting their hands on a gun".
Mr Perry, the former governor of Texas, dismissed the growing calls for reform since Wednesday's shooting as a "knee-jerk reaction" and claimed that "taking the guns out of the hands of everyone in this country" would not make it safer.
"I'm a big believer that if you have citizens who are armed, know how to use weapons, they can protect themselves when evil does show up at their door," he added.
"This is the MO of this administration, any time there is an accident like this - the President is clear, he doesn't like for Americans to have guns and so he uses every opportunity, this being another one, to basically go parrot that message".
A spokesman for Mr Perry later clarified that he meant to say "incident" rather than "accident", the Guardian reported.
In pictures: Charleston vigil
In pictures: Charleston vigil
1/6 Charleston vigil

Sunlight shines through a window and onto some of the thousands of people gathered for a city-sponsored prayer vigil for the nine victims of the Emanuel AME Church shooting

GETTY

2/6 Charleston vigil

People attend a vigil at TD Arena for victims of the Charleston church shooting

GETTY

3/6 Charleston vigil

A view of Emanuel AME Church in Charleston, South Carolina

GETTY

4/6 Charleston vigil

People attend a prayer vigil at the TD Aren

GETTY

5/6 Charleston vigil

Family members of the nine victims of the Emanuel AME Church shooting sit on the first five rows during a prayer vigil at the College of Charleston TD Arena

GETTY

6/6 Charleston vigil

NBA Houston Rockets center Dwight Howard (C) joins thousands of people for a prayer vigil for the nine victims

GETTY
Mr Perry would not call the massacre at the Emanuel African Methodist Episcopal (AME) Church and act of terror but said it was a "crime of hate".
Dylann Roof, 21, has allegedly admitted gunning down nine black church-goers during a Bible study meeting, when he reportedly told them: "You are raping our women and taking over the country…I have to do it."
Friends said he had launched racist rants while drunk and complained that "blacks were taking over the world" and "someone needed to do something about it for the white race".
But Mr Perry failed to mention race and instead said the "real issue to be talked about" was drugs.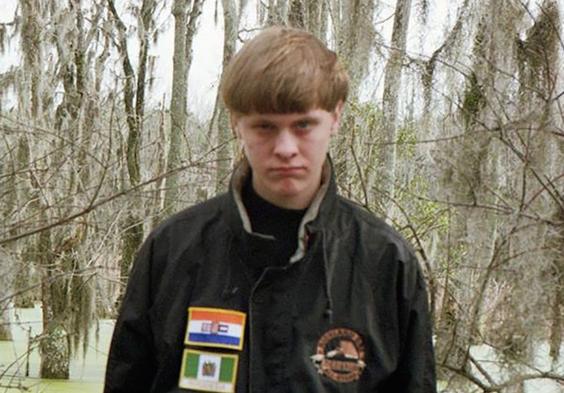 Right-wing conspiracy websites in the US are already using Roof's reported arrest for possessing a narcotic used to treat opiate addiction to suggest the drug may have caused "sudden outbursts of aggression".
"It seems to me, again without having all the details about this, that these individuals have been medicated and there may be a real issue in this country from the standpoint of these drugs and how they're used," Mr Perry said.
Families of the victims and survivors faced Roof as he appeared via video link in court yesterday, charged with nine counts of murder and firearm possession. He remains in custody.
Reuse content