A survivor of the Charleston church massacre faced has faced the alleged shooter in court after playing dead on the floor as her son was murdered.
Felicia Sanders saw three members of her family die on Wednesday when a gunman opened fire after joining their Bible study meeting at the Emanuel African Methodist Episcopal Church.
Her son, 26-year-old Tywanza Sanders, reportedly died trying to save his elderly aunt Susie Jackson, whose cousin, Ethel Lance, also died.
Mrs Sanders was in court yesterday for the appearance of Dylann Roof, who has been charged with nine counts of murder and firearm possession.
Appearing via video link from custody wearing a striped prison uniform, the 21-year-old stood stock still and did not appear to react as she and other relatives made emotional statements.
"We welcomed you Wednesday night in our Bible study with open arms," Mrs Sanders said. "You have killed some of the most beautifulest people that I know. Every fibre in my body hurts and I'll never be the same...may God have mercy on you."
She described her son, a graduate who was a budding poet and planned to open his own barbershop, her "hero".
Mr Sanders, the youngest victim of the massacre, reportedly tried to calmly talk the gunman down, saying: "You don't have to do this."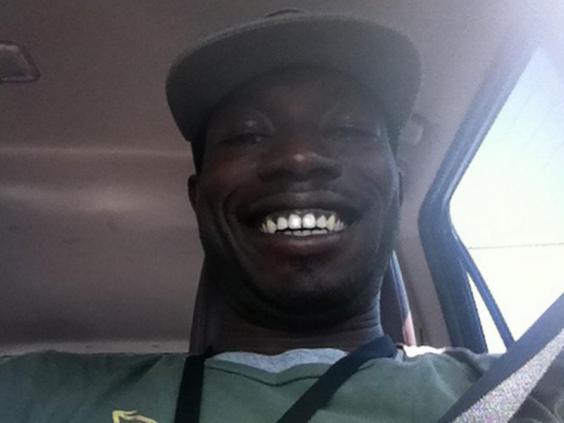 Kristen Washington, who was told of the massacre by family members who survived, told the New York Times that the shooter replied by saying black people were "raping our women and taking over the country".
When the killer aimed at Mr Sanders' 87-year-old aunt, Ms Washington said he told him to point the weapon at him instead.
"It doesn't matter. I'm going to shoot all of you," the attacker allegedly told him before opening fire, killing Mr Sanders as he tried to shield Mrs Jackson.
A police affidavit accused Roof of shooting all victims multiple times and making a "racially inflammatory statement" as he stood over an unidentified survivor.
In court on Friday, he spoke only to confirm his age and that he was unemployed with a quiet "21, sir" and "no, sir".
In pictures: Charleston vigil
In pictures: Charleston vigil
1/6 Charleston vigil

Sunlight shines through a window and onto some of the thousands of people gathered for a city-sponsored prayer vigil for the nine victims of the Emanuel AME Church shooting

GETTY

2/6 Charleston vigil

People attend a vigil at TD Arena for victims of the Charleston church shooting

GETTY

3/6 Charleston vigil

A view of Emanuel AME Church in Charleston, South Carolina

GETTY

4/6 Charleston vigil

People attend a prayer vigil at the TD Aren

GETTY

5/6 Charleston vigil

Family members of the nine victims of the Emanuel AME Church shooting sit on the first five rows during a prayer vigil at the College of Charleston TD Arena

GETTY

6/6 Charleston vigil

NBA Houston Rockets center Dwight Howard (C) joins thousands of people for a prayer vigil for the nine victims

GETTY
Mrs Lance's daughter said she forgave Roof during a tearful statement.
"I will never be able to hold her again but I forgive you," she added.
"And have mercy on your soul. You hurt me. You hurt a lot of people but God forgives you, and I forgive you."
Bethane Middleton-Brown, sister of murdered Depayne Middleton-Doctor also urged forgiveness.
"For me, I'm a work in progress and I acknowledge that I'm very angry," she said.
"We have no room for hate. We have to forgive. I pray God on your soul. And I also thank God I won't be around when your judgment day comes with him."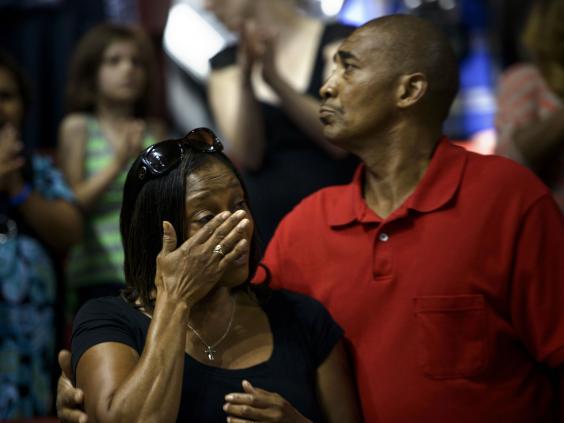 Anthony Thompson, husband of 59-year-old victim Myra Thompson, told Roof to "repent and confess".
Alana Simmons, who lost her grandfather, the Rev Daniel Simmons, spoke in court saying he "died at the hands of hate".
She added: "Everyone's plea for your soul is proof they lived in love and their legacies will live in love, so hate won't win."
From the jail, Roof was able to hear the statements but could not see the relatives' faces as the camera showed only the judge.
He remains in custody as the US Justice Department investigates whether to classify his alleged murders as a hate crime or domestic terrorism.
Additional reporting by AP
Reuse content