Sometime around 5pm on Friday evening, crowds of people poured into the centre of Charleston to take part in an evening of memorial, reflection and no little grieving.
Thousands of people made their way to a small indoor sports arena owned by the College of Charleston where a series of religious leaders got to their feet to urge people not to lose their faith.
Their messages were most poignantly delivered to the people for whom were reserved the first five rows of seats – relatives of those killed in the Emanuel African Methodist Episcopal Church, and members of the clergy.
An almost full TD arena for tonight's prayer and healing service in Charleston. pic.twitter.com/eae68Pb4rR

— Peter King (@PeterKingCBS) June 19, 2015
Barry Moore had travelled from the town of Hamilton to pay his respects to his sister, Myra Thompson, who was among those shot dead during a bible studies class on Wednesday evening.
In pictures: Charleston vigil
In pictures: Charleston vigil
1/6 Charleston vigil

Sunlight shines through a window and onto some of the thousands of people gathered for a city-sponsored prayer vigil for the nine victims of the Emanuel AME Church shooting

GETTY

2/6 Charleston vigil

People attend a vigil at TD Arena for victims of the Charleston church shooting

GETTY

3/6 Charleston vigil

A view of Emanuel AME Church in Charleston, South Carolina

GETTY

4/6 Charleston vigil

People attend a prayer vigil at the TD Aren

GETTY

5/6 Charleston vigil

Family members of the nine victims of the Emanuel AME Church shooting sit on the first five rows during a prayer vigil at the College of Charleston TD Arena

GETTY

6/6 Charleston vigil

NBA Houston Rockets center Dwight Howard (C) joins thousands of people for a prayer vigil for the nine victims

GETTY
"She was a very generous person and she loved the church," the 59-year-old told The Independent.
Asked if the circumstances of the attack – nine people shot dead while studying the bible – had caused him to question his own faith, he said: "No, it does not stop me believing. You have to believe."
The service came just hours after many of those relatives had been involved in remarkable scenes when they told Dylann Storm Roof, the man charged with nine counts of murder for the shootings at the church, that they forgave him.
It was a pleasure to meet the families of Myra Thompson and Rev. Sharonda Singleton. #breatheagain… https://t.co/mdTYBWRmWl

— Dwight Howard (@DwightHoward) June 20, 2015
Derrick Pinckney was also in the front rows. He was a relative of Clementa Pinckney, the state senator and pastor who was also killed in the attack.
"It means a lot that people have come out tonight. They are showing their support," he said. "It does make us feel better."
Mark Cooke was among clergy of different faiths and denominations. He said it was important that people came together to grieve.
"I don't think anyone would associate with what that man did," he said. Asked why there was so much gun crime in the US, he said: "Part of it is that we are very broken."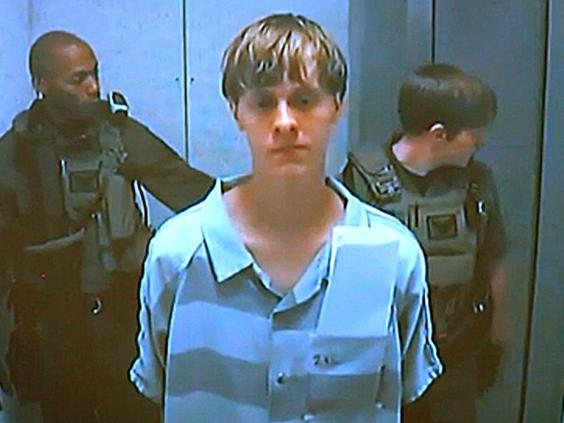 Tim Kellogg and his wife, Beatrice, both university lecturers, were visited from Columbia, the state capital and had wanted to show their support.
"I think Obama got it right when he said there was too much gun crime in the US. Twenty-five times more than other advanced countries," said Mr Kellogg.
"They were meant to take action after Sandy Hook."
Mrs Kellogg, originally from Colombia in South America, said that when it came to the issue of gun crime she felt "safer in Bogota".
Reuse content