Chester Nez, the last of 29 Navajo Americans who developed an unbreakable code that helped Allied forces win the Second World War, has died in New Mexico at the age of 93.
His son, Michael Nez, said his father passed peacefully in his sleep at their home in Albuquerque on Wednesday after suffering kidney failure.
He had been battling kidney disease and it seems like the disease won," Michael Nez said. "He's the last of a great era, a great part of history."
Mr Nez was the last remaining survivor of an original group of 29 Navajos recruited by the US Marine Corps to develop a code based on their language that the Japanese would not be able crack.
It was considered secure from Japanese military code breakers because the language was spoken only in the Southwest of America and was known by fewer than 30 non-Navajo people.
He was just a teenager when he was recruited in 1942 by representatives of the US Marines and was chosen from among 250 Navajos speakers. The programme he was recruited for became the subject of 2002 film Windtalkers, starring Nicholas Cage.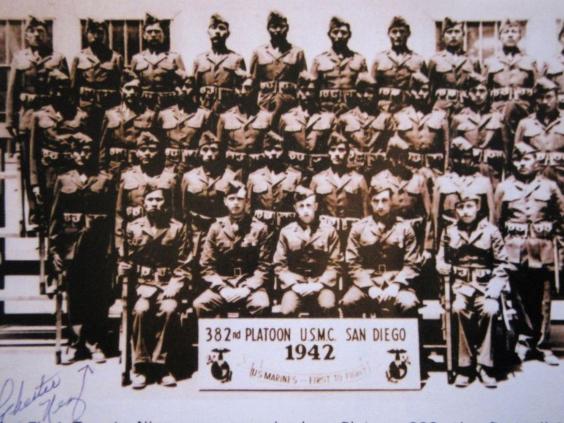 Mr Nez and his young fellow recruits were called communications specialists by the Marines and were taught Morse code, semaphore and "blinker," a system using lights to send messages between ships.
The code they developed substituted Navajo words for military terms. CHAY-DA-GAHI, which translates to "turtle," came to mean a tank while a GINI, "chicken hawk" in English, became a dive bomber. America was NE-HE-MAH, "our mother."
The code talkers served in all six Marine divisions and 13 were killed in World War Two.
The president of the Navajo Nation, Ben Shelly, said he was "saddened" to hear of his passing and has ordered flags to be flown at half-staff to honour of Mr Nez's passing.
Mr Nez was awarded the Audie Murphy Award by the American Veterans Centre for bravery and valour above and beyond the call of duty.
"I was very proud to say that the Japanese did everything in their power to break that code but they never did," Mr Nez said in an interview with the Stars and Stripes newspaper shortly before receiving the award.
The Code Talker mission was declassified in 1968 and Mr Nez went on to write a book on his experiences entitled Code Talker: The First and Only Memoir by One of the Original Navajo Code Talkers of WWII.
He also volunteered to serve two more years during the Korean War. He retired in 1974 after a 25-year career as a painter at the Veterans Administration hospital in Albuquerque.
Additional reporting by Reuters
Reuse content