A pilot has died after a twin engine aircraft crashed into a home in Chicago early on Tuesday morning - sparing a couple who were asleep just eight inches away.
The small Aero Commander 500 cargo plane careered into the front of the residence on the city's southwest side at around 2:40am.
It pierced through the ground floor into the basement, while a third of the mangled wreckage protruded from the outside. Two homes near the crash were evacuated as a precaution.
The pilot was heading to Columbus, Ohio, from Midway International Airport when he reported engine trouble shortly after taking off.
He was returning to the airport when the plane went down, FAA spokeswoman Elizabeth Corey told NBC Chicago.
Having stabilised the property, rescue crews on the scene attempted to recover the body of the as yet unnamed pilot from the aircraft.
National Transportation Safety Board Air Safety Investigator Tim Sorensen said he expected the aircraft to be removed from the house early on Tuesday afternoon.
He added that as the frame of the aircraft was intact, it was unlikely that an in-flight failure caused the crash.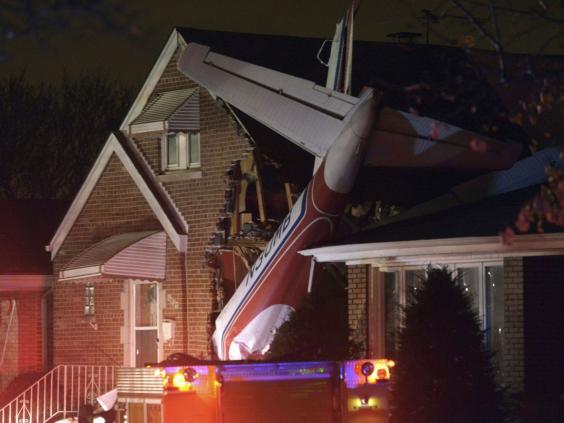 Assistant Chicago Fire Department Commissioner Michael Fox said the couple inside the home were lucky to be alive.
"It's very lucky. They were in a bedroom next to the living room and the living room is gone," he said, adding that emergency services confirmed they were unscathed.
The National Transportation Safety Board is currently investigating the incident.
Additional reporting by AP
Reuse content